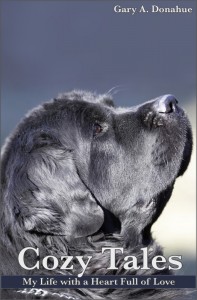 Cozy Tales tells the life story of my Cozy, the very special Newfoundland dog who chose me to be her companion in life.  I wrote Cozy Tales a few years ago after which it sat languishing on my hard drive. I've always felt that Cozy's story should be shared, so I'm doing it for free. No ads, no spam, no BS: just true stories of a marvelous dog and how she changed my life.
If you like it, all I ask in return is that you share it on your favorite social media page. The world needs to know of Cozy and her wonderful tales.
Here is a list of the chapters in order. The list will be updated as new chapters are published every Friday. There are over 50 chapters, so come back often!
Ch
 Title
Post Date
Prelude
October 16, 2015
1
Indoctrination
October 23, 2015
2
A Pup Chooses Us
October 30, 2015
3
Homecoming
November 6, 2015
4
Bath Time
November 13, 2015
5
First Christmas
November 20, 2015
6
Alpha Bitch
November 27, 2015
7
Daisy
December 4, 2015
8
Tales of the Kong
December 11, 2015
9
Homer
December 18, 2015
10
Bloat
December 24, 2015
11
Nozy Cozy
December 25, 2016
12
Cozy's Nemesis
January 1, 2016
13
Cozy Learns to Swim
January 8, 2016
14
Door to Door
January 15, 2016
15
Crazy Daisy
January 22, 2016
16
Ginny
January 23, 2016
17
Cherrybrook
January 29, 2016
18
The Park
February 5, 2016
19
Clever Cozy
February 12, 2016
20
The Pool
February 19, 2016
21
Grandma
February 26, 2016
22
Graviditas
March 4, 2016
23
Newf-Cam
March 11, 2016
24
Daisy the Critic
March 17, 2016
25
Remote Control
March 18, 2016
26
The Cozy Hole
March 25, 2016
27
The Table Incident
April 1, 2016
28
Meghan
April 8, 2016
29
Newf Net
April 15, 2016
30
The Spoon
April 22, 2016
31
The Trash
April 29, 2016
32
Graviditas Redux
May 6, 2016
33
Stones
May 13, 2016
34
The Canoe
May 20, 2016
35
Meghan Learns to Stand
May 27, 2016
36
Colleen
June 3, 2016
37
2001
June 10, 2016
38
The Ringing of the Bells
June 17, 2016
39
The Smuggler's Blues
June 24, 2016
40
Daisy's Bloody Nose
July 1, 2016
41
Cozy gets Spayed
July 8, 2016
42
Down the Shore
July 15, 2016
43
Fame
July 22, 2016
44
Not so Bright
July 29, 2016
45
One Scary Night
August 5, 2016
46
Slow Cozy
August 12, 2016
47
Pollen
August 19, 2016
48
Home Theater
August 26, 2016
49
Pizza and Movie Night
September 2, 2016
50
The Crab
September 9, 2016
51
Week One
September 9, 2016
52
Week Two
September 9, 2016
53
Cozy Lets me Know
September 9, 2016
54
Grief
September 16, 2016
55
Cozy Comes Home
September 23, 2016
56
The Duchess
September 30, 2016
57
The Ramp
October 7, 2016
58
Dog Years
October 14, 2016
59
Return of the Crab
October 21, 2016
60
Daisy Saves the Day
October 28, 2016
61
Daisy's Last Stand
November 4, 2016
62
Empty Wrecked House
November 11, 2016
Epilogue
Afterword