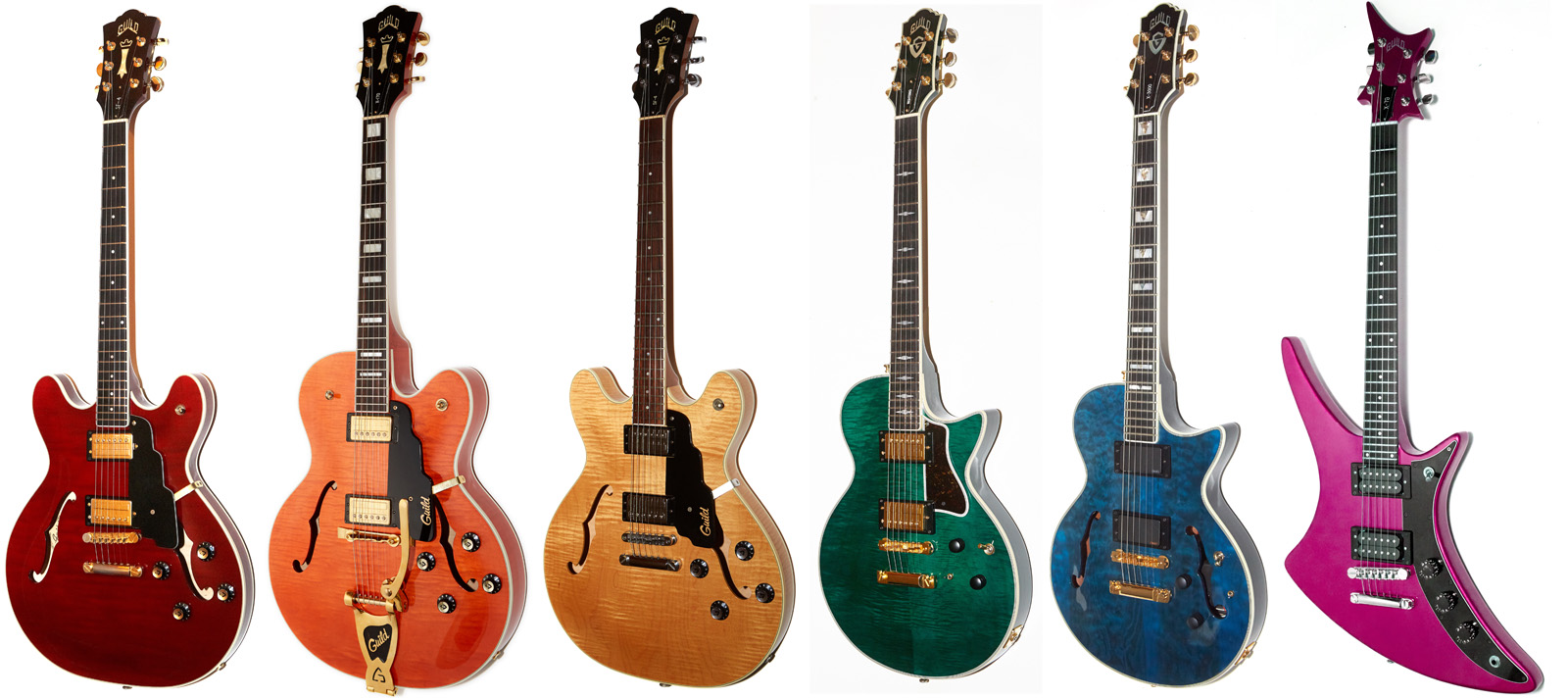 Welcome to GADsGuilds.com. This page contains links and descriptions to all of the Guild guitar reviews and articles I've written.
As of mid-2020, there are over 70 articles on this page. To jump to a major section use these links:
Additionally, check out these resources, all scanned in high quality ranging from 1954 to today and all totally free:
[ Guild Catalogs ][ Guild Price Lists ][ Guild Ads, Flyers, etc. ]
Guild Guitars
[ Guild S65D ]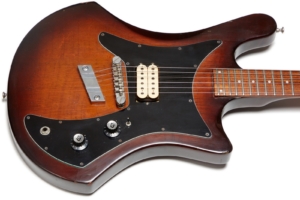 Oh look – another New Guitar Shape guitar from Guild! What can I say – I'm just a sucker for a pretty face. Or something.
Anyway, here's my review of the relatively uncommon Guild S65D. This single pickup tone monster comes to you from deep in 1979 with it's one-piece mahogany body and Dimarzio Dual-Sound pickup.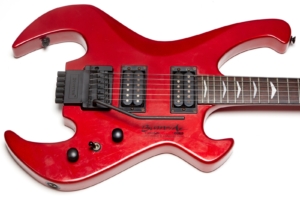 If you guessed that this was a guiar from the '80s, then you guessed right. This crazy looking guitar is a Burnside Crossbow, and Burnside was the import line for Guild in the 1980s.
This is a headless guitar like a Streinberger, and it just screams '80s goodness from it's headless design to its high-power pickups, so click the link and check out the only detailed review you'll probably ever find for the Guild Burnside Crossbow guitar.
[ Guild X92 Citron Breakaway ]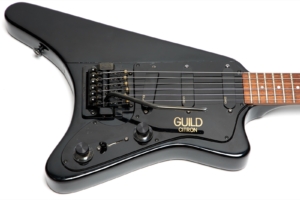 This funky little guitar is the Guild X92 Citron Breakaway from 1984. It's a fun little instrument that breaks down into smaller parts and was sold as being able to pack into an airline overhead.
The X92 Citron was designed by Harvey Citron and sold by Guild, and is a pretty difficult guitar to come by, so if you'd like to know more, you've come to the right place.
[ Guild Newark St. X350 Stratford ]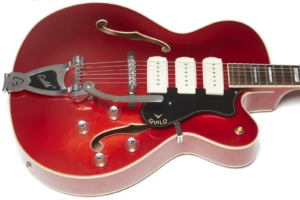 Next in the Red Guild parade is this 2020 Guild Newark St. X350 Stratford. This top of the line Guild Hollowbody is the modern rendition of the famous guitar of the same name that dates back all the way to Guild's earliest days in the mid-1950s.
Can this guitar deliver the goods? Is it worthy of X350 Stratford moniker? How can you possibly control three pickups with only a 3-way toggle and four knobs? Click the link to find out!
[
Guild Crossroads CR01
]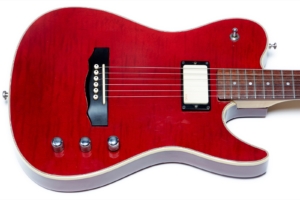 Are you ready for another rare Guild? This one is a Crossroads, often called the CR01 (or CR1) from 1994. Not only is this one pretty darn rare, but it's also pretty darn unique! Click the link or click the guitar to read more about this 1994 Guild Crossroads CR01.
[
Guild 1997 X700 Stuart
]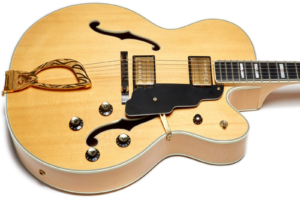 Today's uncommon Guild is an X700 Stuart jazz box from 1997. This deep-bodied beauty with it's solid spruce top was the top of the line dual-pickup jazz guitar for a short time in the mid-late '90s topped only by the coveted Artist Award. In a few years it would be replaced by the Benedetto X700 Stuart, so lets see what was going on in this very nice deep-bodied beauty.
[
Guild Crossroads Doubleneck
]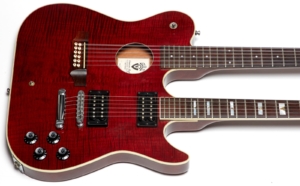 For my 40th Guild review I thought I'd do something special, and what's more special than the only doubleneck guitar Guild ever made?
The Guild Crossroads Doubleneck was designed by Slash and, well read the review and find out for yourself!
This is a fairly long read for a fairly unique guitar. Even in the world of doubleneck guitars this guitar is cool because half of it is an acoustic.
[
Guild Bluesbird Holoflake
]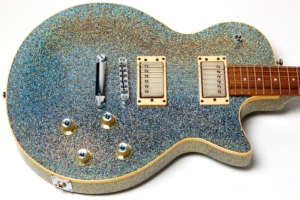 Here's another rare Guild, this one covered in Holoflake. With supposedly only 35 made, and possibly the only Guild guitars to ever sport the Holoflake finish, these guitars garner a lot of attention, not to mention some pretty serious prices.
Are they really that special? Are they worth the money? What the hell is Holoflake, anyway? All of these questions and more are answered in this, the only detailed review of the Guild Bluesbird Holoflake you're likely to find.
[
Guild Nightbird DX (Deluxe)
]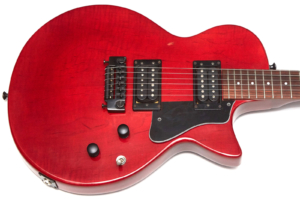 Do you like rare guitars? Because they don't get much more rare than this! This is a Guild Nightbird DX (Deluxe) guitar, and it is one of only 20 ever made. That's a pretty short run for a production guitar, but I've got one, and I'm sharing with the world.
These are pretty unique guitars in the world of Guild Nightbirds, so click the link and read all about this rare beast that just happens to be #20 of 20.
[
Guild Newark St. X175 Manhattan Special
]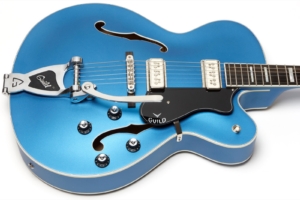 This satin blue monster of a guitar is the Guild Newark St. X175 Manhattan Special that I bought just based on the color alone. It's so blue!
Combining a great finish with some super-cool DeArmond-type pickups makes this a fairly unique guitar in the Newark St. lineup as evidenced by the Special moniker, so click the link or the guitar and read along while I tear into yet another Newark St. Guild.
[
Guild Newark St. Starfire I SC
]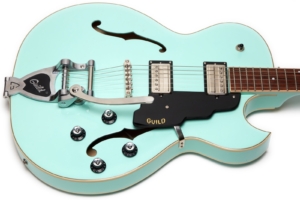 This green beauty is one of the new Newark St. Starfire I series released by Guild at NAMM in 2020. My review of this Starfire I SC with GVT in glorious seafoam green answers the questions, Why are they called Starfire Is?, What the hell is a GVT?, How are they selling Starfires so cheap? And perhaps the most important question of all, How do they sound?
Read along while I spend too many words examining everything down to the solder joints on this very green Guild Starfire I SC.
[
Guild S300AD
]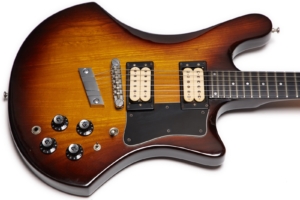 Here is what I would probably call my favorite Guild, if not my favorite model guitar: The Guild S300AD.
The Guild S300AD is just like a normal S300, but with an ash body and DiMarzio pickups. Why is it my favorite guitar? You'll just have to read the article to find out!
[
Guild 1983 X175
]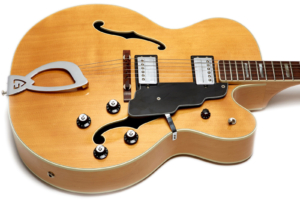 Here is a nice thick Guild hollow body jazz guitar from the 1980s. That means it's a Westerly Guild, and that generally means a great guitar. Is it? Click the picture to find out!
The X175 from this era in Guild's history is the sort of no-bling version of the X500, so read the review to see if you can get the same killer tone from the lower-cost working man's jazz box.
[
Guild 1999 Starfire V in Blue
]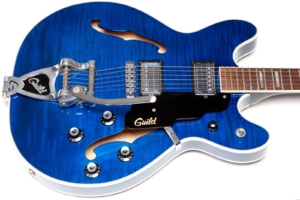 This bluest of blue Guild Starfire Vs is the only Guild I've seen in this stunning color. This is a guitar review that people on the Guild forum have been waiting a very long time for, and I can say that guitar-wise, it was worth the wait. As to the question of my writing about it being worth the wait, I'll lead that for you to decide.
Click the blue guitar to read a review of this beautiful instrument from the -gasp- turn of the century.
[
Guild X160 Rockabilly
]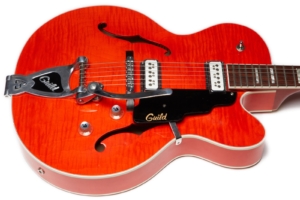 This orange monster is a relatively uncommon and highly desirable Guild X160 Rockabilly guitar. It took me years to find one in great condition for a reasonable price, and then it took me over a year to finish the review, but buckle up because this rockabilly hot rod of a guitar was worth the wait. Oh – I guess that's a spoiler.
This is not only a huge review of this fabulous guitar, but it also contains a treatise on DeArmond 2000 pickups that will probably become an article by itself.
[
Guild Newark St. M75 Aristocrat
]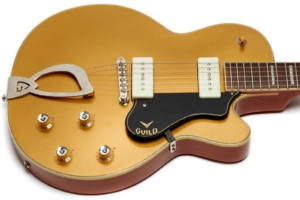 This gold beauty is a Guild Newark St. M75 Aristocrat in the uncommon goldtop finish. This guitar was not originally on my radar until a forum post somewhere caused me to purchase one. Alcohol may have been involved. Honestly I'm fuzzy on the entire affair, but regardless of why, I have a goldtop M75 Aristocrat all reviewed for your reading pleasure.
[
1997 Guild Starfire III
]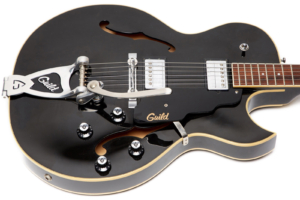 Next to be reviewed in my pile of Guild Starfire IIIs is this beautiful all black maple-bodied example from 1997. This is the third of my Starfire IIIs to be reviewed with the 2016 Newark St. model and the 1966 Hoboken models having previously been covered (see below).
How does this guitar compare with the older and newer exampled? Well, you'll just have to click on the guitar and read the article to find out. Oh, and this black beauty is Guid review #40 for me!
[
Guild Newark St. Starfire III
]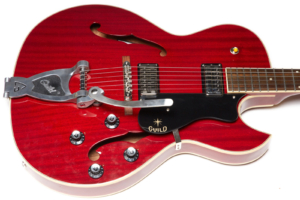 I covered a 1960s Starfire III (see below), so it's only fair to see how the modern import model fares.
I've also got two more Starfire IIIs being reviewed, so keep an eye out for those. In the meantime, here's my 2016 Newark St. Starfire III. Is it the equal of the much more expensive 1966 Hoboken-made example that I previously reviewed? I was honestly kind of surprised by my findings!
[
1985 Guild D46
]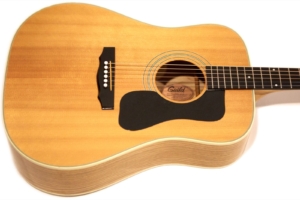 After almost 40 Guild guitar reviews, I've finally managed to review a freaking acoustic! That's right Guild fans, my first acoustic review, and it's of a mid-'80s D46 which has solid ash back and sides. This guitar has a fairly distinctive sound due to that wood choice, so click on the guitar to learn more about this, the first Guild six-string acoustic I've ever owned.
[
Guild Newark St. T-Bird ST P90
]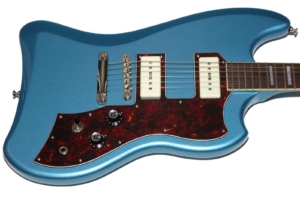 What? Another T-Bird? You betcha! This time it's the Pelham Blue T-Bird ST P90 up for review. Read on to see how this guitar differs from the Guild Newark Street T-Bird ST, the Guild Newark Street S200 T-Bird, or even the The Fascinating Guild S-200 Thunderbird. Well, aside from this being the only one that comes in Pelham Blue.
[
1985 Guild Brian May BHM1
]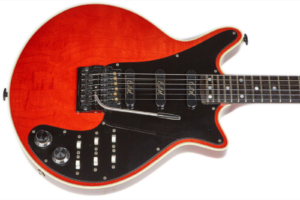 Here's a rare beast from the mid-1980s that was a pretty big deal at the time: The original Guild Brian May guitar. These guitars get a fair bit of interest online which is often tempered with people complaining about how it's not quite an exact copy. Since I've got one, I did what I do and tore it apart to get the full scoop on this relatively infamous piece of Guild guitar history.
[
1966 Guild Starfire III
]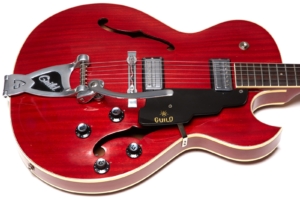 After a pile of pointy and modern Guild reviews, it's time to go back in time and review a Hoboken-era Guild from 1966. This Starfire III came to me as a bit of a surprise that you'll have to read the review to learn more about.
Does this 52-year old Guild live up to the hype that you may have heard or read about? There's only one way to find out! Well, there's plenty of ways, but clicking the big red guitar is probably the easiest at the moment.
[
Guild Newark Street T-Bird ST
]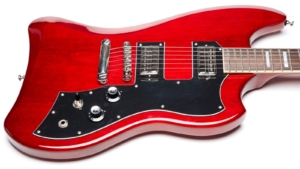 In an effort to review some of the more modern Guild offerings, I managed to get my hands on this beautiful red T-Bird ST from the Newark Street line. Plus, I realized that I hadn't published any reviews in over eight months so it was time for some more Guild goodness!
[
1983 Guild X97V Prototype
]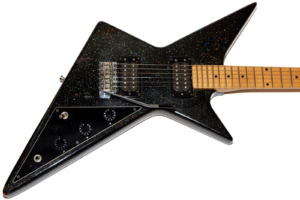 Other Guilds from the '80s not point enough for you? Looking for something… unusual? How about this one-of-a-kind Guild X97V prototype from 1983? It's got it all: A dangerously pointy body, a long-scale maple neck, a back-story, provenance, and a tale of redemption befitting an instrument of this rarity and magnificence.
OK, so that may be a bit much, but this really a prototype of the Guild X97V which, so far as I can tell, we never actually produced beyond this example.
[
1982 Guild X79 Skyhawk
]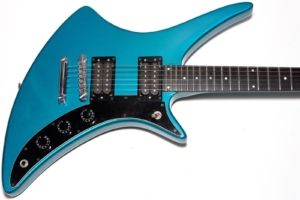 It's stereo vision and I've got two X79s in a row for your reading pleasure! The first is the very cool blue X79 with dual Guild XR7 humbuckers in almost mint condition. Finding one of these guitars in almost mint condition took me a fair bit of time measuring in years, so I'm pretty excited to share this one with you.
[
1982 Guild X79-3 Skyhawk
]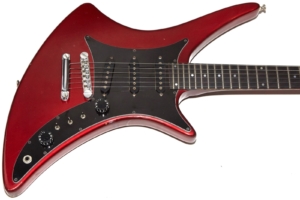 Perhaps one of the most famous of the wacky-shaped Guild electric guitars from the 1980s, this variation of the X79 has three single-coil pickups arranged like a Strat, which is why it gets the model number X79-3.
Check out what this '80s-Guitar-loving player thinks of this particular piece of hair band nostalgia. I'd say it was from a simpler time, but as anyone who lived through it will tell you, it really wasn't.
[
1994 Guild S100 Polara
]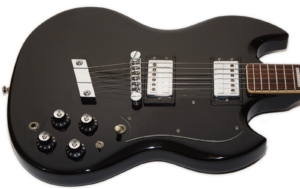 This is my 30th review of Guild electric guitars. It's my 31st article about guitars on this page, but one of them is a Burnside Lance which doesn't really count.
To celebrate the milestone of 30 reviews, I decided that it was time to review this black beauty, the 1994 Guild S100 Polara. Sure, it looks like another S100 (the third I've reviewed, in fact), but this guitar is really something special as you'll see when you read the article.
[
Guild Newark St. S200 T-Bird
]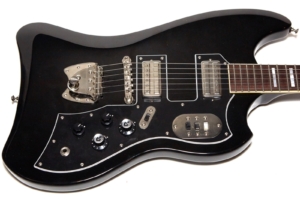 This Newark St. Guild is an import reintroduction of the Guild Thunderbird from the 1960s. This is probably the guitar most requested by people who email me asking when I'll review such-and-such model, so this one is for all the people who've asked since the model first came out in 2016.
As an obvious fan of Westerly-made Guild guitars, how does this import model compare with the golden age Guilds of yore? Click the link or the guitar to find out how this model fared against this vintage Guild-lover's scrutiny.
[
Guild T250 – The (not) Roy Buchanan
]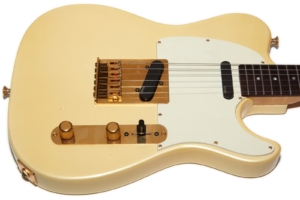 This guitar is a bit outside my normal humbucker-loving bailiwick, but it's a Guild and I love Guild electric guitars. I especially love Guild electric guitars from the 1980s so this fits right in.
What I don't really love is Telecasters, so this review has some interesting facets since I'm a Guild lover who doesn't like Teles writing about a Guild Tele that most Tele-lovers don't like.
[
Guild S270 Flyer
]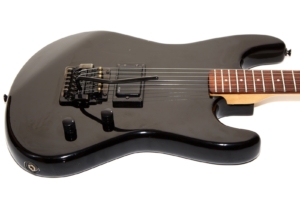 Here's a pretty non-traditional Guild for today's review. This is a Guild S270 Flyer which is one of the super-Strat guitars Guild produced in the mid-1980s. It's primary feature is the obvious lack of a neck pickup which makes it a very simple guitar in sort of a hot-rod configuration that was pretty popular at the time.
This is another guitar that kind of surprised me when I got it because I expected it to be just another EMG super Strat and though to a certain extent that's what it is, It's also a Westerly Guid which gives it that certain something extra. Click on the link or the picture of the guitar to learn more about the Guild S270 Flyer.
[
Guild S284+ Aviator
]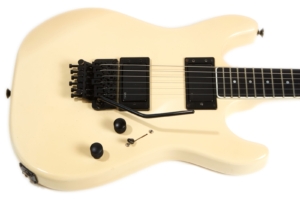 This guitar came to me through a series of unusual events that started with a reader asking me if I could help identify a rare Guild S285 Aviator. While I thought originally that this fine guitar might be one of those rare beasts, I came to the conclusion that it was something else.
I often buy guitars with the intent of reviewing them and then selling them but this is one of the ones I've decided to keep. Read on to discover why.
[
Guild Burnside Lance
]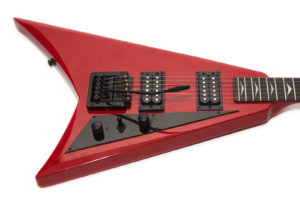 While not strictly a Guild, this Burnside Lance was part of the import guitar market distributed by Guild under the Burnside name. It is quite clearly a Jackson Randy Rhoads RR1 copy made to be an affordable alternative to that pricier guitar which today sells for over 10-15 times what the Lance does on the used market today.
I managed to find a Burnside Lance new and unopened from the factory some 30 years after it was made and put it through its paces. Click on the link or the guitar to learn more.
[
1987 Guild Nightbird I
]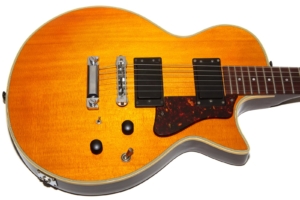 This guitar is a 1987 Guild Nightbird I that is a pretty darn good example of the model. The Nightbird name is usually associated with very high-end guitars that have lots of options like binding, purfling, nice inlays and gold hardware, but the Nightbird I is a different beast that lets you get most of the Nightbird experience without paying for all the bling.
Is it worthy of the Nightbird name? Click the link or the guitar to find out!
[
1986 Guild Brian Setzer Bluesbird
]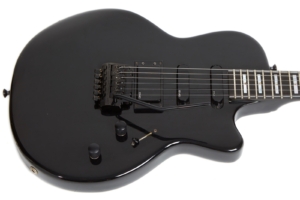 Today's black Guild (seriously, why are all the guitars I get lately black or white?) is a 1986 Bluesbird that I call the "Setzer" Bluesbird for reasons that will become plain in the article.
This is a Bluesbird that's unlike all the other Bluesbirds I've written about, as should be obvious just from the picture alone, but read on to find out all the other little details that makes this guitar unique.
[
1985 Guild S284 Aviator
]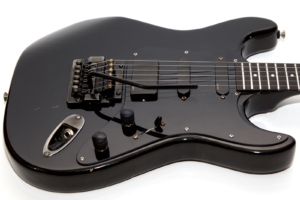 A high-end shredder of the Super-Strat variety comes to us in the form of two Guild S284 Aviator guitars. These guitars (a black one and a blue one) manage to look both like and unlike a Strat at the same time that they offer amazing shredder performance, usually for a great price on the used market. Take a look as I put them though their paces and tear them apart for your review-reading pleasure.
[
1999 Guild X170T Mars
]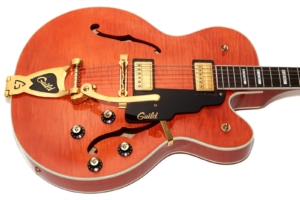 One of my favorite Guild electric guitars of all time is the Guild X170T Mars edition. I've owned two of these orange beauties and with this latest purchase, set out to review it in great gory detail
From pointy '80s shredder guitars to orange Rockabilly goodness, I think it's pretty clear that I love them all, but these X170Ts are special. Click the link or the guitar to find out why.
[
1984 Guild Flying Star X-88 Crüe
]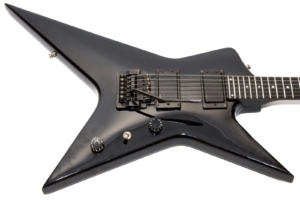 I present to you perhaps the pointiest guitar of all time, the Guild Flying Star X-88 Crüe.
This pointy black monster is the very epitome of the '80s pointy guitar culture and is so over-the-top in so many ways that it's no surprise that it was co-designed with Mick Mars of Mötley Crüe. Take a look as I evaluate this angular instrument through the eyes of someone who wishes that the '80s never ended.
[
1988 Guild Liberator Elite
]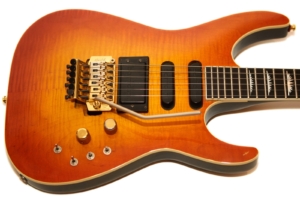 After years of waiting I finally got my hands one one of these rare Guild Liberator Elite guitars. Billed as one of the finest electric guitar ever made (at any price!), I put it through my many tests and measurements to see if it measures up.
Regardless of the outcome, I'm just thrilled to have this one. I mean, just look at it!
[
1981 Guild S281 Flyer
]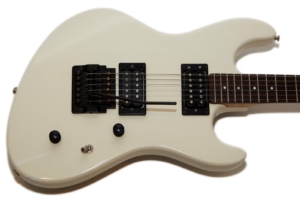 Surprisingly, I had never owned a Guild from the Aviation line, a line of guitars from the early to mid '80s with names like Flyer, Aviator, Liberator, and the like. This guitar, a 1981 S281 Flyer, came up at a great price so I nabbed it just to write about it. Dive in and see how well I do wrangling a Kahler bridge as a dedicated Floyd Rose guy.
[
1977 Guild S-60
]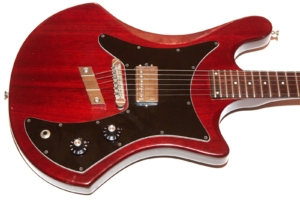 Back in the very early '80s I bought my very first nice guitar: a Guild S-60 just like this one. Sure, mine was sunburst and this one is red, but the thrill was absolutely there when I picked this one up for a song on eBay.
Take a look and see if the Guild S-60 holds up to my nostolgia-filtered memories of this entry-level Guild.
[
1998 Guild Starfire IV
]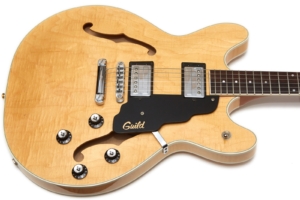 Bought because it contains Seymour Duncan SD-1 pickups, this guitar is very similar to my 2000 Starfire listed below. Is it as good? Better? Not as good?
I take a detailed look at this 1998 Westerly Starfire IV down to the goriest of details including the ultra painful process of removing the wiring harness to illustrate how it's laid out inside.
[
1981 Guild S-300
]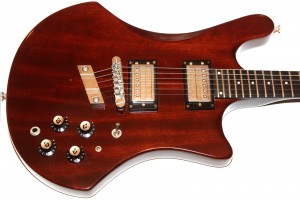 I got this guitar in a trade, and since the S300 is one of my favorite Guild models, I was pretty excited, but imagine my surprise when I opened the case and discovered a practically mint Guild!
This is a mahogany slab with killer Guild HB-1 pickups, and it rocks in just about every way possible. Yeah, spoiler-alert, I really dig this one, so click on the goofy-looking thing and take a trip back to 1981 while I rave about this beauty from Westerly.
[
1982 Guild S-275
]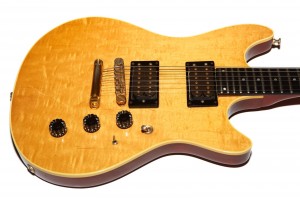 I bought this guitar on Craigslist (a rarity for me) because it was a model I'd never owned or even seen in person before.
This is a guitar that was seemingly meant to bring the Strat and Les Paul fans together into buying the single perfect approximation of both while still being a Guild. Does it accomplish that goal? Click the link and read my review to find out!
[
2000 Guild Starfire IV
]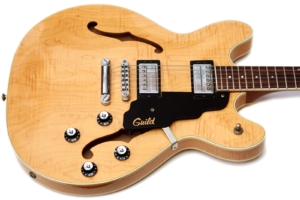 After years of writing reviews of different Guilds, I finally pulled out one of my all time favorites, took new pictures, and wrote up a review of my 2000 Guild Starfire IV. This is the guitar that started my newfound obsession with Guilds and this guitar is the reason I grew to dislike skinny necks. See what all the hype is about!
[
2001 Guild X-500T
]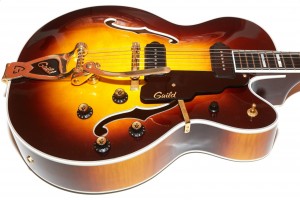 In my apparently never ending quest to find a Guild that delivers all the rockabilly goods I could possibly desire I managed to purchase a 2001 Guild X-500T in beautiful sunburst.
Did I finally find the perfect guitar? Is this everything I've been lusting after? Read on to discover what I think of this big 'ol jazz box with a Guildsby and see if it's guitar enough to rest the Starfire III-90 from its perch as my favorite Rockabilly guitar.
[
1994 Guild X-170
]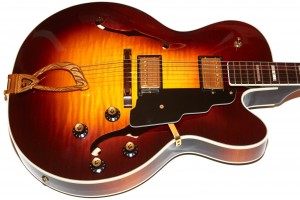 There was this guitar that I kept seeing in my online searches. It was a 1994 Guild X-170 that had the most perfect reddish sunburst finish. It was everything I ever wanted in a guitar. Well, it was everything I ever wanted in a Guild X170.
After months of trying to find one like it, the very guitar I had lusted after showed up on Reverb! So I bought it. The end. This is the review of that guitar.
[
1980s Guild X-500s
]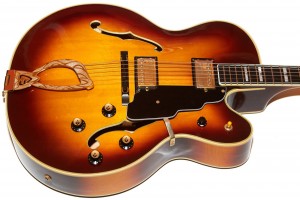 Being lucky enough to be able to own two Guild X-500s from the 1980s, I decided to write about their quirks, similarities, and differences.
There are two X-500s in this writeup, the sunburst one you see to the right and a darker walnut-colored sunburst model that you'll see in the article. Both of them, naturally, are beautiful guitars.
[
1981 Guild M-80
]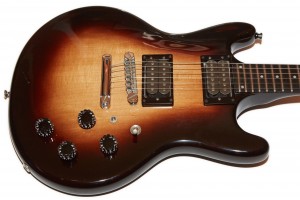 I bought this guitar because I got it for a steal thanks to an accommodating seller agreeing to my offered price. I was then surprised at how much I enjoyed playing it. It's a bit heavy, has Guild XR-7 pickups that I'd never tried before, and is a bit different from most of the other vintage Guilds on this page, but it has ended up being a keeper for various reasons outlined in the article.
[
1975 Guild M-80 CS
]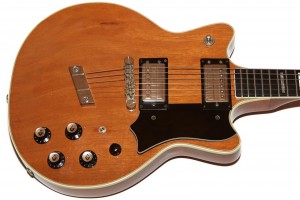 Another guitar that I bought for the sole purpose of writing a review, only to fall in love with the playability and the fabulous tone. This is sort of a double-cut version of the M-75, but it's really a very different guitar for a variety of reasons. This is about the most "spanky" sounding Guild I've ever played, which is part of what makes it so great. Those vintage HB-1s just deliver the tone like nobody's business.
[
1974 Guild Bluesbird M-75
]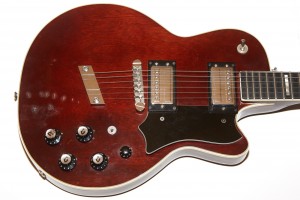 I bought this guitar on a whim since it was so badly marred with lacquer damage and my low offer was accepted. I had no idea how great these guitars were even though I had seen people rave about them for years. Why didn't I know how great they were? Because they usually sell for stupid amounts of money, that's why!
This is by far my ugliest Guild due to the finish damage, but it's turned out to be one of my favorite solid bodies.
[
2002 Guild Starfire III-90
]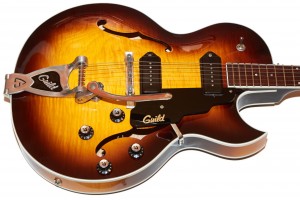 I've been lucky enough to own two of these relatively rare Starfire-III guitars outfitted with P90 pickups.
They're hard to come buy because they didn't make very many of them, which is a shame because of all the Guilds I've owned, this sunburst Starfire III w/P90s may be one of my favorites.
[
2016 Guild Newark Street Bluesbird
]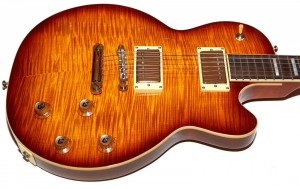 A review of the new (when I wrote it, anyway) Guild Newark Street Bluesbird guitar. After my other Newark Street reviews, I got many requests to write up a modern Bluesbird, so I scored a new one for a great prince and did my thing.
Bottom line: I like it, minor foibles and all. Dig into the review to see what those foibles might be and why they probably won't matter if you buy one.
[
1997 Guild Bluesbird
]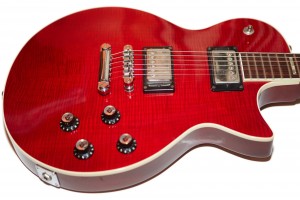 A review of the very nice (near mint) 1997 Guild Bluesbird that I scored on eBay for a song. This review also goes into some detail as to the differences between the Guild Bluesbird and the Gibson Les Paul.
Spoiler: I like the Bluesbird better, especially considering the price difference.
[
2015  Guild Newark Street X-175B
]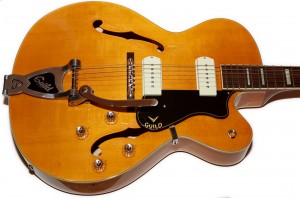 A review of the Guild Newark Street X-175B. I got this together with the NS S100 reviewed below. This guitar is a surprising performer for the price, though it's not without its quirks.
Really, though, a rocking' rockabilly guitar for about $500 used? Yes please!
[
2015 Guild Newark Street S-100
]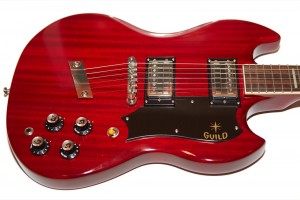 A write-up of a mint Newark Stret S-100 that I bought online. This was my first Newark Street guitar, and I have to say that I walked away quite impressed.
I tend to be a Westerly snob, preferring the vintage guitars made by Guild in the mid to late '90s, but this Korean-made Guild surprised me.
[
1997 Guild S-100
]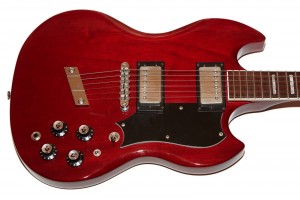 I scored this 1997 Guild S-100 on eBay for a paltry $750 due to the fact that the screws holding on the backplate were all broken.
This is a fabulous guitar made in the Westerly Rhoad Island plant. I resisted these guitars for years, but finding a great deal on one meant that I simply had to try it.
[The Fascinating Guild S200 Thunderbird]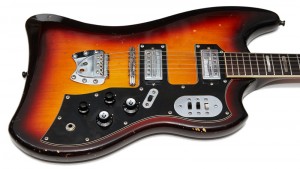 I had the honor of fixing up the electronics on this fine 1965 Guild S-200 Thunderbird. In the process of fixing it, I also documented all of the wiring under the pick guard, publishing one of the only schematics I've ever seen for these great guitars.
Guitar Comparisons
[
GAD's Guide to Guild Nightbirds
]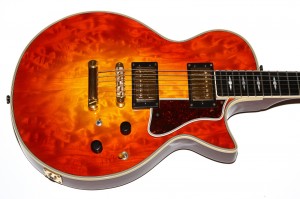 Since I've owned too many Nightbirds and since there's a fair bit of confusion as to the many model numbers and years of production, I decided to try and consolidate some of that information into a single article in the hopes that I could help dispel some of the confusion. If you're looking at a Nightbird and trying to figure out what it is, this is the place for you.
[
Guild Bluesbird Bakeoff
]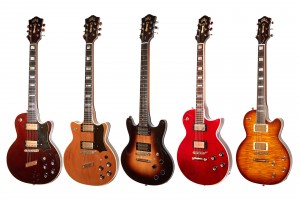 At one point I managed to have five different Bluesbirds in my posetion ranging in manufacuring date from 1972 to 2016 with almost one from each decade (The 2000s were covered by the 1997 model). I put these up against each other both in gut feel and through a scientific process to determine which one of them I liked best. Read the article to find out which one won!
[
Battle of the Guild S-100 Reissues
]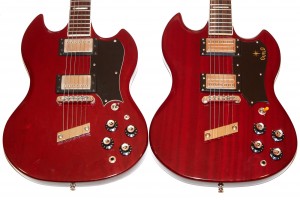 Having had the luxury of owning both a 1997 Guild S-100 reissue, and a 2015 Guild Newark Street S-100 reissue, I put them side by side and compared them.
The S-100 is one of Guild's most popular electric guitars, and I see questions about them all the time, so hopefully this article will help someone in the process of choosing either one, the other, or both!
Amplifiers
[
Guild Tweedy Bird Micro Mini Amp
]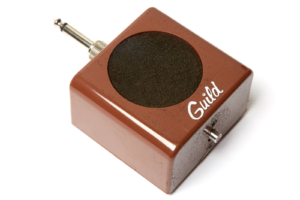 Here's another fun bit of Guild history packaged in a tiny (micro-mini even!) guitar amp that plugs directly into the guitar and runs on batteries. That's right, no cord, no AC power and no tone. Well, maybe a little tone.
Check out my detailed "tear it down to its smallest parts" review of this, the Guild Tweedy Bird MM500 Micro Mini Amp.
[
Guild Model Four Amp
]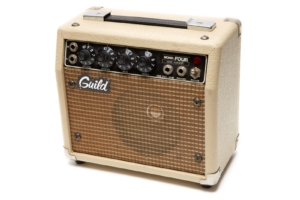 Ever wonder if Guild made something that I didn't rave about back in the Westerly days? Ever wonder if they decided to put their good name on some import crap merchandise long before the Newark Street line was even an idea? Ever wonder if an amp this small can sound good?
Wonder no more as I take you on a in-depth inebriated rant review of one of Guilds most adorable little products, the Model Four amp.
[
Guild G600 Aspen Acoustic Amplifier
]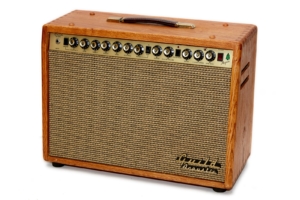 Next in the Guild Timeberline Acoustic Amp collection is the G600 Aspen. This amp came to me in a slightly modified condition and it took me a fair bit of time to finish this write-up for that and about 384 other excuses reasons.  Read along while I put this Guild acoustic amp from the early 1990s through its paces.
[
Guild G300 Tamarack Acoustic Amplifier
]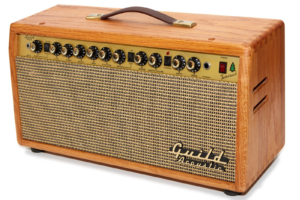 This is the amp that started my obsession with learning more about the Timberline acoustic amplifiers from Guild (see below).
This cool little amp is designed to amplify an acoustic guitar that has electronics (or a sound-hole pickup) and it's designed to do it style. In this review I pull the amp apart and analyze it right down to the components on its solid-state board.
[
Guild Timberline Acoustic Amplifiers
]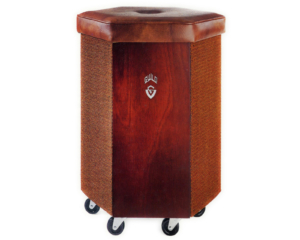 After scoring a Guild G300 Tamerack acoustic amplifier from the Timberline series I became obsessed with finding everything I could about this series of amps. As it turns out, there was not a lot of information to be had, but I did score some cool info and put it together into this article in the hopes that it could help people looking for details about these cool and relatively obscure amps including the G1000, shown, that I've affectionally nicknamed
the footstool
.
Guild Pickups
[
Guild Anti-Hum and LB1 Mini-Humbucker Pickups
]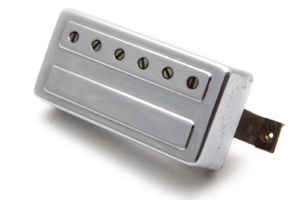 Back in the 1960s and very early '70s, Guild made what they called Anti-Hum pickups. Most people just call these MiniHums or Mini-Humbuckers, but whatever you call them, they're amazing little magic boxes of tone.
In the 2010s, Guild (under Fender and then Cordoba Music Group) reissued these pickups as the Little Buckers or LB1s. This article compares them and shows the differences between them so that you can identify if that vintage Guild actually has modern LB1s in it.
[
Identifying Fake Vintage Guild HB1s
]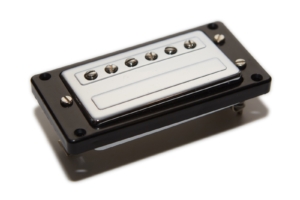 As much as we'd all like to think otherwise, there are unscrupulous people in the world and sadly sometimes those people try to rip us off.
Given my obsession with vintage Guild HB1 pickups, I happened to notice someone trying to sell fakes. I decided to put together a short article on how to spot such fakes in the hope that it help prevent someone from being scammed.
[
Replacing Pickups in a Guild Nightbird
]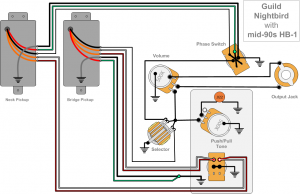 Someone I knew on the LetsTalkGuild forum asked me to replace the pickups in his Guid Nightbird with vintage HB1s. In the process, I documented the process along with the wiring for the guitar.
After the work was done I was so blown away by the guitar that I offered to buy it. It has since become my favorite electric guitar.
[
Guild Full-Sized HB1 and SD1 Pickup Variations
]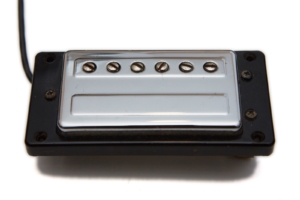 Of the almost 200 articles and stories on my blog, this post is number five in terms of hits. Here I explain the differences between the various Guild full-size pickups seen over the years.
I measure not only the pickups, but the rings as well so that you can figure out which rings will work with which pickups.
[
Guild HB1 Pickups: New vs. Old
]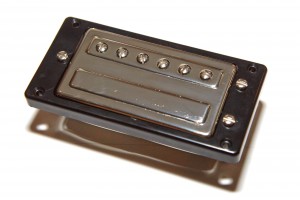 With the release of the latest (circa 2015) Newark Street guitars, Guild also reissued the iconic Guild HB1 pickups. Having a sample of both a vintage pickup as well as a reissue, I did some measuring to see how they compared.
[
Identifying DeArmond 200, 2000 and 2k Pickups
]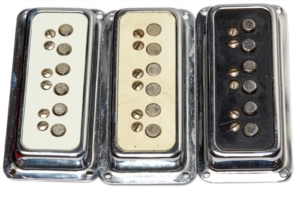 Originally written as part of my Guild X160 Rockabilly review, I found that the subject warranted its own article.
If you've ever been confused by the differences between the DeArmond 2000 (vintage), 2000 (modern), 2K or even the model 200, then this is the article for you.
[
Guild HB1 Pickups Teardown
]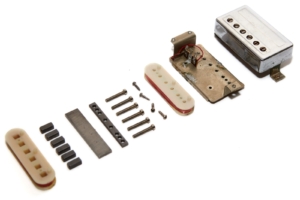 Me being the curious type that I am, I decided to completely dissect and explore the internal workings of a vintage Guild HB1 pickup.
I tear it down, measure the measurable bits, and generally fail at pretending to do scientific good with a screwdriver. Still, the pictures are cool, so why not take a look?
[
Guild AntiHum Mini-Humbucker Pickup Teardown
]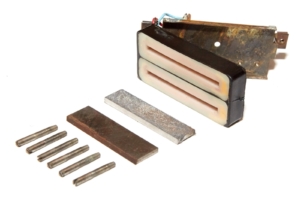 Having scored more than a few sets of vintage AntiHum mini-humbucker pickups from the 1960s, I decided to tear one apart to see how it was built. Follow along on this short article while I see how far I can dismantle one of these fabulous mini-humbuckers that Guild called the AntiHum.
[
Guild Pickup Wiring
]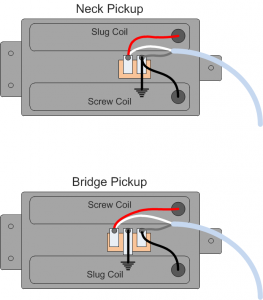 There are a pile of different pickups that have been sold or included by Guild over the years, some of which having some bizarre-looking wiring.
There are variations of the same model (HB1) that are pretty complex, and given that I had worked on scores of Guilds for myself and others, I decided to put what I knew about all of these pickups into writing.
Covered are HB1s (1970s, 1990s, Fender), and Seymour Duncan SD1s.
Guild Pedals, Effects, etc.
[
Guild Dimensional Reverberation System
]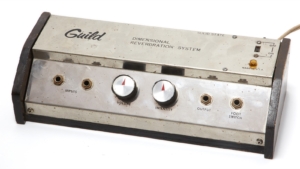 This odd reverb system is one of only two that I've ever seen with Kurt over at the Guilds of Grot having the other. Follow along while I try to come up with information about this apparently quite rare piece of Guild effects history.
[
Guild Accupitch 440 Tuner
]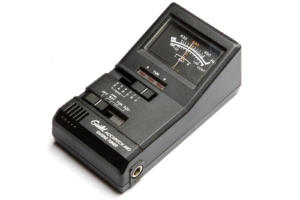 This bit of '80s Guild-branded goodness is the Accupitch 440 tuner that was so cool it graced the back cover of the 1982 Guild Ax-Cessories catalog. As with most of my reviews, I look at the marketing then tear the item open to see if it matches the promises all the while seeing if a modern musician can function using an '80s quartz tuner instead of pretty much anything else available today.
[
Guild Brian May Treble Booster Pedals
]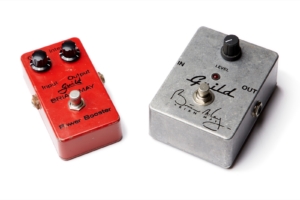 As the first of a pile of Brian May Guild Guitar articles, I found myself one each of the Guild Brian May Treble Booster pedals – one from the 1980s, and one from the 1990s. In this review I open the pedals up, examine the contents, report on my findings, and then make some questionable sound clips using each of them (and both!). You'll never find a more thorough review of these two rare pedals.
Miscellaneous
[
Digitizing 2000 Pages of Guild Guitar Catalogs
]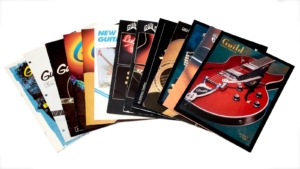 Have you ever wondered what it takes to scan, photograph, and otherwise digitize thousands of pages of vintage documentation in order to give them away for free on an insane collector's website? If you have, then read what happens when I get annoyed at the fact that people charge for PDFs of Guild guitar catalogs.
[
Identifying Guild Clear G-Shield Knobs
]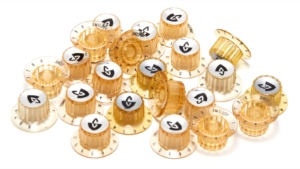 After going down the rabbit hole about the differences in Guild clear G-shield knobs, I put all of my notes into an article that explains the different types. If you're wondering if the new Newark St. knobs will fit on your '50s or '60s Guild guitar, this is the article you're looking for.
[
Guild Guitar Factories
]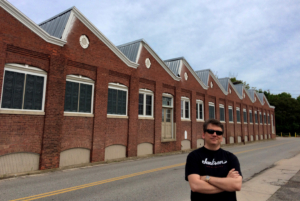 After visiting the old Guild factory in Westerly, Rhode Island, someone online asked what the old Hoboken factory looked like today. That led me to research what all of the current and previous Guild factories look like today (as of 2017), the results of which are contained in this article. And yes, that's me wearing a Jackson T-Shirt in front of the Westerly Plant.
[
GAD's Guild Knowledge Base
]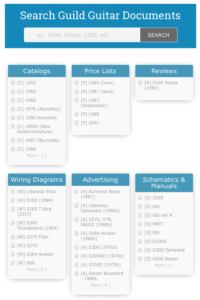 I've taken many of the Guild guitar catalogs I have and put them online so people can access them. While doing that I decided to also upload all the price lists, magazine ads, articles, schematics, manuals, and other miscellaneous stuff which made it damn-near impossible to navigate.
As a result of trying to manage all those documents, I present to you GAD's Guild Knowledge Base. This page will be updated as I either acquire new items or as I scan some of the items that I've not yet digitized. If you have document you'd like to share let me know and I'll add it!
[
GAD's Guitar Review Standards
]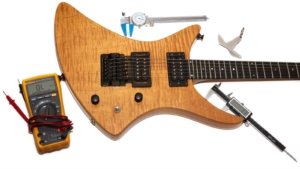 I felt the need to document my review process so that there could be some transparency into what I write. Also I like to think that somewhere there's someone who care how I spend my free time, which at this point now includes me writing about me writing, which is a little odd to tell the truth.
[
Guild Electric Guitars
]

A general overview of Guild electric guitars. This was my first article on Guilds written in 2010 when I first started the blog.
It covers mostly Guild Starfires because that's what I was busy collecting at the time and I prattle on a bit because I was new to blog writing, but the fact remains that this is one of the most hit articles on my site.
Oh, and as a final note, yes, I owned and photographed every guitar that you see on this page. I just love Guild guitars! You can always find this page at https://gadsguilds.com.