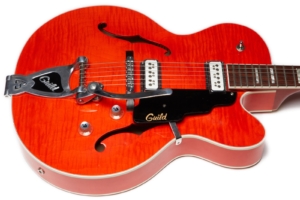 One of the toughest guitars for me to get ahold of has been the Guild X160 Rockabilly model. They may not be all that common, but I think the main issue is that the people who have them don't want to sell them or when they do, they want ridiculous amounts of money for them.
Thanks to a trusted member over on the LetsTalkGuild forum selling his, I managed to lay my mitts on this beautiful orange example which I will play, dissect, and otherwise review for your reading pleasure.
Introduction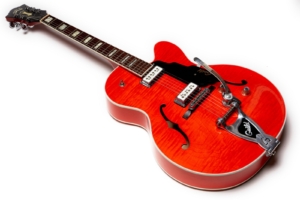 There can be a fair bit of confusion around the model number X160 because there was an X160 Savoy and then the X160 Rockabilly and they are completely different guitars. Superficially they look similar because they're both hollow-body guitars, but the X160 Rockabilly is not a refinement of the X160, nor is it even the same body style aside from them both being hollowbodies. They are quite literally completely different guitars.
Let's talk some history.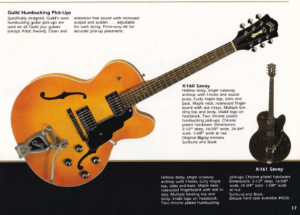 This 1990 Guild catalog page shows the X160 Savoy. The page shows both the X160 and the X161, though there is no obvious differentiation between the two. According to the Ted Beesly book, the X161 came with the Guildsby as standard, which is possible though a bit weird that Guild shows the Guildsby on the X160. On that catalog page, it lists the the X160 as having sound posts with no mention of sound posts in the X161 description, but given that catalog copy is not known to be terribly accurate and I've now handled one myself, I can't really say what the differences (if any) are. The 1993 price list shows an X160B that includes an Original Bigsby tailpiece (the X170 was also sometimes sold as an X170B for the same reason), but there is no mention of the plain X160 or X161.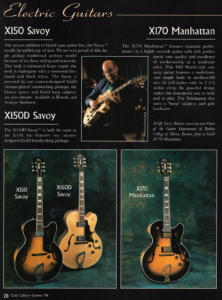 The X160 Savoy is kind of like a stripped down X170 Manhattan. It's got the same body shape and style, but it has all chrome hardware and no neck binding. The X160 Rockabilly, however has the shape and body style of the smaller X150 guitar, which differs from the X160/X170 in that it's a bit smaller on the bottom bout and a bit deeper overall. The Westerly X150 had a bound fretboard and block inlays, but was generally a harp tailpiece jazz kind of guitar with a single neck pickup, though it also came in the X150D variety with dual pickups. You can see the difference between the X150/X150D and the X170 (with neither showing a Bigsby option) on page 28 of the Summer 1998 edition of Guild Gallery, which was a sort of magazine/catalog hybrid that Guild put out for a couple of years.
While the X160 Savoy was sort of a "budget version X170", the X160 Rockabilly was sort of a "souped-up version of the X150." To make matters even more confusing, the X150 Savoy name was also used back in the 1950s and '60s, but I'm going to ignore that for now in the interest of my own sanity. Here's a good post on the subject from the LetsTalkGuild forum if you'd like to dig a little deeper on that subject.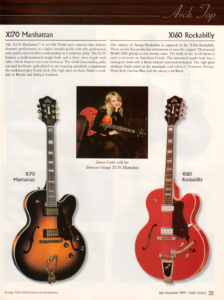 This is a rare example of a guitar for which I have almost all of the catalogs so, dammit, I'm going to show them off. The July-December 1999 catalog includes the X160 Rockabilly and shows an actual Bigsby instead of the Guild-emblazoned Guildsby, but I was unable to find any non-catalog pictures of X160 Rockabilly guitars with that Bigsby tailpiece on it. I found multiple versions of that same picture, but nothing from online auctions or picture sites.
Another thing I find interesting about the X160 Rockabilly in this 1999 catalog is the fact that it has the clear knobs normally found on Corona-made Guilds while many of the Westerly-made X160 Rockabilly guitars I see have the traditional black G-Shield knobs like this stunning example from the excellent site, Chasing Guitars. Since I don't have any facts beyond my observations of online auctions and catalog pictures that seem to contradict those observations, knob color shouldn't be considered an accurate means of dating these guitars.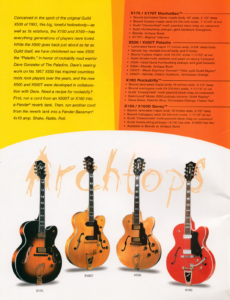 The 1999 catalog also says that the guitar is finished in gloss urethane, but the 2001 catalog contradicts that statement which I'll write more about later in the Finish section. The 2000 Catalog uses the same damn picture while saying in the text that the guitar includes a Guild Bigsby.
Although Fender had owned Guild since 1995, the 2000 catalog is the first one where Guild was combined into the Fender Frontline catalog, and the text there mentions that the recipe for rockabilly is to take a Guild X500T or X160 and plug it into a Fender reverb tank and then into a Fender Bassman. I certainly can't argue with that formula, though I think that's more of a surf thing than a rockabilly thing, but I guess Fender hadn't bought Roland so they couldn't throw in a Space Echo mention. Remember that the Brian Setzer Orchestra was huge around this time and he played (and still plays) through a '63 Bassman, so that's probably what Fender was trying to capitalize on.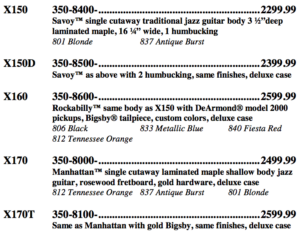 The 2001 price guide shows the retail price of the X160 to be $2599.99 which included a Bigsby (no mention of a Guild Bigsby) tailpiece. It lists the standard colors as 806 Black, 833 Metallic Blue, 840 Fiesta Red, and 812 Tennessee Orange, which is the color of the guitar in this review.  The price list also says that custom colors are available, but I've never personally seen any custom color examples, so if you've got one let me know because I'd love to see it!
Well, I guess I have seen one that's got a lot more custom bits than just the paint job.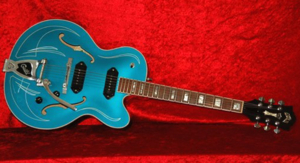 This picture has been seen on a couple of online forums such as this one which shows a Guild X160 Rockabilly with P90 pickups and some pretty killer pin-striping. From what I've read, I believe this was a NAMM guitar, though I don't have any conclusive proof of that beyond a couple of Internet posts. It looks cool, though, and I bet it sounds amazing. I do wonder at the tonal differences incurred with the change to P90s because as you'll see, the DeArmond pickups have their own distinctive sound and I'd hate to lose that no matter how cool the pin-striping.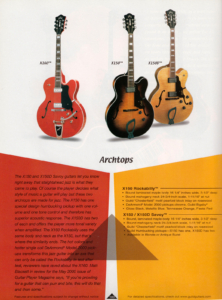 When Guild moved from Westerly to Corona, the dimensions of the body changed slightly with reports of the Westerly models measuring 16 ¾" on the bottom bout, and the Corona models measuring an even 16″. The 1999 catalog does not list a size while the 2000 lists the X160 Rockabilly as having dimensions of 16″ wide by 3 ½" deep. The 2001 catalog says that the X160 is 16 ¼" wide by 3 ½" deep, and the 2002 catalog reports an even 16″ x 3″. Of course, catalogs are not always accurate as proven by the fact that the same picture is used for four years across two different factories. Precision is not exactly the hallmark of marketing, especially in guitar catalogs.
As to why there's a difference between Westerly and Corona versions of the X160 Rockabilly, Hans Moust (author of The Guild Guitar Book) explains in this post over on LetsTalkGuild that new tooling and molds were built in Corona for the guitars which accounts for some of the changes.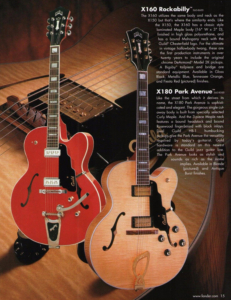 Regarding serial numbers, again as per Hans (seriously, where would we be without Hans?), the Westerly made X-160 Rockabilly shared the serial number prefix with the X-150(D) which was AK150###. The Corona made Rockabilly serial number prefix starts with CB000###. Although Hans may know more, for the rest of us that makes it quite difficult to know how many of these X160 Rockabilly guitars were made.
I've not measured a Westerly example personally, but I've read reports that the Corona X160 Rockabilly has larger frets. That wouldn't surprise me given the size of the frets of the one in my possession, but we'll see more about that down in the Fretboard and Neck section.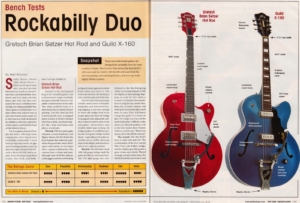 In the May 2000 edition of Guitar Player Magazine, they did an article comparing the Gretsch Brian Setzer Hot Rod to the Guild X160 Rockabilly, so I went and found a copy of the magazine and scanned the article for your viewing pleasure. The Gretsch gets the equivalent of top billing since it's reviewed first while the Guild's report spans some of the next page and then continues onto page 133. Still, the writer seems to have given both guitars a fair shake and actually rates the Guild higher than the Gretsch in Workmanship, Hardware, and Value.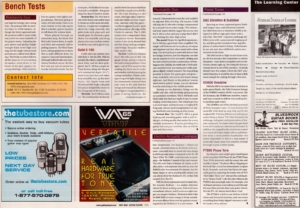 Having owned a Setzer Hot Rod, I can say that the guitars are very similar and while I preferred the ebony fretboard on the Gretsch, I greatly prefer the block inlays and the neck carve on the Guild guitar. Plus I'm a Guild guy, so the headstock on the Guild is a slam-dunk win for me.
I should point out that in late 2002 Fender made a deal with Gretsch and took over production management of the brand which caused all of their guitars to return to more vintage correct designs while simultaneously increasing quality. The Setzer Hot Rod I owned was a 2005 model and as such likely played and behaved a bit differently than the one in the Guitar Player (GP) writeup. Similarly, the X160 Rockabilly in my possession is a Corona-made instrument while the one in the GP article is probably Westerly-made. Try to find another magazine article comparing them, though.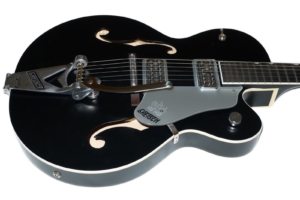 I've spent a fair bit of time and energy chasing Brian Setzer's tone, which is what led me to owning that sexy black Hot Rod, along with a stellar 2004 Setzer SSLVO that I foolishly sold. I've always favored the Guild feel and playability over Gretsches, and my go-to has been my Guild X170T Mars in Tennessee Orange. Let's see how this X160 Rockabilly compares to some of the best that Gretsch and Guild had to offer, and see if it lives up to the Rockabilly name.
Pick Guard Restoration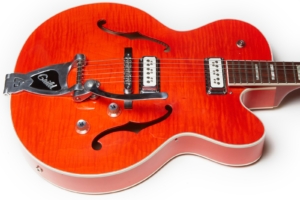 When I purchased this guitar it came to me missing the pick guard. Originally I thought that this would be a simple problem to solve, but I was quite mistaken. You see, this is a fairly uncommon guitar and since this guitar has DeArmond pickups, no other Guild model's guard would fit. While I do prefer the playability of the guitar without the guard, I very much like the looks of the guitar with the guard. Additionally, I try wherever possible to photograph guitars in their original condition. Believe it or not, it would take me almost a year before a solution presented itself.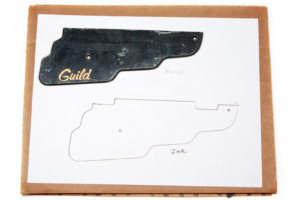 A seller on eBay listed an uncut pick guard from Guild that was the right shape. I paid way too much money for it, but such are the lengths a collector will go to restore something. The next step was to get an accurate cutout shape for the guard. After asking over on the LetsTalkGuild forum, a member there kindly took the guard off of his X160 Rockabilly and traced it for me. I then mailed the guard and tracing to someone I trust who cut it for me. They did a fabulous job and I could not have been more satisfied with their work. Of course, I had to go and make it "better".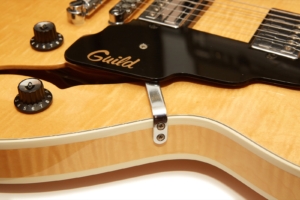 When I got the guard back and went to install it, I quickly discovered that the bracket attaching the pickguard to the guitar has only one hole that makes it different than most of the other Guild brackets out there. Because nothing in my life is simple, I also discovered that I couldn't easily source a replacement for that bracket. It wasn't until I happened to buy a 2002 Guild Starfire III that came with an identical 1-screw bracket that I could try and attach the guard. For those of you who wonder why it takes me so long to write reviews, this is just one of the many examples of how difficult it can be to get old guitars back to their original configuration, and this guitar isn't even that old!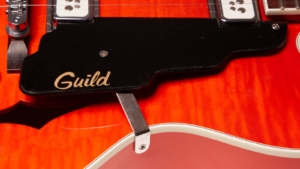 With the proper bracket in hand, I went to install the guard and discovered that the pickup cutouts were ever so slightly off, likely due to cascading issues of tracing, router bit sizes and who knows what else. Being the do-it-yourselfer kind of menace that I am, I took a file to it and made it fit which also made it look like some idiot had taken a file to it. You can't really tell that it's not right from a distance, and it looks OK in most of the pictures, but I know it's wrong and it annoys me.  Lucky for me I had to put the bracket back on my Starfire III, and I prefer the playability of the guitar without the guard, so I don't have to look at it any more.
Finish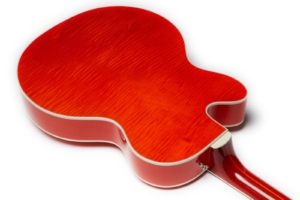 According to the 2002 catalog, every Guild electric from that year electric was finished in Lacquer except for the Bluesbirds which are finished in poly. Whether or not the catalog is accurate or not is anyone's guess, but this guitar feels very much like the X170 I have from 1994 and the X170T from 2000, so I'll assume it's lacquer. Having played some of Guilds finer poly-finished guitar, I can't say with authority what the finish is comprised of, though.
As stated earlier, the 1999 catalog says that the guitar is gloss urethane but the 2001 catalog states that all Guild electric guitars are nitrocellulose lacquer except for the Bluesbirds which are poly. While it's entirely possible that this changed I tend to doubt it, but I've been wrong before.
The quality is, of course, impeccable, and the Tennessee Orange is a wonderful vibrant hue that works so well on this model, especially if you're a fan of the iconic orange Gretsch slung by Brian Setzer for so many years.
Fretboard and Neck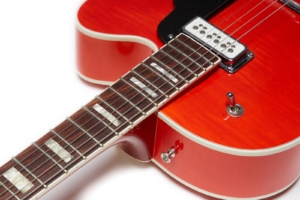 This is a 24 ¾" scale guitar and the bound fretboard is rosewood with pearloid block inlays. The guitar has a three-piece mahogany neck which has been ramrod straight since the day I bought it.
My Setzer Gretsches all had V-shaped necks that I didn't particularly like which was a shame because I loved all of the other aspects of those guitars. I think the neck on this guitar really stands out, even among other Guilds. I really like the neck on this guitar largely because it is a fair bit chunkier than older Guilds, and is even a tad deeper than the X170T that I like so much.

The neck is, in fact, about the same depth at the first fret as my 2018 Les Paul Historic R9! This is really a great playing guitar and the stellar neck carve has a lot to do with that, in my opinion. This guitar actually has the second third-deepest neck carve of any Guild I've ever measured, but the winner of that competition has yet to be written up by me, so you'll have to wonder what it is for the time being. It doesn't win by much, though; this guitar has a nice beefy neck.
The frets measure .04″ tall by .103″ wide making them jumbos, and they're another reason the guitar plays so well, again in my most humble of guitar reviewer's opinion.
The fretboard radius is a fairly flat 12″ which also works really well for me, again likely because it feels like a killer Les Paul. Some vintage Guilds have some pretty small necks and one of the most perfect Guilds I own is the 1994 X170 which would be the most perfect if not for the 1 5/8″ measurement at the nut. When it comes to the neck, this is one of the best guitars I have. I know I keep repeating myself, but it's just that good.
Build Quality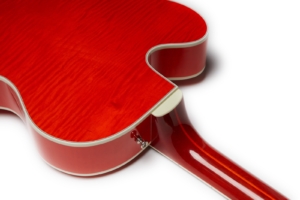 Like every other US-made Guild I've reviewed, this guitar is rock solid and feels like a quality instrument. There are no blemishes anywhere, no signs of cut corners, and the guitar just exudes quality.
This is a full hollow-body guitar and there is no sound block. There are two braces that run along the inside of the top from the neck to behind the bridge, similar in the way that there are two braces inside a Starfire III. As a result, this guitar is very light at seven pounds even (3.18 kilos) and the guitar has a very light nimble feel to it, even with its deep body. I attribute that perception to the smaller lower bout of this model compared with the larger jazz guitars that I've played.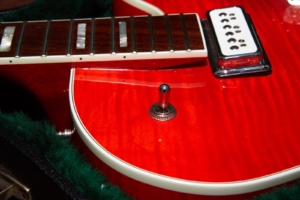 There is significant neck angle which is a normal thing given the Bigsby due to the angles between the tailpiece and bridge on top of that beautifully arched top.
There is no binding on the f-holes, but there is binding on the neck, top, and back of the guitar, with the top and back both having a simple three-layer binding. While the guitar is beautiful, it wasn't built for extravagance like some of the higher-end Guild jazz models such as the X500 or X700. I'd say that the most elegant things about the guitar are the flamed top and the block inlays.
Pickups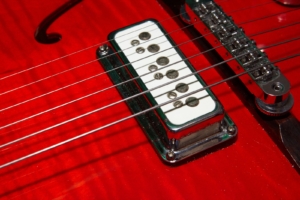 The pickups in this Guild X160 Rockabilly guitars are DeArmond 2000s, and yes, this is about to get very confusing. If you've done even a little bit of reading about this topic, then your head is no doubt swimming with 2000, 2k, the other 2000, the vintage 200, and maybe that other company that's making a 2000. Oh, and let's throw the word Dynasonic in there for good measure.
Let's talk some history.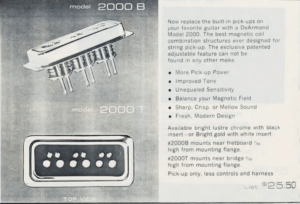 Originally there was the DeArmond 2000 which Gretsch called the Dynasonic (because Gretsch). That pickup is shown in this original ad, where you can plainly see that it was called the 2000 and not the 200. I bring that up because at some point someone decided that it was called the 200 (possible due to a typo in a '60s Gretsch catalog) and that stuck, causing even more confusion over the years which I'll show you in print in just a bit. Read that again: there is no such thing as a DeArmond 200! Remember that as there may be a quiz at the end.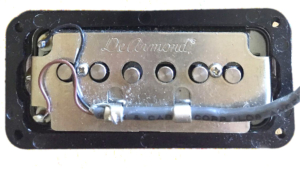 In the late '90s Fender owned the DeArmond name and reissued the pickups (sort of) as the DeArmond 2K for their import DeArmond guitars, but they were not the same design; they just look the same from the top. From the back they look like this with the DeArmond logo embossed on the baseplate, and most importantly, the large pole pieces extending through the plate. These are Fender-designed pickups that are said to be constructed like P90s.  Although I've not taken one apart, that comes from Bill Turner who was in a position to know exactly what the deal was with these pickups. Oh, he's also one of the guys that founded EMG, so yeah—he knew his pickups.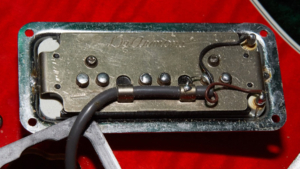 At some point around then, Gretsch (who would not be sold through Fender until 2004) contacted Fender about using DeArmond pickups for their Historic series of guitars. You can read more about this in this interesting thread over on GretschPages.com, where Bill Turner from Fender is quoted as saying that they had also designed a "better" 2000 reissue when they designed the 2K. That better reissue would be called the DeArmond 2000 even though it wasn't the same design as the original 2000, either. These new DeArmond 2000 pickups are what is in this Guild X160 Rockabilly guitar. It's a DeArmond 2000, which is not a 2K but not an original 2000, either. Got it? The important thing to remember is that these 2000s sound more like the original 2000s than the 2Ks do.
But wait; there's more!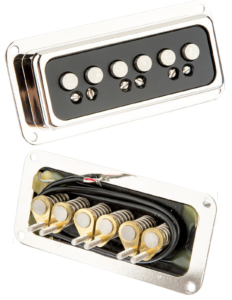 To make matters even worse, Gretsch later reissued pickups designed more like the originals and called them DynaSonics (shown to the right), but at least they didn't call them 2000s. Then TV Jones came along and released his T-Armond pickups which are also like the originals having been designed based on the vintage pickups in Brian Setzer's Silver Jet guitar. The Seymour Duncan custom shop will also wind you a pair in vintage or hot specs which they thankfully do not call a 2000 or 2k or anything of the sort, instead calling them Duncan Dynos.
All of these pickups look very similar from the front, so it can be quite challenging to determine which model is in a guitar without turning some screws, and even then it can be tough if you don't have any good references. Perhaps I can be of some assistance in that regard, because like most everything in my life, I went down the rabbit hole in order to learn as much as I could about these pickups. Remember kids, when you go down the rabbit hole you may meet (or become) the Mad Hatter.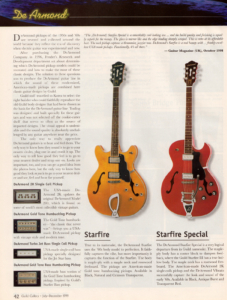 Remember when I said that a lot of sources insist that there was a DeArmond 200 pickup? Well, take a look at this page from the July-December 1999 Guild Galleries magazine/catalog which states that the 2K single coil pickups updates the original DeArmond Model 200 which is found on some of the world's most collectible vintage guitars. By the way, that's the same freaking catalog that I referenced in the introduction that states on page 33 that the X160 Rockabilly comes with DeArmond 2000 pickups and then on page 42 of the same catalog it says 2k. It's no wonder people are confused!
I should point out that I can't tell you if the Westerly-made X160 Rockabilly guitars have 2Ks or 2000s unless someone sends me a pic of the back of a pickup like I've shown here. Sure, the catalog page from 1999 says that they have 2K pickups, but catalogs can be wrong. You know, like how it says that the 2K is based on the non-existant 200. Furthermore, the 2002 Fender Frontline catalog I have shows on Pg 15 that the X160 Rockabilly (now made in Corona) has Model 2K pickups while page 29 of the same catalog says that pickups in that model are DeArmond 2000s. Clearly, the confusion is not limited to Internet forum posts. For what it's worth, this Westerly-made X160 Rockabilly appears to have DeArmond 2000s in it.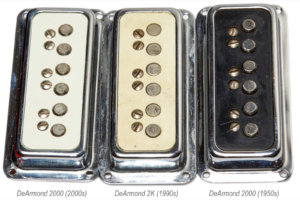 Over the course of the past year or so, I've managed to procure a pair of '90s DeArmond 2Ks and a pair of original 1950s DeArmond 2000s to go along with my 2000s from the early 2000s (which should make this even more confusing). This picture shows the 2002 DeArmond 2000 from this X160 guitar on the left (white), a 1990s DeArmond 2K in the middle (yellowed), and a 1950s DeArmond 2000 on the right (black). There are subtle difference aside from the color of the covers, and I should point out that the '90s 2k in the middle may be discolored from age, though it certainly does help with differentiation in this discussion. Just when I think I've proven that all 2ks have yellowish covers I see some with what looks like pure white tops which just proves that looking at pictures on the Internet is not really research.
The '90s 2k (middle) seems to have flatter pole pieces than the other two which appear to have more bevelled poles. Aside from that (and I wouldn't make a determination on that), there is little to differentiate the three pickups when viewed from the front. Remember, the middle one is possibly yellowed with age and the black one is black because it came from a Gretsch. Really, the only way to be sure is to pull them and look at the backs, so let's go ahead and do that.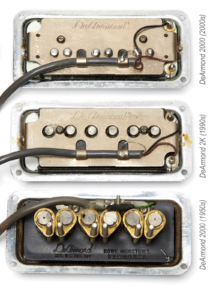 The backs of these pickups tell a more complete story. Here, the 2002 Dearmond 2000 from this guitar is on top, the '90s 2k is in the middle, the the '50s 2000 is on the bottom.
The 2002 pickup (top) has the adjustment screw bottoms showing through the baseplate, while the 1990s pickup (middle) has the pole pieces sticking out. The 1950s DeArmond 2000 (bottom) is quite clearly very different than the other two. While the modern Gretsch and TV Jones reissues look like the '50s pickup at first glance, the tell-tale marking on the vintage pickup is the markings that state: DeArmond  REG U.S. PAT. OFF and ROWE INDUSTRIES TOLEDO.O. U.S.A. molded into the plastic back of the pickup body.
How these pickups sound in comparison to each other is outside the scope of this article and is a subject for another time. Some other great resources for learning about these pickups and their variations can be found here, here, and a special acknowledgment to dbirchett over on the LetsTalkGuild forum who got it all right in his post here. By the way, if you'd like to see the internals of these pickups, check out this excellent thread over on Gretsch-Talk where someone did a teardown of the modern 2000 and 2k pickups thus proving visually that the 1990s DeArmond 2k is build more like a P90 than a vintage DeArmond.
To summarize:
The DeArmond 2K from the 1990s is built like a P90 and doesn't sound like the vintage 2000
The DeArmond 2000 from the 2000s is built more like the vintage 2000 and sounds great
The DeArmond 2000 from the 1950s is the real deal and looks like the valves on an engine from the back
There is no such thing as a DeArmond 200
Quiz time! What pickups are in the guitar in this review? DeArmond 2000s. See? Clear as mud.
Whew. OK, let's get back to the guitar.
Electronics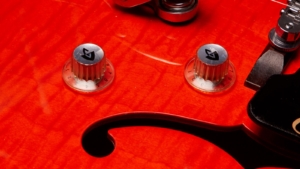 Since this is a hot-rod style guitar, there is only a master volume and tone along with the pickup selector. Ain't nobody got time for no knob-twiddlin' when it's time to rock! Actually, it could just be that they took advantage of the X150 design that had only two knobs, but I do think part of the charm of this guitar is its simplified control layout. The Gretsch Hot Rod that I briefly mentioned in the introduction had nothing but a volume pot, so I think the idea of a hot rod guitar was certainly something that people were buying at the time.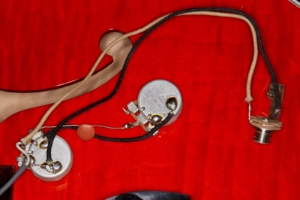 The pots are stamped 41-WD500 and 60-WD500 and are CGE pots made in Mexico. From what I've read these pots have silk-screened paths instead of thicker carbon paths, so I have my doubts about their longevity, but to be totally fair I haven't dissected one so that should be taken as Internet lore until otherwise verified. I had a whole rant lined up about gotta love Fender, producing "Made in America" guitars with Mexican electronics, though I just now realized that the "Made in USA" stamp that used to be on the back of the headstock when Westerly was making guitars is not there on this Corona-made Guild. Of course, CTS hasn't made pots in the US for years, so my griping about the country of origin is a waste of time. If you do a search for CGE pots you'll find years worth of forum posting from people complaining about them in their Gibson Les Pauls and piles of people saying, "They're just as good as CTS". If you read long enough you'll likely come to the conclusion that all modern mass-produced pots suck, so when i got to that point I gave up, stopped caring, put the electronics back into the guitar and moved on.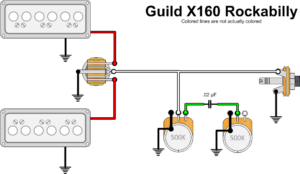 The electronics are very simple with a master volume and master tone connected with a .02μF ceramic disk capacitor. Guild has never really bought into the fancy cap thing from what I've seen, and this guitar is no different in that respect.
I did find the wiring interesting because most Guilds that I've torn apart send the pickup signal through the volume pots, meaning that the signal from the pickup goes to center (wiper) terminal on the pot, through the pot, then out through one of the outside terminals. Sometimes this is reversed (into an outer lug, then out through the middle), but the signal usually goes through the pot. On this guitar, the volume pot is wired such that it is an alternative path to ground. I'm not sure if this really makes any difference since the volume pot on 10 should be offering very little resistance (impedance, really) in a traditionally wired guitar, but I point out the difference in this guitar because, well, because it's different. Additionally, the pickups are wired to the selector switch and not to the volume pot since there is only one volume.
Hardware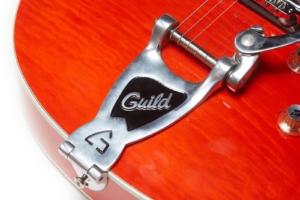 Since this is not built to be a fancy guitar, there is no gold anywhere to be found. Instead, chrome and aluminum provide the silver color scheme on the hardware. The Guild-marked Bigsby (Guildsby) looks great and functions perfectly.
The tuners are Grover Rotomatics which also provide a sort of understated quality, though I don't think that was the goal in using them since they have appeared on whole lot of Guild electric guitars over the years.
The strap pegs are nothing special and are pretty much the standard offering without any locking capability whatsoever.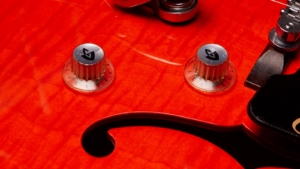 While the knobs on Westerly examples of the X160 Rockabilly appear to be black G-Shield knobs, the Corona-made Guilds are translucent. This is seen across all of the Guild electrics that I've come across, but what I'd never noticed until looking closely at this guitar is that those Corona knobs only go to 9! I had no idea. I don't know if this is an homage to the '60s Guilds with their tone and volume knobs that only went to 9, but it's kind of a moot point since it's very hard to see the numbers on the knobs, anyway.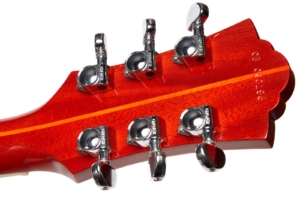 The bridge on this guitar is not original, having been replaced with a roller bridge that is SO much smoother than the Bigsby style rocker bridge. The bridge appears to be glued to the top, though based on the fact that the original is in the case, it seems that this was not the case on stock X160 Rockabilly guitars.
While most of the X160 Rockabilly guitars I've seen on my Internet-based quests have all metal bridges, the bridge on this one has a wooden base, and the original in the case has a wooden base as well. The bridges I see online are usually set for a plain third, but I could not find any detail on bridge variations. Usually I'd say an all-metal bridge would be good for adding some bite to the bridge pickup, but if there's one thing this guitar does not need, it's more bite on the bridge pickup.
Sound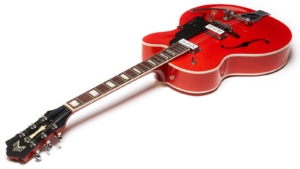 This guitar came top me with flat-wound strings which sounded good, but I don't like the way that they feel having become set in my ways over the last 40 few years of playing and for Rockabilly I want that twang. This guitar has some pretty aggressive high-end, so the flat-wounds may have been an attempt to tame those highs. I only like flat-wounds on jazz guitars and while an argument could be made that this is a guitar built for jazz, it's got Rockabilly in the name so it needs to rock. Without feeling bad for a second I put on a set of Ernie Ball Regular Slinky strings (10s) and went to town.
ODS100 Clean
7th Chords
Open Chords
D-Shape
JCM-800
A Barre Chords
D-Shape
Rockabilly
Stray Cat Ending
Sleepwalk
Mercury Blues
I've had this guitar for some time and I had made the recordings using my Axe-FX II XL+ setup through the QSC K12 speaker recorded direct into my Macbook Pro using Audacity. I recorded using the 
ODS100 Clean
 patch, as well as the 
JCM-800
 and a couple through a custom setting I made trying to simulate the Brian Setzer sound.
For the first few recordings I cycled through the neck pickup, both pickups, and finally the bridge pickup. The Rockabilly recordings are on the middle (Stray Cats), Neck (Sleepwalk) and bridge (Mercury Blues). All knobs on the guitar are on 10 at all times.
The bridge pickup can get a bit ice-picky and this is one of the few guitars I have that I find myself reaching for the tone knob on the guitar while playing. Given the choice, I'll always choose pickups that are too bright because it's easier to roll off highs than it is to add them when they're missing, but the bridge pickup can get downright harsh if you let it. This is a guitar that needs to be tamed.
The neck pickup has a delightful airy tone that seems incapable of getting woofy until you turn down the tone knob all the way at which point I don't like it at all, but then I've never been a fan of rolled-off tone on any guitar, so the fact that I could roll this one down as far as I did without hating it is pretty impressive.
The middle position is magic. Absolute pure unadulterated magic. It is also noise-cancelling which was a pleasant surprise.
The guitar takes distortion well, but I found its inherent brightness to make me think about darker sounding amps to balance it out. On my very customized '63 Bassman patch, I was so in love with the middle position that I couldnt' stop playing. This is also a guitar which I will ride the tone knob, which is something I rarely do. The only other guitar with such a useable tone knob (to me at least) is my 1994 Guild X170.
Playability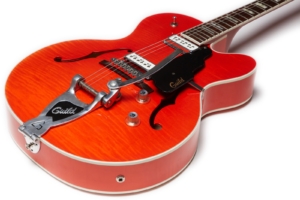 This is a tremendously fun guitar to play, but I tend to think that any brightly colored guitar is fun. Hey, I spent my formative years in a time when hairspray was a man's best friend, so cut me some slack.
The guitar hangs well from a strap and balances well. It's pretty thick so if you're used to a thinner guitar like a Starfire or even an X170, the X160 Rockabilly can seem very deep. On the other hand, if you're used to a Gretsch 6120 or any of the Setzer models like the Hot Rod or SSLVO, then you'll feel right at home on this guitar. Since it's built like a hot rod, there's nothing to get between your mistakes and the amp, so you have to resort to flash to distract the audience from the clams. Or, you know, play well in the first place if that's your thing.
This guitar is a big ol' hollow feedback machine, and just sitting in my office with it on my lap, the guitar would howl like crazy with even moderate volume. This is, of course, much accentuated with gain, but its penchant for screaming made me think that a master volume on the lower bout might have been a better choice than the master volume and tone where they are. It's not that the existing controls are bad, but they're under the Bigsby bar when playing. While I like that they're out of the way, I'd happily have forgone the tone control for a more Gretsch-like master volume position. That said, it's a minor complaint because the guitar plays and sounds great.
Conclusion
Would I recommend this flashy X160 Rockabilly guitar? In a heartbeat. Having owned a real-deal Setzer Gretsch SSLVO, I dare say I like this a bit more and I seriously loved that guitar so that's quite a statement. You'll have a much easier time finding a Gretsch, though, and a modern Setzer Hot Rod model is a killer guitar, but if you're like me and you want to nail the Setzer vibe while also playing a Guild, this is the guitar to get. 

If you happen across one of these in your travels, do yourself a favor and try it out, because I don't think you'll be disappointed. Between the neck carve, the overall build quality, and of course the sound, you can't go wrong with an X160 Rockabilly.

Yes, the pickup designations can be confusing and older ones might have the less desirable DeArmond 2k pickups, but I bet they still rock because even without the jangly DeArmond sound, this guitar would still kick ass.
Honestly, the only downside to this guitar is that people who have them don't seem to want to sell them all that often and when they do, they command a bit of a premium.
Highly recommended.
More about: [ Guild Guitars ][ Dogs ][ Cozy Tales ][ Ferret-Dog ]

Donate: PayPal Crypto: BTC | ETH | Doge

BTC: bc1qgke2eeuwjafudateev08ekytn3g3mpl2w5a542
ETH: 0x0AC57f8e0A49dc06Ed4f7926d169342ec4FCd461
Doge: DFWpLqMr6QF67t4wRzvTtNd8UDwjGTQBGs