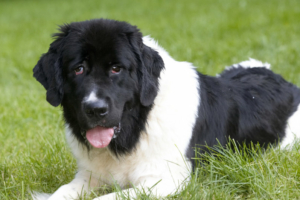 Tales of a Butter-Licking Ferret-Dog tells the life story of Annie, the very special (in the odd sort of super-villain way) Landseer Newfoundland dog who Lauren drove from New Jersey to Ohio to adopt.  Like Cozy Tales, these tales are free:  No ads, no spam, no BS: just true stories of a wacky dog and how she changed our lives.
If you like any of these stories, all I ask in return is that you share it on your favorite social media page.
These tales will be compiled into a book when I have time which given my current schedule will be some time around 2035.
These weren't originally written to be chapters in a book, so some of them just look like blog posts, but as they progress the idea of them being chapters took hold in my brain.
Enjoy!
| Ch |  Title | Post Date |
| --- | --- | --- |
| | Annie and the Cream Cheese | August 11th, 2009 |
| | Annie and the Mashed Potatoes | August 14th, 2009 |
| | Annie and the Shower Trash | August 17th, 2009 |
| | Annie Gets the Apples | August 18th, 2009 |
| | Annie and the Screen Door | August 21st, 2009 |
| | Annie and the Screen Door – Part II | August 22, 2009 |
| | Death of a Remote Control | August 31st, 2009 |
| | Annie and the Butter | September 3rd, 2009 |
| | Annie and the Gentle Leader | September 10th, 2009 |
| | Annie's Good Side | October 4th, 2009 |
| | Annie and the Illusion of Reality | October 29th, 2009 |
| | Annie and the Office Door | November 28th, 2009 |
| | The Old Man and the Beast | January 26th, 2010 |
| | Annie and the Butter – Part II | February 5th, 2010 |
| | Annie and the Chocolate | February 15th, 2010 |
| | Annie the Girl Scout | May 14th, 2010 |
| | Annie the Cheeseburglar | May 21st, 2010 |
| | Annie and the Butter – Part III | May 28th, 2010 |
| | Annie: Bagel Snatcher | June 4th, 2010 |
| | Annie and the Zombies | June 11th, 2010 |
| | Annie: The Beginning | June 18th, 2010 |
| | Annie and the Towels | June 25th, 2010 |
| | Annie Guinness and the Mashed Potatoes | July 2nd, 2010 |
| | Stuff Annie has Destroyed | July 9th, 2010 |
| | Annie and the Dog Catcher Man | July 23, 2010 |
| | Annie Babies and Fimbo | July 30th, 2010 |
| | Annie and the Vacuum | August 6th, 2010 |
| | Annie the Tribble | August 20th, 2010 |
| | Vacation with Two Newfs – Day One | August 27th, 2010 |
| | Vacation with Two Newfs – Day Two | September 3rd, 2010 |
| | Vacation with Two Newfs – Day Three | September 10th, 2010 |
| | Vacation with Two Newfs – Day Four | September 17th, 2010 |
| | Vacation with Two Newfs – Day Five | September 24th, 2010 |
| | Vacation with Two Newfs – Day Six | October 1st, 2010 |
| | Vacation with two Newfs – Day Seven | October 8th, 2010 |
| | Vacation with Two Newfs – The End | October 15th, 2010 |
| | Annie and the Mousetrap | November 5th, 2010 |
| | Annie and the Tissues | November 11th, 2010 |
| | Fannie and the Macbook Pro | November 19th 2010 |
| | Dog Dinner Détente | December 3rd, 2010 |
| | Annie the Protector | July 22nd, 2011 |
| | Annie and the Pizza | August 5th, 2011 |
| | Annie and the Antenna Muffins | December 18th, 2011 |