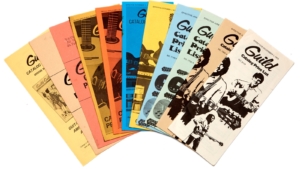 Welcome to GAD's Guilds guitar price-list collection. I've spent many years (and too many dollars) collecting these documents for my research of various Guild guitars for my GAD's Guild articles.  I became frustrated by people charging for the privilege of looking at catalogs and I firmly believe that this stuff should be available for everyone's research use, so here they are. I have physical copies of every price-list shown, and where I don't have the document in my possession, the document was lended to me by Kurt over at The Guilds of Grot who deserves serious kudos for lending my his copies for this effort.  These price-lists were all painstakingly scanned or photographed and then straightened, cropped, formatted, digitally repaired where possible, and color-corrected in order to be included here.
If you have a price-list that I don't show here and you'd like to share a copy (or sell me your original), please contact me or leave a comment.
Each price-list has an image of every page as well as a PDF of the entire document.

Click here for the Guild Guitar Catalog page.
1950s
1960s
1970s
1980s
1990s
2000s
2010s