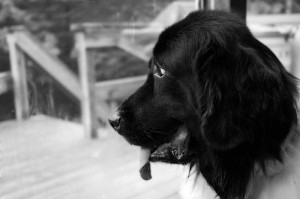 Saturday, our last full day in New Hampshire was the perfect day for a drive to the top of Mount Washington. The sky was perfectly clear, the temperature was in the 80s, and there was no wind at all. That translated to a 45 degrees, and 35 MPH winds on top of the mountain, and that's a balmy summer day up there. In my almost 40 years of coming to New Hampshire, I had never been to the top of Mt. Washington. We had bought "next day free" tickets for the water park though, and the kids wanted to go. Worse, it was two hours to get to the auto road, plus at least an hour up and back, 30-60 minutes there, and the water park closed at six. Knowing I couldn't disappoint my kids, I had to take the disappointment myself. I was a very grumpy bug.

I told my family that we were going to a local guitar shop. I figured a little retail therapy would calm me down and spare them from having to put up with my bad attitude all day. Somehow it made me feel better knowing we were doing something I wanted to do, if only for an hour. The store turned out to be a wonderful place, and just being in there cheered me up considerably. Any store that sells hammered dulcimers and harps in a windowed room overlooking the river has to be shared, so I brought the family in. Colleen decided to buy a purple Ukulele of all things, and Meghan bought a gold harmonica necklace that actually worked. Meghan also managed to lose her four dollar treasure in the car within 30 seconds after buying it.
We decided to go try the hot dog place that was closed last time. As we all stood there reading about the 348 different ways we could have a hot dog, I realized that I really didn't want one. We were on thin ice here though. Lauren had a coupon, and we were actually in a local eatery for lunch, ready to enjoy some non-chain food. I could tell by the looks on the kid's faces that they didn't want hot dogs either. That left Lauren, coupon holder, Walmart hater and soon to be grump queen of legend as the only one of us who wanted one. Clearly the kids were too afraid to say anything, so it was up to me. I summoned up my courage and offered, "You know, I really don't feel like hot dogs…"
I'm not sure when Lauren had the surgery to upgrade her eyes to heat vision. I don't remember seeing the bill for it, but clearly, it had been paid, because the look she gave me singed my eyebrows. The kids looked at me, looked at Lauren, and each took a step back, as if to lessen the impact of the coming explosion. If I recall correctly, the only syllable Lauren uttered as she finished cooking my face with her eyes was, "Fine."
Not a word was spoken as we all sat in Subway, eating our sandwiches. My eyebrows still hurt from the hot dog incident, and no one knew what to say. Lauren is never usually grumpy. It's my job to be grumpy—everyone knows that. We finished our lunch, trudged back to the van and tore it apart on the side of the road looking for Meghan's harmonica. It was nowhere to be found. Somehow a metal harmonica had simply vanished from within the confines of our van. Weird. Now Lauren was grumpy, Meghan was sad, and Colleen happily strummed her ukulele while I drove. Vacation bliss.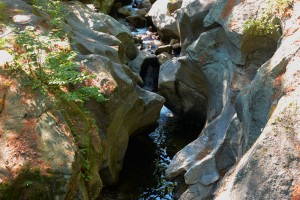 We went to Sculptured Rocks, a local, river-carved rock formation of the type often found in New Hampshire. I'd never been to this one, and found it interesting, but watching college kids jump from the rocks into the water was too much for me to watch.
We took the kids back to the water park where once again the fun-filled park cured our vacation blues, Both kids frolicked in the wave pool, and they rode in the lazy river. I had checked the weight limit on the tube ride this time, and was secure in the knowledge that Lauren's sexy well-exercised body compensated for my roundness. Any combination of three Donahues could not exceed the weight limit of 800 pounds. Hell three clones of me holding shopping bags full of Whoopie Pies wouldn't total 800 pounds.  Lauren and I took turns riding with Meghan and Colleen, and we even took turns riding three of us at a time.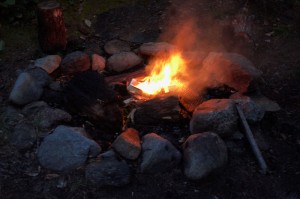 After the water park, we decided to go back to the rental house, start a fire, and make s'mores. At least that was the plan. The $7 box of Graham crackers and $6 bag of convenience store marshmallows turned out to be a poor investment since Daddy the survivalist couldn't keep the fire going. Apparently a week of torrential rain had caused every piece of kindling within a 10 mile radius to retain a significant amount of moisture. I managed to take this picture as the small bits of dry wood and every bit of cardboard from the trash simulated a campfire for a short while. It wasn't any fun anyway since we had to leave the dogs in the house. I doused the pathetic remains of our fire with river water and we headed back to Grandma's to have some dinner and drop the kids off for their last night in New Hampshire.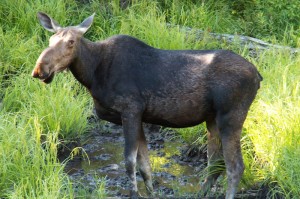 As we drove in the blackness through winding mountain roads, something caught my eye, causing me to reflexively hit the breaks. There, standing in the middle of the road, a mile past the Beware of Aliens sign, was a young moose.
Lauren and I both cried "Moose!", and fumbled to find a camera. By the time I managed to find mine, he had ambled into the woods. All we saw of the momma moose was the glowing reflection of her eyes from the darkness beyond the treeline. We never got a picture, unless you count the picture of smudged darkness, which technically contains two moose, but could also pass for we were probed! photo proof of alien abduction.
When we got home, Annie, unimpressed with our moose stories, ran in, grabbed my towel from the water park, threw it on the floor, and commenced with her Annie dance of towel debauchery. Though our week had been less than perfect, we could always count on Annie to remind us that it's all good, so long as you have a towel to rub your face in.
More about: [ Guild Guitars ][ Dogs ][ Cozy Tales ][ Ferret-Dog ]

Donate: PayPal Crypto: BTC | ETH | Doge

BTC: bc1qgke2eeuwjafudateev08ekytn3g3mpl2w5a542
ETH: 0x0AC57f8e0A49dc06Ed4f7926d169342ec4FCd461
Doge: DFWpLqMr6QF67t4wRzvTtNd8UDwjGTQBGs