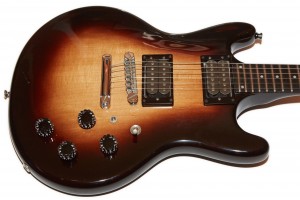 After buying, playing, and testing a 1975 M-80 CS, I decided to see about scoring an early '80s model to see how it differed. I managed to score this tobacco burst beauty for a great price and sat down to play it, eagerly anticipating my first outing with not only a 1980's Guild, but my first experience with Guild's XR-7 pickups.
This guitar is unlike most of the Guilds I've owned in some ways while still retaining the core elements of what makes Guilds such a great guitars. But first, a bit of an introduction about Guild M-80s is in order. 
Introduction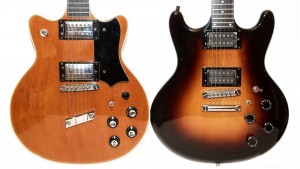 Guild's previous guitar sporting the M-80 moniker resembles the '80s version only in that it is a double-cutaway solid body electric  guitar with an ebony fretboard. In fact, except for the headstock and tuners, this is a very different guitar. Pictured is a 1975 M80-CS from my previous review next to the 1981 M80 that I'll be covering in this article.
Here is a quick list of the differences between the two guitars:
| | 1975 M-80 | 1981 M-80 |
| --- | --- | --- |
| Pickups | Guild HB1s | Guild XR-7s |
| Fretboard Radius | 16" | 7.5" |
| Fretboard Markers | Blocks | Dots |
| Fretboard Binding | Yes | No |
| Body Binding | Yes | No |
| Frets | 22 | 24 |
| Body | Mahogany | Mahogany & Maple |
| Knobs | G-shield | Speed Knobs |
| Master Volume | Yes | No |
| Pickup Toggle | Upper Horn | Near Volume |
| Pick Guard | Yes | No |
| Body Edge Thickness | 1 15/16" | 1 1/4" |
| Weight | 8 lbs 12 oz | 9 lbs 8 oz |
| Upper Strap Peg | Back of Neck | Upper Horn |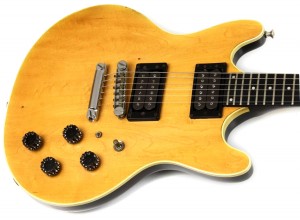 A third version of the M-80 was available in subsequent years, the main difference being the bound body which I presume made the guitar a tad thicker, which may have made it even heavier. I've not owned a bound M-80, but I've talked to people who have and they say that the unbound models are much more comfortable to play given the smooth rounded edges on the body. The bound models have more of an edge to them which makes them probably a bit more Les Paul like, but it makes them more uncomfortable as well. I don't know if they added a thicker maple cap to them, but I imagine that doing so would make an already heavy guitar stupidly heavy.
Finish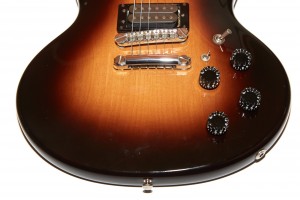 This is one of those guitars where I'm not sure if it's lacquer or poly. It's got only one small ding in it which makes me think that it might be poly, especially because the case I received it in is a wreck.
Regardless of what the finish is, it's very well done, and though I'm not generally a fan of the tobacco-burst color scheme, it seems to work well on this guitar, especially because it came from a heavy gigging guitarist and the case smells so bad that I have to keep it in the garage.  The guitar has a light odor to it which further makes me think it's poly because I imagine a lacquer finished guitar would have absorbed that horrid smell more efficiently.
I'm not sure what colors were available for this guitar in 1981, but the vast majority of the ones I see online are this same tobacco sunburst finish. It seems as though the later bound models may have been offered in more colors, but I don't have actual catalogs from which I could gather facts.
Fretboard and Neck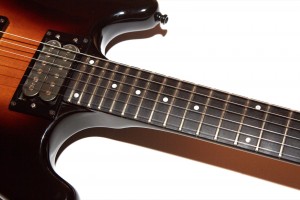 The fretboard reminds me a lot of my Guild S300A-D which makes sense since that guitar was made in 1979 and this one in 1981. The three piece maple neck is very straight, has an unbound ebony fretboard, and is rather small.
The fretboard measures just a bit over 1 5/8″ at the nut (1 21/64″ to be precise) which is also very similar to that S300A-D. There is just enough depth to the neck that the smaller width doesn't bother me much, but I'd still prefer a wider fretboard.
The inlays are dots and this is the only Bluesbird type Guild that I've seen without block inlays. One of the few complaints I've seen from people about other Guild Bluesbirds is that the fret markers don't go past the 17th fret, which may be because there is not a lot of space between those high frets. Since this guitar has dot inlays, they are employed all the way up to and including the 24th fret, and yes, this is a 24-fret guitar. The frets are 1/32″ tall and 3/32″ wide which is typical of Guid electrics of this era.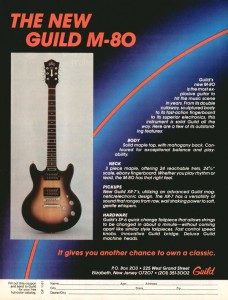 I was totally floored when I pulled out my radius gauges and discovered that the fretboard measures at a very vintage Strat-like 7.5″. I had to measure five times because I simply did not believe what I was seeing, but this guitar has a very curved fretboard the likes of which I'd not seen on a Guild electric before.  I checked the fretboard in probably 10 different spots and they all measured the same way. There is a very distinct curve to this guitar's fretboard, and I have to wonder if that's why I like playing it. I tend to favor flatter fretboards for no other reason than that's what I've always had, and I'll be honest that I didn't notice the curve while playing this one, though it's quite clearly there (you can see it in some of the images). I even went and checked my other M-80 from 1975 to see if I mis-measured that one, but the fretboard curves on the two guitars are nothing alike.
Build Quality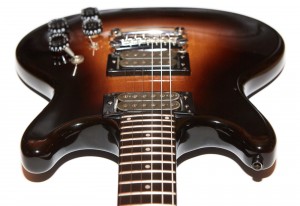 This is a very solid guitar. I mean "whack the guy rushing the stage Keith Richards style then keep on playing as if nothing happened" solid. This 1981 M-80 guitar weighs 9 lbs 8 oz. It's heavy, and it's not very well balanced being very body-heavy, which is why I think it would make an excellent stage weapon. That's probably the exact reason that it would not make a repeat-use weapon, but it feels like a damn battle axe to me.
There is no binding anywhere on the guitar and the entire guitar is very smooth which is one of the things that makes this guitar a joy to play.
This is a set-neck guitar and the neck joint is ridiculously solid. I've always been fascinated by this neck attachment method as it looks like there's no way it could be strong enough to support the 24-fret neck, but it does, and it does it well.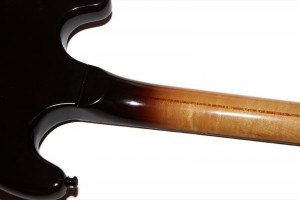 This is really a pretty simple guitar from the build standpoint. It's a hunk of mahogany with a hunk of nicely carved maple on top with a three-piece maple neck glued on. Sure, I'm over-simplifying what it takes to make the guitar seem so simple, but when I play my 1975 M-80 CS, it feels like a big, thick, massive piece of woodworking. This guitar feels more like a heavy Strat in the thin curvy kind of way that made Strats famous.
By the way there is almost a complete lack of flame or even grain on the maple top. After digging around online I found some with some very slight hints of flame, but clearly these hunks of wood were selected for tone or resonance and not fancy flame.
Pickups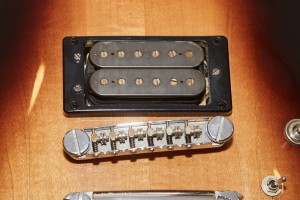 The pickups in this guitar are Guild XR-7 labeled as "Dimarzio Pickup Made in USA" which is indicative of these being the first of the XR-7s.
I'd never owned a guitar with XR-7s, thinking that there's no way that they could possibly compare with the Guild HB-1s that I love so much, so I bought this guitar on a leap of faith and because I got it for a great price.
You can hear the pickups in the Sound section below, but I have to say that I was pleasantly surprised by them. They are clear and powerful while still having a bit of the chime that the HB-1s are famous for. I've seen people describe the XR-7 pickups as being very hot, but that was not my experience with the pickups in this guitar. Yes, they're hotter than HB1s, but having owned a Guild S300A-D with a 13k Ω Dimarzio Super Distortion in the bridge, 8K Ω seems tame by comparison.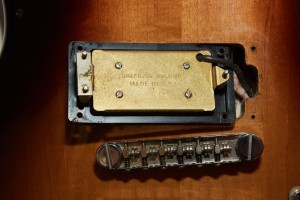 The HB-1s generally measure at about 7k Ω (neck) and about 7.2k Ω (bridge) while the XR-7s in this guitar measure 8.5k Ω and 8.7k Ω in the neck and bridge respectively. Yes, I know that DC resistance doesn't tell the whole story, and I'll spare you the multi-page dissertation on why for now, but using the sweeping generalization that guitar pickups with higher measured DC resistance are "hotter" and have less high-end chime usually stands to scrutiny.
Since they're not much hotter than the HB-1s, they seem to provide more oomph for the amp without getting fizzy like some super-hot pickups. You've got to remember that this guitar was built in 1981 when everyone wanted hotter pickups to feed their newly discovered hair-metal hunger. Van Halen's first album had been released only two years prior, with Fair Warning being the current offering. Mötley Crüe was just forming and the world needed more power! These pickups delivered more power without going crazy like some of the high-power pickups out there.
Electronics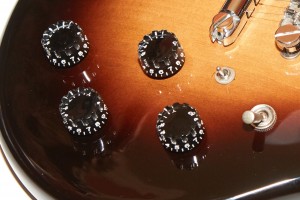 The electronics are typical of Guild solid bodies in the late '70s and early '80s with four knobs, a pickup selector toggle and a phase switch that reverses the phase of one pickup in order to put the middle position into an out-of-phase tone. I often see this referred to as the Peter Green tone since he popularized it with his out of phase Les Paul.
By the time this guitar was made Guid had apparently stopped using copper foil in the control cavities and instead moved on to a special shielding paint that was used thereafter. It's possible that the pots were replaced at some point in this guitar because the control cavity is scratched up in a way that seems to indicate someone rooting around in there with sharp tools, but I didn't see any more obvious signs of solder abuse and I didn't dismantle the guitar enough to find out.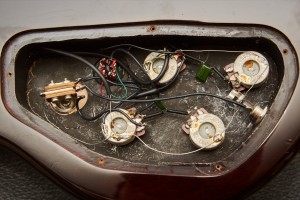 The wiring is also pretty typical of Guilds from this era, with the addition of an odd-looking 1/4″ phone output jack. The jack is different than normally found jacks because it has a long sheath that is locked down on the inch or so wide piece of wood on the bottom bout.
The switch positions feel a little bit cramped to me and I find that I have to hunt around for the phase switch while playing, but I imagine that this is something that would resolve itself given enough time on the guitar.
Hardware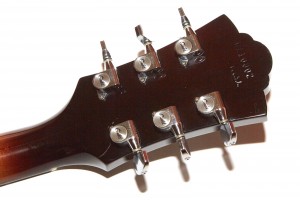 The tuners are standard late'70s early '80s fare for Guilds in that they are Guild-labeled Schallers (Guild calls them "Guild Deluxe machine heads"). As much as I love Schallers, that's not what's cool about the hardware on this guitar.
First, the bridge (A Guild Mueller) is attached such that it doesn't fall off if you replace the strings, as is the tailpiece. Earlier Guild used a slanted metal block that screwed directly into the top, but this uses a more Gibson-esq tailpiece that is adjustable for height. The cool thing about it is that it doesn't come off unless you unscrew those big bolts.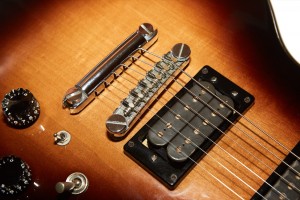 The ad for this guitar (visible higher up in this article) states, "Guild's SP-6 quick change Tailpiece allows strings to be changed in about a minute — without coming apart like similar style tailpieces."  I'm going to go out on a limb and assume they mean that a single string could be changed in about a minute because I can't imagine changing all six in that time. Of course, if I'm only replacing one string then the tailpiece wouldn't fall off anyway, but who am I to judge marketing copy. The tailpiece is pretty cool, regardless of any marketing hype.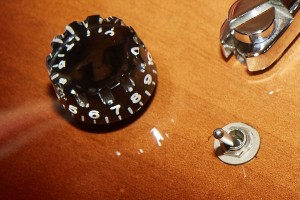 The other big departure from any other Guild electric I've owned is the knob style. Every Guild I have has some derivation of the Guild G-Shield knob, while these knobs kind of resemble Gibson notched Supreme Grip Speed Knobs. I've seen pics online of these guitars with both these notched knobs and more traditional-looking speed knobs without the notches. My assumption is that they shipped with either depending on… what was left in the knob drawer during assembly… or something. Personally, I like these knobs and I think they look great with the guitars finish.
Sound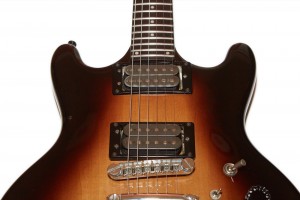 I was unsure of what to expect with this guitar since it had the XR-7 pickups that I had never before used. I was pleasantly surprised by the tones I received while putting the guitar through its paces, likely because I honestly had low expectations. I figured that since people weren't raving about these pickups online that they must not be anything special, and in a way that's true because they don't excel in many of the things that people seem to pursue when it comes to pickups.
All recordings in this section were recorded with an Olympus LS-10. The amp is an Axe-FX Ultra set to either the "Basic Brit 800" (Marshall JCM-800) or "Tiny Tweed" (Fender Champ) setting. The speaker is a QSC K12. All guitar knobs are on 10 for all recordings.
These pickups are not overly chimey, and they're not super powerful. They don't really have a special sound all their own, and I think that may have been their downfall. They do, however, sound good and I think they're actually a good match for this guitar. Would I prefer HB-1s? Maybe, but I'm not sure I'd expend the effort to do so because this guitar is good at what it does, which is crunchy '80s-type distortion with just a hint of chime.
Basic 800
Chords
Open E Chords
12th Fret
These pickups put out more power than HB-1s do which is actually noticeable when I play this guitar next to my 1975 M-80. The pickups are surprisingly articulate and sound nice. The bridge pickup, I'd say, is nicer than the Dimarzio Super Distortion that I used to have in my S300A-D because it delivers a touch more
oomph
than a Guild HB-1 while not getting overly dark like higher-output pickups.
I decided to record all of my Bluesbirds using the same methodology so that I could compare them in an upcoming article. I do three things: A chord progression, an open E chord, and a solo riff at the 12th fret. I do all three of these things on both the Marshall JCM-800 patch and on the Fender Champ patch.
For each recording, I cycle through all four of the possible pickup combinations, those being (in order): neck pickup, both pickups (in phase), both pickups (out of phase), bridge pickup.
Tiny Tweed
Chords
Open E Chords
12th Fret
I chose these two amp settings because I like them and I think they give a good sampling of two very commonly used tones. This guitar is a great example because I thought I would prefer the powerful JCM-800 tones but the Champ is really what excited me when I play. That is, until I feel the need to unleash the power and then it's right back to something with serious gain. I wrote the same thing for the 1975 M-80 with HB-1s and decided to keep that bit here as well because it's true. The guitar is not as chimey as the '75, but it's surprisingly bright with the right settings.
As a final note on sound, I just have to add that this guitar absolutely screams with the Axe-FX Ultra Mesa Dual-Rectifier patch called "Super Chunk". Since the XR-7s have a bit of chime to them but also a bit more power being delivered to the amp, the sound can get dark without being flabby at the same time that some high end sparkle sneaks through. It's just exhilarating. I've annoyed everyone on my street by assaulting them with my worst Metallica impressions to date until my wife told me that I should stop. I'm sure she was just concerned that Metallica fans aren't usually looking for high-end sparkle and her request for me to stop had nothing to do with my playing or the fact that she prefers Abba.
Playability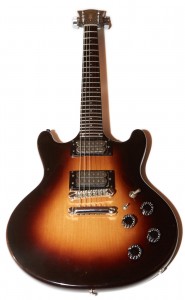 This guitar is a joy to play, with the only caveat to that being the fact that the guitar is heavy at 9 lbs 8 oz. The dense wood and set neck makes it a monster in the sustain department, and the surprisingly curved fretboard makes the neck comfortable even though the neck is thinner than I generally prefer.
What makes the guitar so nice to play is the fact that the body is very thin and all of the edges are very rounded. I did find it a little challenging to change the phase switch on the fly, but more time dedicated to the guitar would solve that issue.
The Guild speed knobs (or whatever Guild may have called them) are large, easy to use and actually sort of look right on the guitar, and coming from a hardcore Guild fan who loves is G-shield knobs, that's saying something.
The upper fret access is fantastic and with the 24-fret neck it's just a joy when soloing.
Conclusion
I've always been curious about these guitars and I only bought this one because I got it for a steal on reverb. Now that I have it, I have a feeling that it will end up being one of the guitars I hang on my home office wall so that I can grab it any time I feel the need. I might have to reinforce the wall, though, 'cause damn is it ever heavy.

I have to say that I really like this guitar. That's probably not a surprise since I love most Guild electrics, but this one reminds me of my coveted S300A-D but in a more playable, more comfortable kind of way. It's an absolute joy to play, rocks in a very satisfying way, and can also play some surprisingly nice clean tones. I would probably enjoy a version of this guitar with a Floyd Rose on it, but that would ruin the clean lines of the guitar. Sadly, if Guild embraced that design idea they probably would have slapped a Khaler on it anyway, which would have been a deal breaker for me.

I got this 1981 M-80 for $650 on Reverb probably because they're not hugely popular like some of the more vintage Guilds and they don't look like other famous guitars. If you find a similar deal, grab it, but only if you're comfortable with such a heavy guitar. Don't be afraid of the XR-7 pickups as they sound surprisingly good to this HB-1-lover's ears. The guitar is heavy, yes, but it's so comfortable that I quickly forget about the weight.
More about: [ Guild Guitars ][ Dogs ][ Cozy Tales ][ Ferret-Dog ]

Donate: PayPal Crypto: BTC | ETH | Doge

BTC: bc1qgke2eeuwjafudateev08ekytn3g3mpl2w5a542
ETH: 0x0AC57f8e0A49dc06Ed4f7926d169342ec4FCd461
Doge: DFWpLqMr6QF67t4wRzvTtNd8UDwjGTQBGs