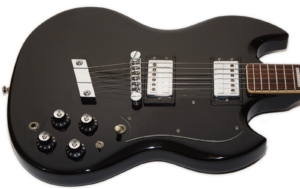 For my 30th Guild guitar review, I decided to publish something special, which is a review of this 1994 Guild S100 Polara. I've already reviewed two Guild S100s, one from the 2015 Newark Street line and one from the 1997 Westerly Reissue series. Why another S100 review? Because this one is special and rare. It also blows those other ones out of the water.
This black beauty is a Guild S100 Polara from 1994. It was owned by a member over on the LetsTalkGuild forum who was kind enough to let me borrow it for a quick (three month) write up and review after which I threw money at him until he let me buy it outright. While that may not be strictly true, what's important is the fact that it's now mine and you can't have it. What's the big deal about an S100 from 1994? You're just going to have to read the review to find out.
Introduction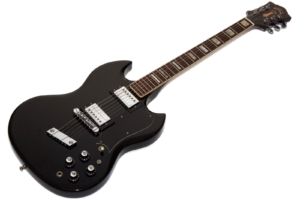 The S100 Polara has to be one of Guild's most popular designs based on the fact that almost every new owner of the Guild name seems to reissue it. Guild made them in the '70s (the one's from the '60s have a very different body shape), reissued them in the '90s, and the Fender-owned Guild re-reissued them in 2013 as part of the Newark St. import line. The current owners of the Guild name (Cordoba Music Group) continue to sell the S100 Polara in 2018.
I was never a big fan of the S100 design but that 1997 S100 I Wrote up made me a believer. It's a fabulous instrument and is one of the guitars that has stayed in my collection after I reviewed it because it was just so damn good.
This one is better.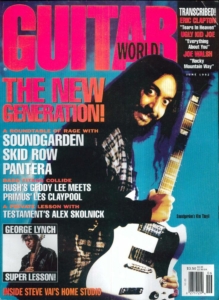 To explain why, I'm going to give a bit of a history of the S100 which first saw the light of day back in 1965. Hell, it's even got its own Wikipedia Page, though there's not much there. The modern S100 looks a lot like a Gibson SG though it's got some pretty significant differences, the most obvious being the offset horns. The original-style S100 only lasted a few years and according to The Guild Guitar book by Hans Moust, the Guild solid body line was redesigned by 1970, thus cementing the S100 shape you see here into history. So far as I'm aware the S100 stayed available in Guild's lineup until they declared chapter 11 bankruptcy in 1988 when they ceased all solid body guitar production.
In 1984, the band Soundgarden was formed by Chris Cornell and Kim Thayil. Kim Thayil was a Guild fan since he bought his first Guild S100 in 1978 for the tidy sum of about $250 because he liked the way it played more than the other guitars he had used. Mr. Thayil is obviously a man of refined tastes.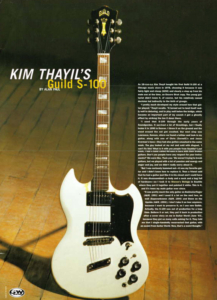 In 1992 Kim Thayil was on the cover of Guitar World magazine holding his then favorite Guild S100 which was actually a replacement for the first one that he had broken on stage (You can read that story here). Guild apparently got so many calls about the guitar on the magazine cover that they reissued the S100 which was their first solid body guitar since the bankruptcy. According to another article  on the subject (click the image of Kim's white S100 to see it), Kim Thayil states that, Believe it or not, they put it [the S100] back in production after a cover story of me in Guitar World [June '92], because they got so many calls asking for it. They told me that I single-handedly resurrected that guitar with an assist from Guitar World. Now, that's a weird thought.
There's a reason I'm spending so many words going on about the history of Soundgarden and Kim Thayil, and it's not just because he's an obvious fan of Guild guitars. Well, I mean, that's a big part of it, but there's more to the story in regards to the guitar I'm reviewing.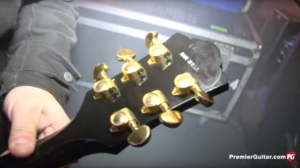 Premier Guitar's Rig Rundowns on YouTube are almost always great, but the one about Kim Thayil's rig is cool because Kim himself comes out to talk about gear. Before that, though, his tech Josh Evans talks about Guild's reissue of the iconic S100 and how (in Josh Evans' words) they gave him -I think- the first five off the assembly line. Josh then proceeds to show off the serial number on the back of the guitar which appears to be FB000002. Why is that important? Because the guitar in my hands is serial number FB000005.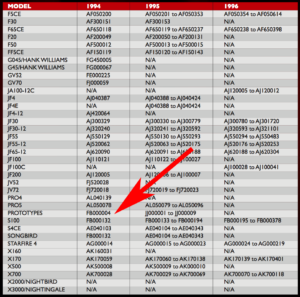 As you might imagine, when I saw that video I got pretty excited, but then decided that there was no way Kim Thayil was going to sell off one of his 5 precious Guilds, so I did some more digging because I didn't want to be in possession of a stolen guitar. If it was his, I'd have to contact him to give it back, and while that would have made for a cool story, doing the right thing would mean giving up this killer guitar. In order to prevent the pending morality conflict, I dug a little deeper.
In the often incorrect Guild serial number charts, there is an entry in 1994 for Prototypes. The prototype serial numbers end at FB000004 in 1994 and change to JJ prefixes in 1995. The S100 serial numbers end at FB000132 for 1994 which makes me think that though this is not Kim Thayil's stolen guitar (phew!), it is the first one off the assembly line that didn't go to Kim. How cool is that?
I should temper my excitement because Hans Moust has told us in the Guild community that guitars were often made in batches and that the number may not necessarily indicate the order of manufacture, and that the serial number chart is often incorrect. Still, having having #5 when Kim Thayil has numbers 1-4? That's cool no matter how you slice it, and that's not even the whole story! This guitar has some cool features that make it even more special. I guess that means it's time to talk about the guitar.
Finish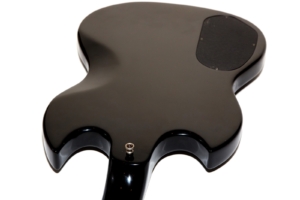 This guitar is finished in lacquer and glows a disgusting snot green when subjected to UV light. The quality of the finish is amazing and this guitar looks like it was kept in a vault for years. I got this from a member of LetsTalkGuild who bought if from a Japanese collector and it is almost mint so it's very possible that it sat unplayed since 1994 until he got it some 20+ years later.
Usually seen in red, black, or white, the black finish on this guitar was so black and so perfectly reflective that I had to upgrade my photography layout because the mirror-like surface reflected everything in the room.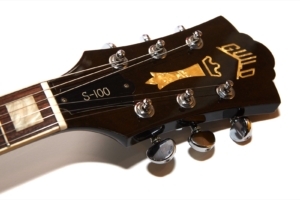 The headstock on this guitar is not black – it's more of a brown that reminds me a lot of my Guild nightbird headstocks. My guess is that this is partially the result of faded clear-coat because the normally pearloid Guild chesterfield inlay is quite ambered as well. Every other inch of the guitar is pure black so there's no way to see if other sections have faded clear-coat, so I figured that I'd just chalk that up to being a benefit of having a black guitar. Then I saw that the binding was a bit yellowed, too, which further reinforces my assumption about the clear-coat having yellowed.
There is only one problem area on the entire guitar which looks like a tiny stress fracture in the finish by the nut. Having been shipped from the US to Japan and back again, and then back and forth within the US a couple of times, there's no telling what kind of handing it received, though it's safe and sound now.
Fretboard and Neck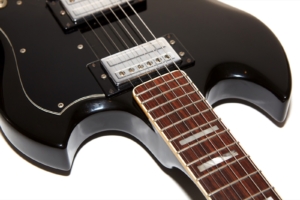 Although not a big fan of the S100 at first, I've grown to like them quite a bit and have owned a Newark Street and two 1997 models, all three of which were red. In the 1970s the S100 Polara was often seen in a natural or Nature Boy finish, sometimes with a carved acorn motif. Though I love the HB1 pickups that are found in the 1970s models, I don't like the very small necks that are found on most of the Guild electrics from that decade. The necks on the '97s were wider at 1 11/16″ and just felt better in my hands.
The neck on this guitar is halfway between 1 5/8″ and 1 11/16″ which makes it feel better than the '70s S100s and almost as good as the '97 I have. Since it's halfway I think it would work for people who prefer either size.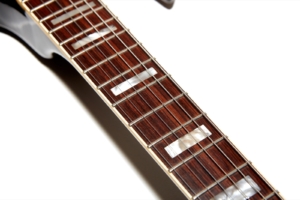 The fretboard is beautiful bound rosewood with very pretty block inlays  and let me tell you, the inlay work is absolute perfection. I get the feeling that they pulled out the best of the best for this first batch of S100s because the rosewood on this guitar is just stunning.
The frets are .08″ wide by .025″ high which makes them typically small Guild frets found on Guild electrics from the '70s and '80s. This is a reissue, after all, so they made it the way they always made them, at least for a while.
The fretboard radius is a fairly flat 12″ which I like a lot and just happens to coincide with what I think most Gibson Les Paul and SG guitars have.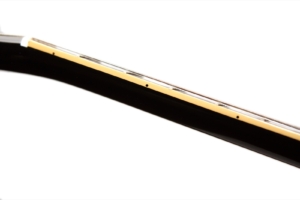 As mentioned earlier the neck binding is quite yellowed but there are no splits which is a common malady that afflicts older Guilds.
The marker dots are very small and uneven with some of them partially hidden. That kind of surprises me given the attention to detail seen everywhere else on the guitar, but it's a pretty common issue given the number of other Guild guitars I've seen from around this time that exhibit the same condition.
Build Quality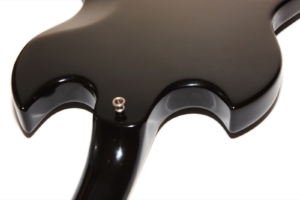 This is an extremely well-crafted instrument in the tradition of every Westerly Guild I've ever handled. It is absolute perfection in every way. The small stress crack at the nut is not a result of workmanship but rather of, well, stress.
The guitar has a set-neck design and the neck joint is very stable. The guitar feels very solid in the hand and couple with the killer lacquer finish the guitar feels like a luxurious vintage instrument that, as of this writing, is 24 years old.
These are relatively simple guitars so there's no body binding or purfling or any high-end features like those, though the neck is bound and looks great.
This guitar is pretty light weighing in at 7 lbs 12 oz (3.52 kilos) which part of what makes them so great to play for long periods. It's also not too light which I feel would rob the guitar of some of it's oomph, that being a wholly accurate scientific term used to describe mojo.
Pickups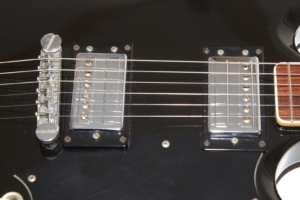 The pickups in this guitar are HB1s of the very rare variety that don't have solder terminals and also have four wires. This means that they can be coil-split and/or phase switched, not to mention any of the other variations you might come up with using 4-wire pickups. These are my favorite version of my favorite pickup and if this were any other guitar I would have been tempted to swap them for "regular" vintage HB1s so that I could use these in one of my Nightbirds, but the guitar is absolute perfection as it is and I couldn't bear to tear it apart because I wanted one of the parts.
This guitar holds a unique place in history and I have a thing about altering vintage guitars, especially when they're this minty fresh. I actually have a couple of pairs of these great 4-wire HB1s in my collection (see details about all HB1s here) but I can tell you that I paid some pretty pennies to get one of those pairs (in beautiful NOS gold), and they're worth every one of the pretty pennies I paid.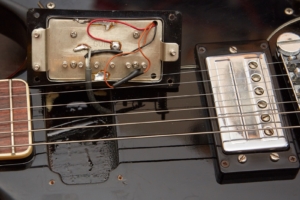 One of the things that makes these pickups so hard to come by is the fact that they only showed up for a very short time and were quickly replaced when Guild moved to having Seymour Duncan make their pickups for them. How rare? This guitar has the serial number FB000005 and the S100 with serial number FB000019 (seen on eBay) had Seymour Duncan pickups with Guild double-hump covers in it. Again, you can read more about these pickups here.
So yeah, this guitar is not only from the very first batches (if not the first) of the newly reissues S100, but it's got über-rare versions of Guild HB1s which only came in the very first few reissued S100s. This is the third of three Guilds I own from 1994 with these rare HB1s and they're all works of art,  one of them being the stunning Guild X170 that I reviewed here.
Electronics
The electronics are exactly what you'd expect to see if you've ever played an S100 from the 1970s or 1990s before, meaning that it's got a volume and tone for each pickup, a selector switch, and a phase switch. The Newark Street S100s don't have the phase switch much to their detriment, in my opinion, as there's something very Guild about having it there. Almost all of the US-made S100 Polaras of this body design have it save for the very early years in the 1970s.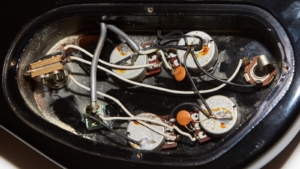 The electronics are quite obviously stock which reinforces the notion that this guitar sat unplayed for years during its life in Japan. It also contains some of  the neatest, best laid out wiring I've ever seen in a Guild guitar. It makes me wonder if the builders really took their time on this first batch because it was such a big deal to bring them back. The romantic part of my brain would certainly like to think so.
As is common on Guilds, the capacitors are nothing special and are just off-the-shelf ceramic discs labeled 203 which means they have a value of .02 μF.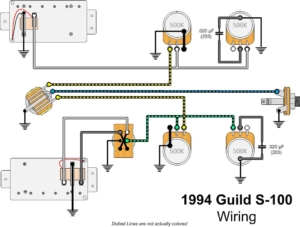 This guitar has decoupled wiring which means that with the pickup selector switch in the middle position (both pickups on), rolling one of the pickup volume knobs down to zero will not mute the guitar. On a guitar with coupled wiring, the guitar will go silent if either pickup is dialed down to zero while in the middle position.
I'm not a middle-position lover because the guitars I used when younger were all coupled and I found the middle position to be mostly stupid as a result. With decoupled wiring the tonal options are far better to my ears.
Hardware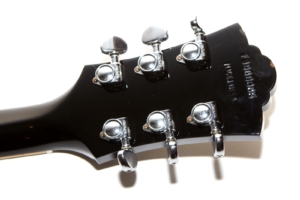 The tuners are awesome Grovers which, if you watch the Kim Thayil Rig Rundown video from the introduction, he lists as one of the reasons he loves these guitars so much. Quality tuners make a huge difference on a guitar.
The switch tip surprised me because it's not a Guild metal switch tip but rather white plastic. I find it hard to believe that this is original since I've never seen a Westerly Guild electric guitar with anything but a chromed switch tip and that's usually a magnificent domed-top Guild tip to boot. I know the Newark Street S100s have plastic tips and I've seen some very old S100s with them, but I don't know what was standard on those original models. Also comparing a Newark Street S100 to this guitar is just not going to happen. While the Newark Street models are nice and I compared one to my 1997 in this article, when it comes to this guitar, there is no comparison. This one absolutely crushes any solid-body electric guitar currently made by Guild (in early 2018).
The knobs are typical Guild G-shield knobs which are iconic for Guild electrics but sadly not the best knobs in the world. Still, I have paid big money to replace broken ones because they just look right to me after years of loving them.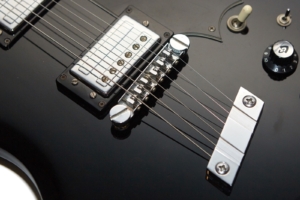 The tailpiece is the same chunk of brass used on many Guild electrics from the '70s onward, and on this guitar there is a fair bit of distance between it and the bridge. This distance lowers string tension and Kim Thayil actually uses the fact that you can pick those little string lengths to great effect in a couple of his songs.
The bridge made by Mueller and is standard Guild fare for the 1970s models, though they did change slightly over the years. I point this out because this bridge didn't last long on the reissued S100s. My 1997 has a more off-the-shelf bridge and though I haven't done any critical research on the subject, I think they had moved away from the Mueller bridge perhaps as soon as the same year (1994), though they kept the increased distance from the bridge to the tailpiece. There was a period when this distance was shorter which can help to date these guitars from a distance or if you don't have access to the serial number, but that's outside the scope of this review.
Sound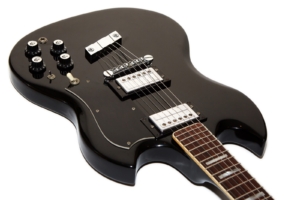 This guitar not only looks magnificent, it sounds magnificent. This 1994 Guild S100 can sound chimy, articulate, raunchy, and everything in-between. The only thing I would wish for would be a push/pull pot to let the 4-wire HB1s split into single coils. That wouldn't quite match the vibe of the guitar's history, but holy cow would it open up a new world of sonic diversity. Having these same pickups in one of my Guild Nightbirds where I did exactly that, I can tell you that they sound killer. There's no way I would mod such a special guitar, though, so I guess I'll just have to learn to make do with the magnificent sounds it can produce as it is.
ODS Clean
7th Chords
Open Chords #1
Open Chords #2
JCM-800
A Barre Chords
More Barre Chords
D-Shape
Muse
Spoonman
As usual, for these recordings I used my Axe-FX II XL+ setup through the QSC K12 speaker recorded direct via USB to my Macbook Pro. I recorded using the 
ODS 100 Clean
 patch (their model of the Fuchs Overdrive Supreme which is a modern take on the Dumble Overdrive Special) , as well as the Marshal JCM-800 patch. Normally I also record a Citrus (Orange amp) clip, but this guitar sounds so freaking good through a Marshall that I just couldn't pull myself away. If you've ever wondered why people love vintage Guild S100s with the HB1 pickups, then listen to the clips and hear the chime ring through.
For each recording (except the last two) I cycle through the neck pickup, both pickups (in phase then out of phase), and finally the bridge pickup. All knobs on the guitar are on 10 at all times.
This guitar sounds amazing, and it's a kind of sound that you just can't get from the later S100s with their Seymour Duncan SD1 pickups. Those pickups sound great, but they're darker and a tad less articulate than the HB1s; they're just missing the magic that makes HB1s great. It's pretty common knowledge that vintage HB1s are some of my favorite pickups ever, but these 4-wire HB1s that I've only encountered in early 1994 Guilds are somehow even better. Maybe that's my imagination, but regardless of my perception verses whatever reality may be, this guitar just sounds freaking amazing.
Playability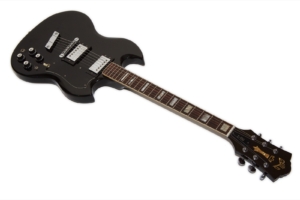 Just look at it. It plays exactly as well as you think it does.
Let's be honest here – this is a time-honoured design and one that works well. I can tell you, though, after owning an amazing Gibson SG with P90s (GOTW #37) that had a huge and heavy neck that this guitar balances much better than that SG ever did. It plays great while seated or standing and thanks to the thinner body style than, say, a Les Paul or Guild Bluesbird, it lays flat and can be more forgiving over long periods of play.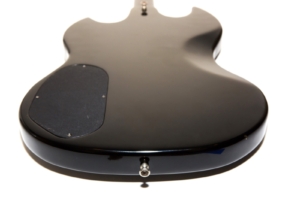 The guitar has a "belly cut" on the back that makes it more ergonomic than if it didn't. In this pic you can clearly see how the cutaways are asymmetrical which allows for a little bit better access to the highest of frets.
The strap pegs are directly in the centerline of the guitar which means it hangs very well on a strap. That peg in the middle of the neck tenon can be an issue if you ship the guitar and don't pack it well but you're more likely to have a headstock problem since the guitar should always be shipped in its case.
Conclusion
The Guild S100 is an amazingly popular guitar and for good reason. I've owned a few and though those were great guitars, none of them hold a candle to this one. This one is beyond amazing and the idea that it was made in the same batch (I assume) as the one that Kim Thayil still uses on stage is pretty cool. 


Of all the different Guild S100 Polaras I've played over the years, this one is by far the best, and that's saying something because I really like my '97. This one's got it all, though: better neck, absolutely killer pickups, the right bridge/tailpiece distance, and absolutely impeccable workmanship all around. It's a keeper, and I feel honored to be its steward.

Finally, no, you can't buy it from me. Unless you're Kim Thayil, in which case let's talk. Honestly, though, the answer will likely still be no – that's how good this guitar is. Still, it could be fun to talk to Kim Thayil. Hey Kim – you know where to find me!
More about: [ Guild Guitars ][ Dogs ][ Cozy Tales ][ Ferret-Dog ]

Donate: PayPal Crypto: BTC | ETH | Doge

BTC: bc1qgke2eeuwjafudateev08ekytn3g3mpl2w5a542
ETH: 0x0AC57f8e0A49dc06Ed4f7926d169342ec4FCd461
Doge: DFWpLqMr6QF67t4wRzvTtNd8UDwjGTQBGs