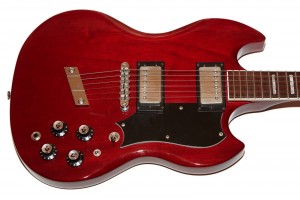 Guild's S100 guitar, which appears on the surface to be a copy of Gibson's SG, is one of Guild's most popular electric guitars. I've resisted owning one for years because they were so popular and I'm not one to spend energy trying to fit in with the crowd, but circumstances would conspire in such a way as to ensure that I suddenly had two of them – a Newark Street version, and a 1997 reissue. This article concentrates on the 1997 reissue. My article on the Newark Street S100 can help you if you're looking for information about that model.
Introduction
Though the temptation to compare it to an SG is fairly obvious, I've owned both and they are different, though similar beasts. This 1997 model is actually a reissue of the 1970's model S100 which looked similar to this guitar, but there are some differences, most noticeable being the neck which is 1 11/16″ at the nut on this model and 1 5/8″ at the nut on the 1970's version. Note that the Newark Street S100 also has a 1 5/8″ nut.
Let's look at the details for this guitar and see how it fares.
Finish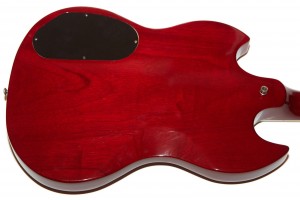 This guitar is finished with red lacquer that feels and looks great. Many Gibson's that I've owned and played had sticky lacquer that was still outgassing years after finishing. I have never experienced that with a Guild.
This guitar is all mahogany, as you'd expect, and even though I bought it when it was 20 years old, the finish is impeccable save for some light scratches on the back of the type usually associated by players not removing zippered jackets when playing.
Fretboard and Neck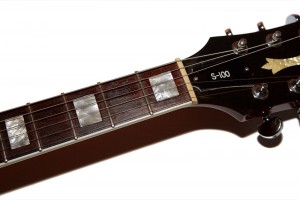 The neck is 1 11/16″ at the nut and the neck is pretty thin, though not Ibanez RG thin by any means. This guitar has very low frets that many people don't like, but since I grew up with similar frets they don't bother me at all. Though not quite "fretless wonder" low, they are low enough that I've seen people complain about them.
The neck is wide and thin, which I generally prefer to narrow and deep, but having played a wide variety of guitars, I'm easily pleased with most anything so long as it doesn't feel like a pencil.
The inlays are beautiful and three dimensional in a way that most modern plastic or pearloid inlays just can't match. The fretboard is rosewood and is nice and dark with wonderful grain when seen in strong light. The binding is complete and smooth and makes the neck feel just great.
Build Quality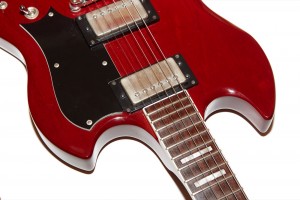 This guitar is a joy to play. Like most Guilds I've played and owned, it just feels like a great, well-made instrument. There are no rough spots, no mistakes, and none of the foibles I've seen on some other vendor's (cough – Gibson – cough) high-priced instruments.
Pickups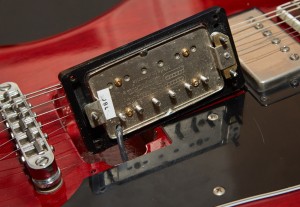 This guitar came stock with a Seymour Duncan SH-1 in the neck and a Seymour Duncan JB in the bridge, both of which are still present in this guitar. These pickups are very nice, very thick and articulate, and deliver the nice dark yet clear distorted tone that I'd expect in an all-mahogany guitar. The pickup rings are typical Guild 3-screw rings that were used for years with Guild's HB1s. The pickups, not having been designed for the Guild rings, include a simple metal adapter that lets them work with three-screw mounts.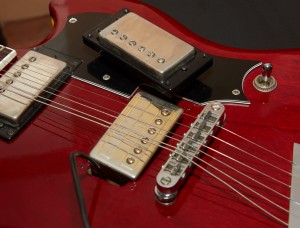 Speaking of HB1s, for all you vintage Guild aficionados, the pickup routes in this guitar are large enough to support vintage (and therefore also reissue) Guild HB1 pickups. As much as I love the HB1 sound, this guitar sounds pretty damn good with the stock Seymour Duncans, so based on sound alone, I'd likely leave them be. I am a sucker for the Guild double-hump HB1 covers, though, so who knows what the future will bring.
Electronics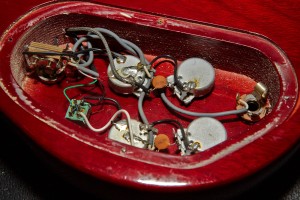 The electronics are typical for a 1990s Guild electric guitar, and though the pots are not marked in a way that I can see without removing them, these 20-year-old pots don't pop or sound scratchy. The capacitors are typical of what I call the "engineers don't believe the bumblebee hype" type commonly used in the 1990s.
This guitar, like most Guild electrics in the 1990's includes a phase switch that changes the polarity of one of the pickups so that when both are selected, you have the choice of the normal "fat" sound, or the thinner "nasally" sound. I had a Guild S300A-D for years with this feature but I never liked it, possibly because that guitar was ash and was therefor much brighter. On this guitar, I quite like the out-of-phase tone.
The wiring is fairly straightforward with the addition of the phase switch and the fact that there needs to be a 4-wire pickup in the bridge position for it to work. Technically, either pickup can be four-wire, but I always see the phase switch installed on the bridge pickup on Guild electric guitars. Note that even though there are four wires, the red and white are twisted together because this setup does not split the coils, but rather just changes the orientation of one of them.
Hardware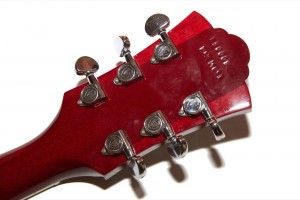 The hardware on most Guild electrics from the 1990s is pretty similar. I like that the tuners have a Guild G-shield on them, though that clearly has no effect on the tone.
The bridge is nothing special, but functions well and doesn't have the hard-to-find parts that the original 1970's Guilds had (though I loved those bridges).
One of the things I love about these older Guilds is the fact that they have metal switch tips. Though they're not quite as fabulous as the old 1970's era Guild switch tips, they're so much better than plastic.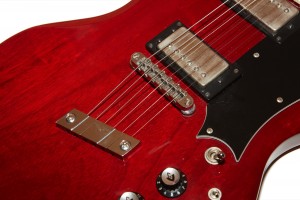 Something that I've seen on a lot of Guild electrics is broken pickup rings, and this guitar is no exception. I think they're just too thin, and overzealous guitar techs that tighten the wood screws a quarter turn too far were rewarded with the rings breaking. I can't blame the techs, though, because my S300A-D that I bought new in 1979 had broken rings a few years later and those screws were never even turned. The only stress on those rings were from the frenetic banging barre chords delivered by this then-teenaged virtuoso Van Halen wannabe.
My daughter and I also like that that there is no goofy Guild logo on the pick guard.
Sound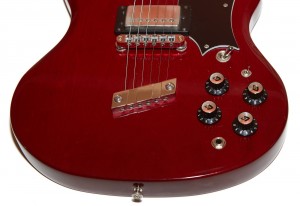 These guitars are coveted for their dark, articulate sound, and this guitar delivered that in spades. Unplugged this guitar is fairly resonant, but doesn't ring out like, say, an ash guitar would. It can deliver sweet tones from a clean amp, but where this guitar shines is with the proper application of distortion, and by distortion, I mean generally some form of vintage Marshall Plexi. Since I gave up on high-wattage amps that sound best with eight-foot stacks of speakers in my face, I make do with my Axe-FX Ultra and a nice full-range speaker.
The bridge pickup delivers a fat lead tone that doesn't have the bite of say, a Les Paul, but then that's probably not the sound you're chasing if you're looking at a Guild S100. I attribute this mostly to the "slab of mahogany" design coupled with humbuckers.
All recordings in this section were recorded with an Olympus LS-10. Amp is an Axe-FX Ultra set to "Basic Brit 800" with no effects. Speaker is a QSC K12.
That darker tone is made even more deliciously dark with a drop-D tuning or even mores when the guitar is tuned down a step. Naturally, as with the Newark Street S100, I had to play that Muse riff.
With the Muse riff out of the way, I changed to the neck pickup and noodled about with that wonderful thick tone. One of the tones I really like from this guitar is the neck pickup for leads.
Playing with both pickups enabled leads to the need to play around with the phase switch, first in normal mode, and then with the phase switch enabled. On a Les Paul type guitar, this leads to a nasally sound that can be almost unpleasant in some amps. On this guitar, it really adds a nicer thinner sound without the nasally aspect I normally associate with out-of-phase humbuckers.
Of course with any SG-type guitar I need to play Sweet Transvestite. The original guitar that I recorded that progression on was a Gibson SG with Alnico 2 P90s through a Fender deluxe clone that I built, and I considered that to be the gold standard for years. This Guild S100 comes damn close for me. It may even surpass it. Certainly the P90s had more chime to them, but for me it's all about that ringing sustained articulate distortion sound. Yum.
Of course just like the Muse riff, when I pick up a guitar like this I need to play some Soundgarden. Apologies if you've heard it all before. For me, playing the same riffs helps me to discern subtle differences between guitars. This guitar is all about articulate dark power, and the drop-D Soundgarden introduction just shows that off nicely.
Playability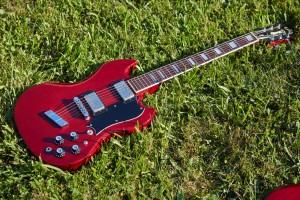 With its wide thin neck and low frets, this guitar lends itself to quick chord progressions, though furiously fast lead players would likely prefer higher jumbo frets of the type usually found on more modern guitars.
One thing that I've already covered but deserves another mention is the balance of this guitar. When standing, this guitar is much more well-balanced than any SG I've played, which is probably attributable to the neck not being a tree-trunk. The guitar is very easy to play, and thanks to the design of the bridge and tail piece, with down-tunings the strings can get very floppy for that ultra loose-sounding tone common in some genres of music.
Conclusion
Having owned both a Newark Street S100 and this 1997 Guild S100, I tend to gravitate towards the 1997 model. I like the wider fretboard, love the nice inlays, and enjoy the feel of the lacquer-finished guitar, though to be honest the NS S100 is so well finished that I'd never feel like I was missing anything unless I had them side by side. Since I do have them side-by-side, I prefer the older model.

These are great guitars if you're looking for that darker sound, and of course as an only guitar, great variety in tone can be achieved with amps, modeling, and pedals.
Perhaps the best thing about these guitars is the price. They usually sell on auction sites for anywhere in the $800-1200 range. I managed to score this one for $750 because the screws in the back plate are all broken off. For $750, this is a great guitar. It is arguably more well-made than the Newark Street model, it's lighter, it feels like better wood, and it includes better hardware and components. This is also a guitar that will easily last a lifetime made back when Guilds were made in Westerly Rhode Island.

In summary, if you find one of these for a good price, buy it.
More about: [ Guild Guitars ][ Dogs ][ Cozy Tales ][ Ferret-Dog ]

Donate: PayPal Crypto: BTC | ETH | Doge

BTC: bc1qgke2eeuwjafudateev08ekytn3g3mpl2w5a542
ETH: 0x0AC57f8e0A49dc06Ed4f7926d169342ec4FCd461
Doge: DFWpLqMr6QF67t4wRzvTtNd8UDwjGTQBGs