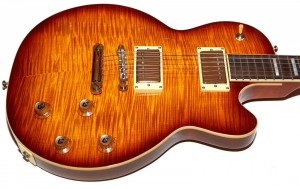 Today's review is of a Guild Newark Street (NS) Bluesbird from 2016. This is one of the current crop of Guild Newark Street guitars, all of which are surprisingly great instruments. After reviewing a Newark Street X-175B and then a Newark Street S100 Polara, and comparing it to a 1997 reissue S100, I had many people request that I review the NS BluesBird, so I found a new one on Reverb for a price I was willing to pay and ran it through its paces. Let's see how it fared.
Introduction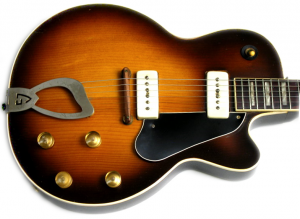 The Guild guitar that looks like a Les Paul (and let's be honest, that's how many people view these) has a long history. Originally named the M-75 Aristocrat in the 1950s, this hollow-body guitar was really something quite different from the seemingly ubiquitous Gibson single cutaway electric of the time. For starters, the M-75 Aristocrat was hollow, and though some Les Pauls in the 1950s had trapese tailpieces, the Guild Aristocrat sported a much more elegant harp tailpiece which is a signature element on many Guilds to this day.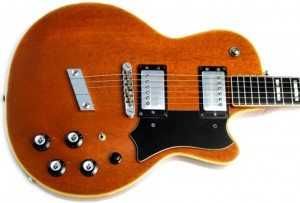 In the 1960s, Guild changed the name of the M-75 to the BluesBird and offered a solidbody model. In the 1970s the guitar changed some more when Guild changed the neck joint from the 16th to the 18th fret and moved the pickups, likely as a result of the neck design change. Stop tailpieces were introduced as well, as was a phase switch and master volume. All of the M-75 Bluesbirds I've ever seen had either P90 pickups or Guilds HB1s. I'm not sure when Guild stopped making the M-75 Bluesbirds, but I know that they were reissued in the 1990s as simply Bluesbirds.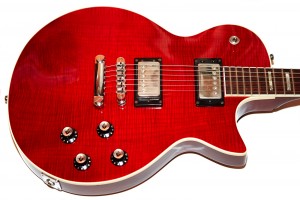 The 1990s Bluesbirds are chambered guitars that I think are great guitars. They were made in the US in the Westerly Guild plant, and I am a huge fan of 1990s Guilds of all shapes and sizes. As you can see from the pics, these Bluesbirds have a slightly different shaped to them, with a more pointed cutaway. These Bluesbirds are chambered, and no longer have the Mueller roller bridges of the 1970s guitars, nor do they have the angled tailpiece, instead adopting a more Les-Paul like design using commonly available parts for the time. These guitars are usually found with Seymour Duncan pickups.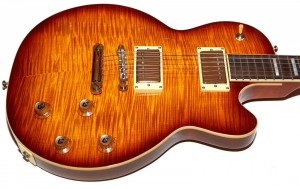 The Newark Street Bluesbird is similar to these guitars, yet also different from all of them. It has the body shape like the 1970s models, the pickups, bridge and tailpiece, and knobs like the 1990s models, the tuners and headstock like the 1950s models, and modern frets like none of them. Most importantly, this guitar has a vibe that honors them all. Let's look at the details.
Finish
This guitar is, of course, finished in polyurethane, and as I've said before, Guild does a great poly finish. I really have no complaints at all with the finish and I am a critical PITA when it comes to guitars. I will go into gory detail about the wood and the top and all that later in this article, but I can tell you that the top looks very nice in person.
Fretboard and Neck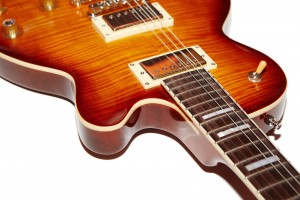 The fretboard is rosewood, and is pretty nice. I've seen some truly terrible fretboards on similarly priced instruments from other vendors, but this one looks and feels great. The fretboard is bound, likely with plastic, and the medium jumbo frets are very well finished.
The nut is bone. There is no binding of the strings and no "pings" when tuning. The guitar came stock with D'Addario EXL110 10s which I replaced with my standard Ernie Ball Regular Slinky 10s.
Guild states that the inlays are "Mother of Pearl Block". My typical derision regarding what guitar vendors call "Mother of Pearl" (MOP) was in full force as I examined this guitar, and I seriously doubted that they would actually be MOP, but compared with the NS S100 inlays which look like plastic, these are very nice with an iridescent quality reminiscent of abalone that I've not seen in synthetic inlays. While pearloid has the flowing reflective quality you'd expect, it looks white and doesn't usually refract different colors of light like a real abalone shell does. These inlays do, and they're quite striking when you notice it. The attention to detail in these inlays is also much higher that it is on the NS S-100 I reviewed.
This is one of the only Guilds I've ever owned where I thought I needed to adjust the neck since it came with a touch of excess relief, but after restringing it and letting it acclimate for a couple of days, the neck is just fine so my record of never needing to adjust a Guild electric guitar's neck still stands.
The neck is very comfortable for my large hands. The neck at the nut measures right around the 1 11/16″ mark, as advertised and is not too thin and not too thick. The guitar has a 12″ fretboard radius which is a bit more curved than what appears to be about a 16″ radius on my 1997 Bluesbird.
Build Quality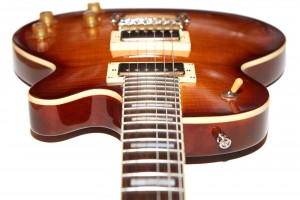 First off, let's talk about that grain. It's fantastic! From what I can tell it is not a photo-flame since each of the ones I've seen has a different pattern. Guild states that these have maple tops, but they don't really say what the body material is other than that it is a "Chambered Solid Body" guitar. This guitar is very light weighing in at only 6 lbs 13oz. and it may even be the lightest electric that I currently own, being lighter than either of my S100s.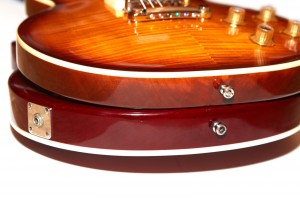 The body is surprisingly thin (only 1.5″ at the edge) for someone used to the 1990s Bluesbirds and Les Pauls, and the guitar is surprisingly light due to this thin body being chambered. In fact, the guitar was almost distractingly light when I first took it out of its case bag. It reminds me of playing a Guild Starfire II or III where the guitar looks like it will be heavy, but since it's hollow it weighs very little. For comparison, my 1997 Guild Bluesbird which is chambered Mahogany and Maple (and also thicker), weighs in at 8 lbs 8oz.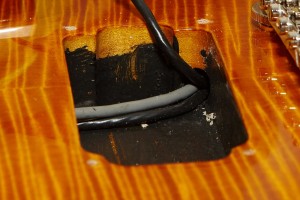 The guitar is well built, and devoid of any flaws that I could discern save for some minor issues with the bridge (see below). It really is a beautiful instrument. The only things I see that I don't like from an attention to detail standpoint is the sloppy application of the coating in the pickup cavities which look like they were painted by a three-year-old. The good news is that this sloppy application allows for visibility into the wood which was not possible on my Newark Street S100.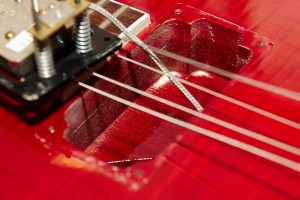 I am pretty sure that the top is a laminate. Guild describes this guitar as having a "Chambered Solid Body" and a "Body Top of Maple". There is no obvious thick chunk of maple glued to a slab of mahogany like you'd see on a Les Paul. Hell, forget about the Les Paul, let's look to the pickup cavity in my 1997 Bluesbird where you can clearly see the delineation between the two wood types.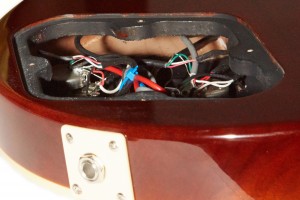 Speaking of wood types, I'm not entirely sure what type of wood the body of the guitar is made from. The Guild specs don't really say, and all I can say is that it's not mahogany. My guess would be basswood since that's a commonly used lightweight tone-wood.
The question is, does it matter if the top is laminate? If you're looking for the exact recipe that makes a Les Paul a Les Paul, then yes, it does matter. If you want a nice playing guitar that looks and sounds great and you're not obsessive about what's inside, then no, it doesn't matter, because this is a great looking and great playing instrument that also happens to sound pretty darn good.
Even if the top is a laminate, it's thick enough that I had to open the guitar to determine the truth. I have a Jackson import guitar with a laminate that is so thin that the flame in the center of the guitar loses its depth. While it's quite obvious on the Jackson that the top is not the real thing, it is absolutely not obvious on the Bluesbird that the top is a laminate. The flame has that magic quality of being three dimensional depending on the angle at which you hold it just like a high-dollar Les Paul. Let's be honest here for a minute; this is a guitar with a street price of $1000 new, and for that price I don't expect a half-inch of carved maple on the top. Hell, the top on this Bluesbird looks nicer than one of my maple-topped Nightbirds, though to be fair, it's far cheaper to get a slice of great-looking laminate maple than it is to find an inch-thick block of it.
Pickups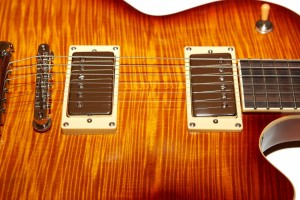 The pickups are the same Seymour Duncan models that shipped with the 1990s Bluesbirds, namely a  '59 SH-1 at the neck and a JB SH-4 in the bridge position. The bridge pickups is pretty hot at around 16k Ω while the neck is about 7k Ω. While the guitar does sound great, I would probably prefer a more PAF-like pickup in the bridge, maybe even an HB1 in order to get some chime into the tone.
For those of you eager to learn if the Vintage or Reissue Guild HB1 pickups will fit in this guitar, the answer is no, HB1s will not fit in the supplied pickup rings, but what about the routes?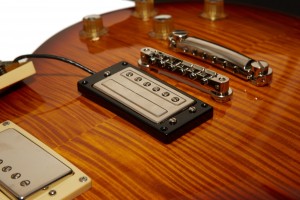 Yes, HB1 pickups, both vintage and reissue will absolutely fit into this guitar! Note that the rings are not laying flat in the pics because I did not remove the old pickups entirely so the cord for those pickups are preventing the HB1 rings from sitting flat. Also, I used the same bridge pickup with a bridge pickup ring in both pics. Note that the HB1s not only fit, but they actually fit better than they did on a 2002 Guild Bluesbird that I once had wherein I need to route the holes ever so slightly in order to fit the HB1s. On this guitar, they fall right in, though I did have to squeeze the legs about 1mm on the neck pickup.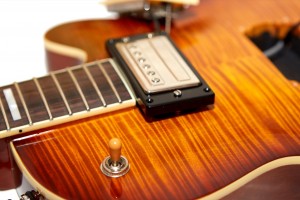 The neck position has an issue where the HB1 rings don't fit between the route and the neck. For what it's worth, I had the exact same issue on the 2002 Bluesbird, and to solve it there I actually sanded down the HB1 ring to make it fit. If these pictures excite you, bear in mind that though the pickups fit and you can make the rings fit, the holes for the wood screws in the rings do not match up with the holes in the wood, so you'd likely need to drill, fill, and re-drill new holes for those four screws on each ring.
Electronics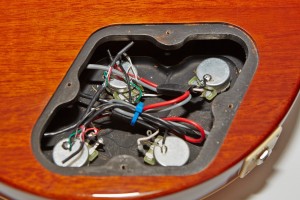 The electronics are typical Newark-Street Korean import fare and the pots are stamped "Made in Korea Jin Sung". The control cavity is filled with a fair amount of excess wire which has been loosely folded and secured with a wire-tie. There is also a couple of pieces of unshrunk heat-shrink tubing, which appears to be a tradition with these Korean-made Guilds. These aren't exactly artisanal solder joints, but they're not broken or loose, either, and they do the job. There are no scratches or crackles when turning any of the knobs.
Guitarist Magazine recently published a review of the Newark Street Bluesbird and said that the tone controls are push-pull coil-split pots. They are not on my guitar, but I think that would be an excellent addition to an already great-sounding guitar.
Hardware

A quick word about the case is in order; there isn't one. Instead, this guitar comes with a gig bag embroidered with the Guild logo on the front. The bag is OK and is about par for the course as far as gig bags go. I wouldn't travel on a plane with it, but it does the job and has some padding. Yes, this guitar does fit in the case for my 1997 Bluesbird, though be advised that this guitar is much thinner than the 1990's Bluesbirds, so there may be some movement possible on the body side of the case. The neck appears to be well supported in the case, however.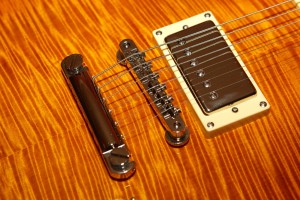 The bridge and tailpiece are nickel-plated locking TonePros, which are a great no-worry option for a guitar like this. I'm a fan of locking hardware because even though I've been changing strings for almost 40 years, I still tend to forget and the bridge falls off after I remove the strings. That doesn't happen on this guitar thanks to pairs of set screws on both pieces of hardware.
The knobs are clear G-shield knobs that were common on the 1990s Bluesbirds and they have the 1-9 numbering commonly seen on 1970s Guilds. The guitar also has the little metal indicators next to each knob which is a 1970s detail that I love.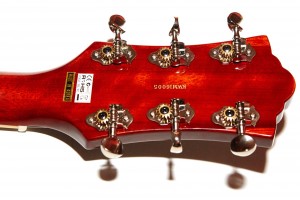 Tuners are Grover Sta-Tites with 18:1 ratios. As you may have guessed from my other reviews, I dislike them. The buttons are small, they don't work as well as I'd like, and I think open-gear tuners don't belong on electric guitars. That said, they look just like the tuners on the 1950s models, which is probably why they're on all the Newark Street Guilds. If I could change one thing about all the Newark Street guitars, it would be the tuners. I'm sure there are many people out there who couldn't care less but, to me, these tuners are the only visible weak point in an otherwise great-looking guitar.
The pick guard is thankfully not installed on this guitar from the factory because it is frankly abhorrent. It does come with a pick guard and all of the necessary hardware to mount it, but I can't imagine why anyone would. I mean, just look at it! Somewhere at Guild there is someone who approved of not only that design and color (it doesn't even match the rings!), but that it was probably going to be disliked enough that everyone would take it off. As I already wrote, at least it's not installed so I don't have to remove it and leave open screw holes in the top, so thank you for that, mysterious Guild executive.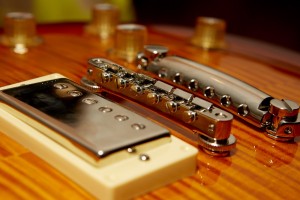 I noticed while I was playing a tad aggressively that the strings would pop out of place. As I looked into the issue, I discovered that the bridge had not been slotted for the strings. There is the slightest of indentations, almost as if someone strung the guitar and then tapped the strings with a hammer to sort of "seat" the strings in position but never finished the job by actually slotting the bridge saddles. This is, in my opinion, not OK. It almost seems as if this guitar was never actually set up from the factory to even minimum specs.
For a guitar that is on the lower end of similarly built instruments, certainly attention to detail like the pickup cavities having sloppy coatings is acceptable, but the bridge not being cut for the strings means that the new owner will either need to do it themselves (which is what I will do since I have the tools and knowledge to do so), or far more likely the new owner will need to bring it in for service or return it for another, assuming that they're not all like this. Advice to new buyers: make sure the saddles are slotted before leaving the store. Given the lack of Internet uproar about this, I have to assume that this is an aberration.
On some of these guitars reviewed online like this one, the tone controls are push/pull pots that allow the pickups to be split into single coils. Sadly, mine does not have this feature and when I asked Guild about it, this is the response I got:
The split coil feature was only used on our very first pilot run to test the full potential of the Seymour Duncan pickups. Unfortunately some of the pilot run guitars did make their way into circulation. However in keeping true to the traditional vintage spec, this feature was not intended for our current production. These pickups are capable of accommodating this push/pull feature but this modification would need to be performed by an outside experienced technician.
Oh, and yes, this guitar has the ugly yellow switch tip that seems to anoint all Newark Street Guild electrics.
Sound
This is a dual-humbucker guitar and it has no coil splits, phase switches, or other funky doo-dads to complicate things. Plug it in, choose neck, both, or bridge pickups, and do your thing.
All recordings in this section were recorded with an Olympus LS-10. Distorted amp sounds are an Axe-FX Ultra set to "Backline" which is your basic 1980's over the top distorted sound. The cleaner sound is the "Tiny Tweed" setting. The speaker is a QSC K12. All guitar knobs are on 10 for all recordings.
Unplugged, this guitar is lively and resonant, no doubt thanks to the chambered body style and set neck.

Bridge Pickup Tiny Tweed

Plugged in, the bridge pickup is a tad dark, no doubt due to its high-output nature as evidenced by its 16k resistance reading. I think I would have liked to have seen this guitar ship with the new HB1s since they offer up a fair bit of chime that's missing in this guitar. In the sense that this guitar is a reissue of the Bluesbirds of yore, it is fairly accurate to have these pickups since that's what shipped with the 1990s models, but I'd venture to say that in a guitar inspired by all the other Bluesbirds, HB1s like the ones that shipped in Bluesbirds from the 1960s and '70s would have worked as well.

Both Pickups Tiny Tweed
For this review I decided to play the same riff, or at least a reasonable facsimile thereof, on each setting of the guitar. And then I didn't. What can I say? I have a short attention span. This guitar actually has a pretty sweet sound on the middle position into a mostly clean amp. I liked the neck pickup, too, but the middle had something going on that I think had a lot to do with the semi-hollow nature of the guitar.
Neck Pickup Tiny Tweed

The neck pickup into the Tiny Tweed also had a pretty nice tone which had some of the overtones of a semi-hollow guitar that you wouldn't get from a true solid-body. I like the neck pickup because it's not as hot as the bridge so there's a little bit of wider frequency response which pays off given its position in the guitar. I actually had to check to see that I hadn't used the same recording in the neck and bridge examples which is one more reason why using the same riff isn't the greatest idea, but the fact remains that I think there's a touch more complexity to the neck pickup that I wish the bridge pickup exhibited.
Bridge into Backline
Then I decided that this guitar needed to rock, so I dialed in one of my favorite stock Axe-FX patches, entitled Backline, which is basically a cranked Plexi "brown sound" amp coupled with a "USA Lead" which is supposed to be Mesa-ish. Of course since it's an '80s kind of patch, there's delay and such included, too. I really like the guitar on this setting. Some would argue that any guitar can sound good with enough distortion, but I vehemently disagree. High gain amps with low-output humbuckers is a beautiful thing, and you get much more tone and articulation with such a setup. Still, I think this guitar sounds damn good with high gain.
Neck into Backline
That same amp patch used with the neck pickup is no slouch, either, especially with the slightly hollow tone that the body cavities produce. And yes, by this point in time I'd completely forgotten about my "one riff" idea because another guitar had been delivered and I had something shiny to distract me once more.
Playability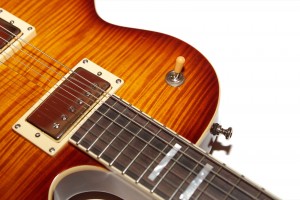 This is a great-playing guitar. What does that mean? I've owned a lot of guitars, and many inexpensive models are so poorly made that they get in the way of playing, and that means for an inexperienced guitarist that they will get in the way of learning. This guitar has no such shortcomings aside from the un-slotted saddles which I can't imagine is a wide-spread problem.
The only time I get the feeling that it's not a guitar costing much more than it does is when I bend the G string hard and it moves due to the unslotted bridge, or when I try and grip the infuriatingly small tuning pegs, usually because I just bent the G string too hard. These are minor issues since slotting the bridge would likely solve the need to constantly retune. With a sample size of one, I have no way of knowing if this is a common occurrence or an aberration. I would think if this were a widespread issue that the Internet would be abuzz about it, so here's hoping this one just slipped through the cracks.
Conclusion
I fully expected to not like this guitar. I bought it solely to write this review and expected to just sell it when I was done, but now I'm not so sure. Is it as robust as my 1997 Bluesbird? No. Does it sound as good and play as well? The simple truth is that it's just not the same kind of guitar, even though it shares the Bluesbird name. Yes, it's more or less shaped similarly and it has similar pickups, but the body material is so different as to make it an unfair comparison. The Newark Street Bluesbird is much thinner, and much lighter, which means it will be easier to play for hours on end on stage, so it's not like those differences are necessarily detriments.

Bottom line – I like it! Seriously, that's my review condensed into three words. Even with its foibles, I like this freaking thing. Would I replace the pickups? Probably, but that has more to do with me being an old gear snob than anything else. If I walked onto a stage somewhere and was handed this guitar (hey, it could happen!), then I would proceed to rock the house with this guitar without a moment's thought about perhaps getting a tad more chime with vintage HB1s. I would also not give a flying crap about the quality of the coatings inside the pickup cavities.

Oh, and perhaps most importantly of all, my 16 year-old daughter likes it better than my 1997 Bluesbird, and she's the one that picked the 1997 S-100 over the Newark Street model!
Is this an Historic Les Paul killer? No, but I seriously doubt anyone thinks that it's supposed to be. This is a good guitar at a good price that delivers the goods, and as I so eloquently stated above, I like it!
More about: [ Guild Guitars ][ Dogs ][ Cozy Tales ][ Ferret-Dog ]

Donate: PayPal Crypto: BTC | ETH | Doge

BTC: bc1qgke2eeuwjafudateev08ekytn3g3mpl2w5a542
ETH: 0x0AC57f8e0A49dc06Ed4f7926d169342ec4FCd461
Doge: DFWpLqMr6QF67t4wRzvTtNd8UDwjGTQBGs