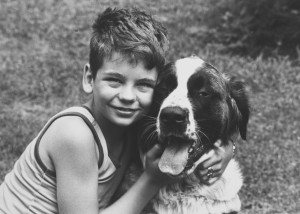 As I stood over the freshly dug grave, I had no way of knowing the awful truth: my father had killed my dog. So far as I knew, my beloved Saint Bernard dog, Brandy, had snapped at him, supposedly because she was in pain. Because of this most heinous of crimes, and in accordance with the initial conditions of her purchase, my father had issued the order and had my dog "put to sleep". Sadly, and unbeknownst to me at the time, none of what he had described had actually happened.
I was an only child, and Brandy had been my best friend for nine years. We had bought her in 1973 when I was in third grade, after which she had remained my constant companion until her untimely death in the spring of 1982. I was 17 years old when the doctor gave her the fatal injection in the back seat of our car. I was sitting with her when she collapsed, her massive head falling into my lap. I ran my hands over her lifeless face, recalling the vet's words about involuntary muscle contractions as I watched my dead friend swallowing again and again during the ride home. Perhaps, I wondered, there was wonderful cool water to drink in heaven.
When we got home I slid Brandy out of the car on a blanket and put her on the back of our tractor. The big red farm tractor had a snow plow on the front and a hydraulic lift on the back that we normally used for hauling wood. Using the tractor, I brought her lifeless body to the back field of the farm where I dug her grave.
Most people have no idea how physically demanding it is to dig a grave, especially for a dog the size of a person. I toiled in the sun, my companion wrapped in her cozy blanket near my feet. I had chosen a spot on top of the long hill on which she and I used to play. As I leaned on the shovel, resting in the heat, I remembered her chasing me down that hill while I raced to the bottom on my round, red sled. It was a memory full of fun, hope, and happiness: feelings I was sure that I would never experience again. I choked back tears because men didn't cry, or so I'd been told (more lies), and there was work to be done.
I slid her body into the grave by dragging the blanket. I then took Brandy's collar from her neck and put it in my pocket. From my own neck I took a necklace adorned with a silver cross that I had worn for about a year during a time of existential curiosity. I put my necklace with the cross on Brandy's neck and folded the blanket over her lifeless body. With tears streaming down my face I said my goodbyes, gently caressed her soft face one last time, then carefully refilled her grave.
A month or two later, my dad suddenly screamed in pain. Through gritted teeth he described the experience as being like "someone with a chainsaw in his head trying to get out". After we rushed him to the hospital he was quickly diagnosed with a brain tumor.
Brain tumors can do strange things to a person. I believe now that my dad's tumor had caused him to think that Brandy had snapped at him, that she was in pain, and that she needed to be put down. Regardless of what any of us believed at the time, none of us realized the gravity of these events. My father would be dead within eight months.
Within a year I had lost my dog and my dad. It was June, 1982 and I was 17. In October, 1983 my mother remarried. A year later she moved to New Hampshire with her new husband, David. My entire world had been turned upside down, every one I loved was gone, and I was alone at the age of 19.
For some of us, time does not heal all wounds; it merely helps to dull the pain. For many years, I would not trust nor love anyone again, be they human, canine, or otherwise. To this day I have Brandy's collar and one of the stones from her grave on the  bookshelf in my office. I have never worn another cross.
Decades later I would manage to fall in love, get married, and get a dog. That dog would change my life in profound ways; she would show me that there was still room for hope, joy, and love in a heart torn by loss. Cozy was that dog. These are her tales.
More about: [ Guild Guitars ][ Dogs ][ Cozy Tales ][ Ferret-Dog ]

Donate: PayPal Crypto: BTC | ETH | Doge

BTC: bc1qgke2eeuwjafudateev08ekytn3g3mpl2w5a542
ETH: 0x0AC57f8e0A49dc06Ed4f7926d169342ec4FCd461
Doge: DFWpLqMr6QF67t4wRzvTtNd8UDwjGTQBGs