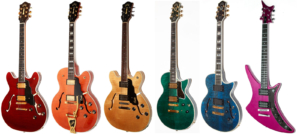 I have added a dizzying array of images and PDFs after digitizing thousands of pages of catalogs, price lists, and related ephemera, all relating to Guild Guitars.
You can find all of them by clicking on the Guild Guitars menu item at the top of every page, or you can access them directly via the following links. Please note that these are pretty hefty pages containing hundreds of images so they may take a bit longer than normal to load depending on your connection and the state of the Internet (and my server) when you make the request.
I may add more sections such as Amp Schematics and Manuals in the future. Keep an eye on that menu bar because that's where any additional resources will go.
That's it for now. Watch for a long explanation of the incredible amount of work that went into this project.