Tools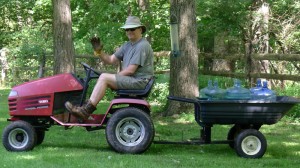 OK, Tools shouldn't be listed before food, but for us, water has one serious drawback: it's heavy. At 8.3 pounds per gallon, each of those jugs weighs over 40 pounds when full. Here's a picture of me hauling four jugs with the tractor last year. Looks like fun right? This time we had prepared the cars for the storm, but I'd totally forgotten about the tractor, so naturally it wouldn't start when I needed it. Without it, had the firehouse not been available, we would have had to haul water from the woods by hand, in forty pound jugs, in the freezing cold.
Lesson learned: Make sure any power tools you may rely on are operational before the big storm hits. That includes tractors, generators, chainsaws, and anything else you might need.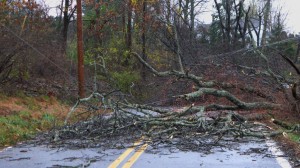 Speaking of chainsaws, take a good look at this picture. This is the road in front of our house on the day after Sandy hit. We have a 4-wheel drive vehicle, but it had no chance to get out through this mess, and the scene was the same in both directions. It took men with chainsaws and heavy machinery a full day to get through this.
If we had needed to get out, we would not have been able to. If I had time, I could have cut up the trees with my chainsaw, but as I was to discover, the chain on my chainsaw was so dull as to be useless. Luckily after about four days, a local power equipment store opened with power from their generator, and I was able to buy new chains.
Sure, I only needed my chainsaw to clear the damage from my front lawn, but what if I needed to cut through that mess on the road? What if a tree had fallen on someone and pinned them? I would not have been able to free them. You can argue that doing so should be left to the professionals, and I would agree, but take another look at the road. We were completely isolated before the road was cleared.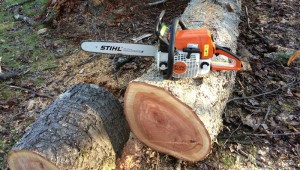 Lesson learned: If you live in the woods, always have a working chainsaw, and make sure it's ready to go before the storm. Have gas, oil and sharp chains, and don't rely on only one chain. I went through three in a week cutting up hardwood trees on my own property.
That said, if you don't know how to use a chainsaw, don't just buy one and expect to be a lumberjack. I grew up around them, and know how to be safe with them. There's a reason they're often featured in gory video games and movies, so if you have any doubts, best to call a professional.
More about: [ Guild Guitars ][ Dogs ][ Cozy Tales ][ Ferret-Dog ]

Donate: PayPal Crypto: BTC | ETH | Doge

BTC: bc1qgke2eeuwjafudateev08ekytn3g3mpl2w5a542
ETH: 0x0AC57f8e0A49dc06Ed4f7926d169342ec4FCd461
Doge: DFWpLqMr6QF67t4wRzvTtNd8UDwjGTQBGs