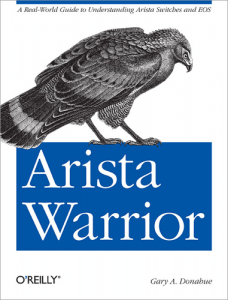 I am proud to report that I have finished the first draft of my new book, Arista Warrior. With the tagline, A real-world guide to understanding Arista switches and EOS, this will be the first published book about Arista switches that contains all original information. It should be available for purchase by November of 2012. (Edit: now available for pre-order from Amazon.com!)
If you're not familiar with Arista switches, I urge you to give them a look. I discovered them while doing a vendor comparison study for a client, and believe it or not, I only found about them because the other vendors kept mentioning them. After visiting their headquarters and meeting the people behind the technology, I was impressed. I've been doing this for a long time and I'm not easily impressed, so I figured there was something special going on, but it seemed like the world hadn't yet caught on. I immediately contacted my editor and proposed the idea that has become this book. Roughly a year later, here we are.
Arista makes switches for one market: data centers. They've got an impressive track record with highly demanding environments such as large Wall Street firms, large digital animation studios, cloud service providers, and Internet search engines, all with names you'd recognize. Those environments don't tolerate weak solutions, nor do they go with a vendor because of some lame partnership agreement. Arista wins business because their switches are fast — as in sub-500 nanoseconds of latency fast (Arista 7124SX). They're also very well built, they're less expensive than competitor's offerings, and they offer extreme 10Gbps port density in a 1 RU package. Oh, and they consume less power, produce less heat, and are shallower in the rack to boot. What's not to like?
I've been working with Cisco gear  since about 1994 when I first configured an AGS+ router using IOS version 9. I've made a career out of Cisco networking, and I've written a successful O'Reilly networking book based on Cisco equipment.  Yet in the span of a month, I was so impressed by Arista's switches and their fantastic operating system that friends started wondering if I'd been brainwashed. I'm not a guy that buys or recommends something because it's cool, or popular, or because of a name. I only recommend stuff that works and provides a competitive advantage for my clients. After months of research, I came to the conclusion that for data centers, Arista did that better, cheaper, and faster than Cisco, IBM, HP/3Com, Juniper or Brocade.
Still not impressed? EOS, Arista's operating system, runs on Linux. It's not Linux-based, or Linux-like. It is a Linux system. The CLI is actually a shell, and you can drop down to bash and control the switch from there. You can even alter the CLI using Python, schedule jobs, and run an apache web server on the switch if you're so inclined. Oh, and every switch they sell runs the same binary image of code. Lastly, If you know IOS, then you know EOS. That's not some hollow claim like you hear from some vendors – that's me telling you how I feel after working with them for over a year. Sure there are differences, but those differences make your life easier, not harder. EOS is not just an IOS clone though — not by a long shot.
I could go on all day, but if you really want to know the nitty gritty about Arista switches and how EOS works, you'll need to buy the book. Here's a partial list of the topics covered in Arista Warrior to whet your appetite:
Why Arista?
Understanding switch buffers
Understanding fabric speed
Upgrading EOS
Bash
SysDB
Python
LLDP
MLAG
Spanning-Tree, including MST
Aboot – the Arista boot-loader
Emailing from the switch (seriously!)
Latency Analyzer (LANZ)
sFlow
VM Tracer
Schedule
TCP Dump
Zero Touch Provisioning
Event Handler
Event Monitor
EOS Extensions
Cloudvision (IM commands to your switch!)
Troubleshooting
and more! 33 chapters in all.
Arista Warrior is written with all the style and wit you loved from Network Warrior. Weighing in at roughly 350 pages (actual page count has not been determined) this book will be your go-to resource for everything Arista. Lastly, it's an O'Reilly book, which means it delivers what it promises in the tagline. Hell, you should buy this book if for no other reason than it's got a bad-ass Serpent Falcon on the cover. Seriously – look at him! He's like the Batman of falcons.
Arista Warrior can be pre-ordered through Amazon.com.
More about: [ Guild Guitars ][ Dogs ][ Cozy Tales ][ Ferret-Dog ]

Donate: PayPal Crypto: BTC | ETH | Doge

BTC: bc1qgke2eeuwjafudateev08ekytn3g3mpl2w5a542
ETH: 0x0AC57f8e0A49dc06Ed4f7926d169342ec4FCd461
Doge: DFWpLqMr6QF67t4wRzvTtNd8UDwjGTQBGs