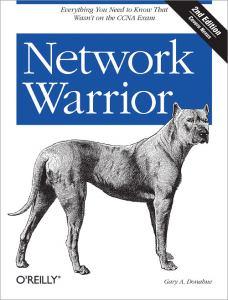 I'm excited to report that the second edition of Network Warrior is in the final stages of production and should be hitting the shelves of your favorite bookstore soon.
My goal in writing the second edition of Network Warrior was to make the new book even better than the first edition. I wanted to include as much new stuff as possible, but I also wanted to refine the original material to make it more current and accurate. I didn't remove much information, except to replace it with newer or better examples.
What's new in the second edition of Network Warrior? Here's a bulleted list:
Almost every chapter has updated examples. Where applicable, there are now examples from CatOS, IOS and NX-OS based switches.
Most of the examples that used Catalyst 3550 switches in the first edition have been updated with output from 3750s
Examples that used older interfaces like 10Mbps Ethernet have been updated to show Gigabit interfaces on modern devices
Chapters that used PIX firewalls have been updated to show examples from ASA appliances
The Cisco PIX chapter had been replaced with a Cisco ASA chapter. New features such as firewall contexts and active-active standby are covered as well
New technology is included. For example the chapter on Etherchannel (now called Link Aggregation) includes explanations and examples for MultiChassis Etherchannel (MEC) and Virtual Port-Channels (vPC)
Most references to Solaris have been replaced or removed
The Catalyst 6500 chapter has been expanded to include VSS and MEC
There is a new chapter covering Cisco Nexus switches. This chapter covers features, hardware information, new technology and NX-OS configuration examples from both Nexus 5000s and 7000s
There is a new chapter on VoIP which walks the reader though designing and building a SOHO telephony system using a Cisco 2811 router, Cisco Unified Communications Manager Express (CUCME), Cisco IP Phones and Cisco Unity Express (Detailed CUE configuration is not covered). Both H323 and SIP examples are included
There is a new chapter showing how to design and configure a single Cisco Wireless Access Point (WAP) for a SOHO environment
There is a new chapter on the basics of IPv6, complete with useful examples
There is a new chapter showing how third-party MPLS is configured
In addition to the new material, all known errata from the first edition has been resolved. Naturally, I've included even more anecdotes from my experience in the field — especially the ones where I've made horrible mistakes so you don't have to.
This will likely be the last edition to include CatOS examples. While I still see CatOS in the field as recently as 2011, the frequency in which CatOS appears in the wild does not merit its inclusion in future editions. I'd love to keep CatOS examples in the book forever, but the second edition of Network Warrior is almost 750 pages in length, and that's getting too large. Rest assured that previous editions will still be available online through Safari:  Safari.com.
Look for the 2nd edition of Network Warrior to be available in the US in May, 2011. You can pre-order it from Amazon here: Amazon.com
The official O'Reilly page for Network Warrior, Second Edition can be found here: Oreilly.com/
More about: [ Guild Guitars ][ Dogs ][ Cozy Tales ][ Ferret-Dog ]

Donate: PayPal Crypto: BTC | ETH | Doge

BTC: bc1qgke2eeuwjafudateev08ekytn3g3mpl2w5a542
ETH: 0x0AC57f8e0A49dc06Ed4f7926d169342ec4FCd461
Doge: DFWpLqMr6QF67t4wRzvTtNd8UDwjGTQBGs