Having an Irish heritage, I remember seeing odd knobby-ended walking sticks in the corners of many houses as a kid. These sticks were commonly called Shillelaghs in my experience, though I've since learned that Shillelagh is a town and the walking sticks are properly called Shillelagh Sticks.
If you asked the homeowner about the stick, they would usually just reply with either, "Oh that? That's just my old walking stick.", or simply, "That's my Shillelagh." Both statements belie the simple truth, however, and that truth is that these sticks are first and foremost weapons. To be accurate, the original Shillelagh Sticks were shorter and more like clubs or cudgels, but when England outlawed them, the Irish lengthened them so that they could also be used as walking sticks, thus subverting the oppressive English law while allowing the weapons to be retained. Knowing this, I had to have one. Getting a real one, though, would prove a little more complicated than I'd anticipated.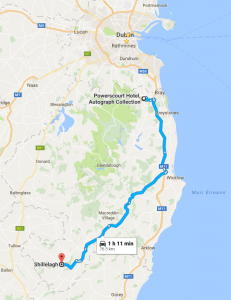 I have a thing about authenticity. While it would be perfectly fine for many people to buy any old Shillelagh-type stick from any old Irish gift store, I wanted the real thing, and as is the case with most of my odd obsessions, that would involve some legwork. I recently found myself in Ireland on holiday (as they say on the Emerald Isle), and decided that the time was right to make the pilgrimage to the town of Shillelagh to meet the master. My research led me to the Olde Shillelagh Stickmakers where Liam Kealy, the shop's proprietor, makes proper Shillelagh sticks using locally sourced Blackthorn and traditional methods. We were staying at the luxurious PowersCourt hotel near Enniskerry mostly because I travel a lot and had over a million Marriott reward points to blow on two luxury suites. I thought this hotel was in the middle of nowhere. I was wrong.
Shillelagh is in the middle of nowhere.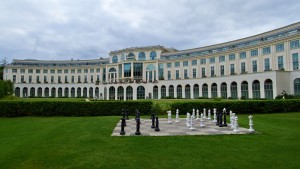 Meghan and I set off at 9:00am in order to try and get to the shop at 10:00am while Lauren and Colleen opted to take a hike around the magnificent resort hotel. I had only been driving on the left side of the road for a couple of days, so they probably needed some time to recoup from the previous day's adventures in driving wherein I hit the curb only twice, a record for which I am still quite proud.
As Meghan and I started our journey, we travelled south on the M11 which made us hopeful for a long and uneventful drive. Then we got off the M11, where we were greeted with the typically narrow roads of the Irish countryside. Of course, I had no idea that these roads were actually some of the widest country roads we would encounter that day.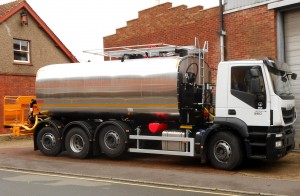 As we drover deeper and deeper into County Wicklow, the roads got progressively narrower, the hedgerows along the side of the road got more severe, and the locals drove with more gusto. There is nothing more exhilarating that driving down a twisting Irish country road, unable to see around the twisting hedgerows while a huge articulated lorry comes barreling around the blind corner at breakneck speed. If you're lucky, then you get a smaller six-legger coming at you which is good because they're a bit more maneuverable so the driver can probably avoid killing you while your American mind wonders what the hell a six-legger is.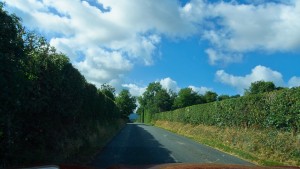 The problem with all these tiny Irish roads is that they are surrounded on all sides by some of the most beautiful countryside in the world, and that means that people like me need to stop and take pictures of all that beauty in an effort to convey the scope of it all to others. All I can say is that no picture can do the Irish countryside justice because it is simply too much to capture in a paltry image on a web page. Even the roads surrounded by hedgerows that block the scenery are beautiful.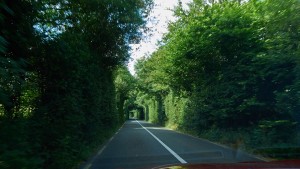 One of the things I loved about driving in Ireland is the tree tunnels. The country roads in Ireland have no shoulders which is one of the things that makes driving on them such a white-knuckle experience for someone who's used to driving on the opposite side of the road in the opposite side of the car on the other side of the ocean. When someone is coming in the other direction, there is nowhere to go if they decide to cross the line. Luckily, no one did, but there were times when I was convinced that my comparatively huge Kia Sportage wouldn't fit, even though it always did. Also, most of the little roads didn't have lines to cross.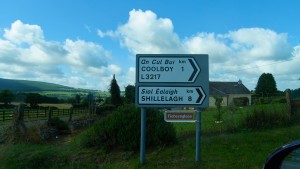 After an hour of beautiful scenery punctuated by six-legger-induced panic, we saw our first sign for the town of Shillelagh. We carried on, and after a short while we had to stop the car because there was a Magpie in the road. These are among the most intelligent animals in the world, and this one had apparently decided that he was tired of all these humans and their damned vehicles, so he stood in the middle of the road and stared. As I crept up slowly with the car, he finally decided that he had made his point and hopped slowly to the side while we waited.  I swear he watched us as we drove by. We then saw the only roadkill we saw in Ireland, which was a badger. I'd never seen a badger before, so that was exciting.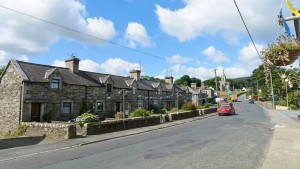 Finally we arrived in Shillelagh. Shillelagh is not a large town, having a population of only 341 as of 2011. The main street was so narrow that I had to do the typical Irish country trick of parking the car up on the sidewalk so that other cars could get by on the road. There was one convenience store with a petrol pump, an ATM, and a curious lack of bathroom facilities for a town that seemed to be about 300 kilometers from anywhere else on Earth. Still, it was beautiful like most everything else in Ireland, largely because it was devoid of modern conveniences. This small old Irish town was charming simply for the fact that it was still a small old Irish town.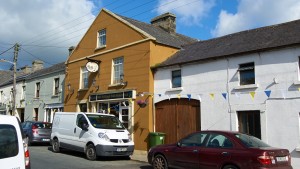 On the opposite side of Main Street stood our destination: The Olde Shillelagh Stick Makers and B&B which is the largest and most colorful building on the main street. We were greeted by the owner's daughter, and then the owner's wife, Liz, who may have been the nicest person we'd met on our entire vacation, which is quite a claim given the outgoing and friendly nature of the Irish people. I could have stayed there for the entire day just chatting with her but when I asked about an unmarked staff in the corner of the store, she deferred to Liam, her husband and master Shillelagh stick maker for the details about our pending purchase.
From Liam we learned about the origin of the sticks, the history of the area, the possible source of Leprechaun folklore, and myriad other fascinating bits of information, all delivered with a friendly brogue that made me feel like Ireland was my home, though that may have just been me wishing that it was actually the case.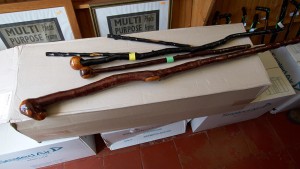 One of the reasons that I wanted to visit the physical store was my preconceived notion that I wanted to feel the walking stick in my hand before buying it, a notion by the way, that was absolutely correct. After trying many of them, one stood out because it felt just perfect, and it's one that I wouldn't have chosen on looks alone. Of course I also ended up buying a fighting stick. And a staff. And two magic wands. What can I say? I'm an impulse shopper. Why drive all that way and not walk away happy!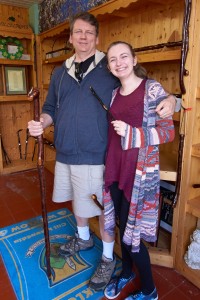 Liz took our picture with some of our newfound blackthorn treasures, and I even took a picture of the owners posing with my staff as well as some shots of the rows and rows of beautiful Shillelagh sticks, though I sadly lost some of those pics to the fickle gods of digital photography memory cards.
Fair warning to anyone else who makes the pilgrimage to visit the master Shillelagh stick-maker: bring cash. Since the shop is so remote and most of the sales are likely done online, they do not take credit cards in the shop. As stated above, there is only one "convenience" store in town with a single ATM which boldly states that it will only dispense a maximum of €120 after also telling you that it only dispenses €50 notes.
I decided that I would have them all shipped home since as much as the idea of claiming, "What this old thing? That's just my walking stick!" might work for a single Shillelagh walking stick, the five foot staff and lead-loaded fighting stick might be another matter entirely. I have enough trouble being detained without trying to get archaic weapons through security in a foreign country. The wands made it through just fine.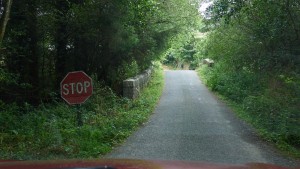 After settling up our accounts and saying our goodbyes, we set out for the hotel, an hour and a half of winding Irish country roads ahead of us. Naturally, the Google maps voice (who we nicknamed The Google Bitch on the drive) took us on some new random drive which led us to even smaller winding roads then before. Tiny one-lane bridges on tiny one-lane roads gave way to more small towns with more vast magnificent views which I again tried in vain to capture with my camera.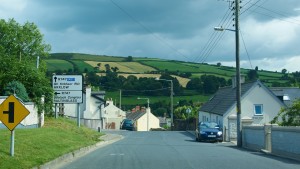 The trip home was possibly even more beautiful than the trip there, and now that I had hours of experience driving in the land of one-lane roads devoid of any markings that might help me remember which side to drive on, I handled the twisting lanes with ease. In fact, I would say that it took me about two days to acclimate to the world of Irish country roads, six-leggers and all.
Later that day we went back to Dublin to do some touristy stuff and typical vacation shopping. In one of the many stores, I came across a bin of "real" Irish Shillelaghs. I picked one up to examine it with my newfound expert eye and could immediately see that these were low-quality mass-produced items made for the typical tourist. They were covered in scratches, had nowhere near the attention to detail that Liam's Olde Shillelagh shop's wares exhibited, and though they looked the part from a cursory glance, I had the distinct feeling that these cheap knock-offs might shatter like an old dried stick should you feel the need to use it for its intended purpose, which of course is knocking the heads of English imperialist invaders. As an American who celebrates independence from those same imperialists every year, only the real thing is good enough for me.
If you're looking for a Shillelagh stick of any type, do yourself a favor and check out the Olde Shillelagh Shop. Better yet, if you find yourself in Ireland, make the pilgrimage and meet the master himself and his lovely family. It is absolutely worth the trip.
More about: [ Guild Guitars ][ Dogs ][ Cozy Tales ][ Ferret-Dog ]

Donate: PayPal Crypto: BTC | ETH | Doge

BTC: bc1qgke2eeuwjafudateev08ekytn3g3mpl2w5a542
ETH: 0x0AC57f8e0A49dc06Ed4f7926d169342ec4FCd461
Doge: DFWpLqMr6QF67t4wRzvTtNd8UDwjGTQBGs