Posted in
Cozy
on August 3rd, 2011 by GAD –
2 Comments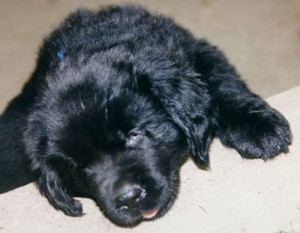 Fourteen years ago today, on August 3rd, 1997, My Cozy was born. She died eight short years later, her body having finally succumbed to the ravages of cancer. In those eight years she changed the lives of a young married couple and their two children. Cozy was the inspiration for Newf.net, where her legacy continues today. Through Newf.net, thousands of people have learned how to better care for their Newfs. In her own small way, Cozy changed the world.
I promised Cozy that I would write her story, and I did. Now I need to tell the world. That part has proven harder than I thought, but it will happen. You'll see Cozy. I know you're patient.
Cozy always waited for me, no matter how long it took, and she knew that I would always come back home. No one waits for me at the fence these days, even though there are new noses that eagerly sniff me when I walk through the door. Somehow, though, I know that Cozy is waiting for me somewhere.
I hope you're happy and pain free Cozy, My Cozy, wherever you may be. I miss you baby girl. We all do.