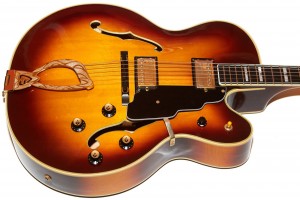 I'm not really much of a Jazz player, but I am a guitar guy and I'm definitely a Guild guitar guy, so when the chance came about to buy a Guild X-500 made in 1984, I jumped at the chance under the premise that it would inspire me to brush up on my jazz chops.
Being a gear hound, the chance for a second X-500 of similar vintage (1986) was too good to pass up so I ended up with two of these big 'ol Guilds and thought, "Why not write about them?" and here we are.
These guitar were a bit of a challenge for me to write about because their proper use is a bit outside of my comfort zone. They are guitars, however, and me being me, I was not afraid to sit down and run them through their paces in order to write up what I could about the instruments. Let's dig in and see how they fared.