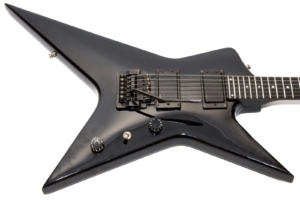 I have forever been curious about these Guild X-88 Crüe Flying Star guitars, and when the opportunity arose to grab one for a good price I jumped on it, eager to get my spandex out of storage in order to put it through its paces. The guitar I mean, not the spandex.
Sadly, my wife had thrown all my stretchy neon out years ago so I had to settle for a technical review devoid of any photos of me trying to reclaim my day-glo youth in style. I'm sure your disappointment is profound.
Let's see how this, one of the pointiest of guitars of all time, holds up to the critical observations of someone who lived through the time when guitars like this were more popular in hot pink.