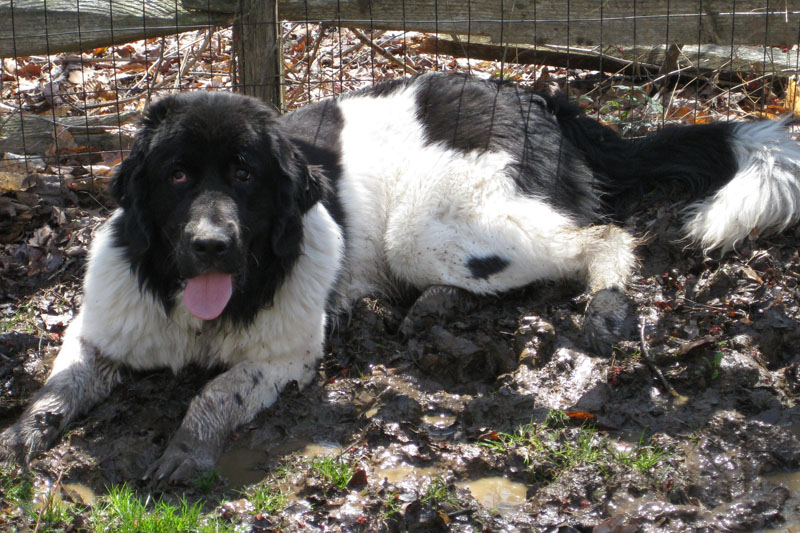 Every year hundreds of giant breed dogs are put up for adoption or worse, destroyed because someone fell in love with the fluffy little puppy and brought it home, only to be overwhelmed by slobber, food, vet bills, and the sheer size of their full grown dog. If you cannot make a commitment to this (or any) animal to keep it forever, then please don't get one. Would you give up a son or daughter because they got too big? Certainly not. Anyone who thinks a Newfoundland is any less than a child doesn't understand the breed.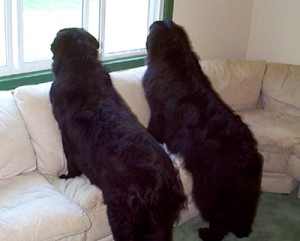 Have you talked to a Newfie breeder already? Did she ask too many questions? What do you mean I can only get a Newfie if I keep it indoors. It's only a dog! Get lost pal. Breeders ask a lot of questions to see if you are capable of being responsible for a Newfie. They don't want to see their pups end up in shelters two years from now. Are you OK with your big black dogs ruining your $2,000 big white sofa?
Some questions you might hear from a breeder include: How big is your yard? Is it fenced? If not, will it be? Will the dog be an inside dog? Do you have air conditioning? Will anyone stay home with the dog? Do you want to breed this dog? Do you want to show this dog? Will you go to obedience school? Would you ever put this dog in a pound? Why do you want a Newfoundland? If you suddenly cannot afford to keep your dog, what will you do? Do you have any references?
Many people say that the process is almost as bad as adopting a child. Some people think they'll bypass that noise and get one from rescue. Good luck with that. Rescue can be even tougher!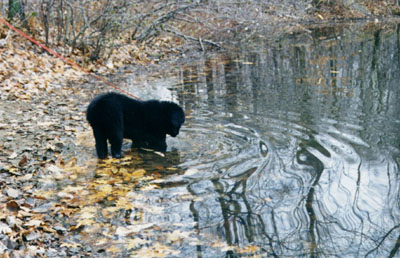 Newfies are beautiful aren't they? Look at that sweet face! Let me tell you something about Newfs. They love the water. Not like. Not admire. LOVE. They will get into water any way they can. They like to sit in the rain, dig holes in the mud, wade through streams and sit in the water they spilled from their bowls. They don't care where the water is, and having a puddle of water on the kitchen floor can be just as satisfying as swimming in the ocean. Our Daisy wouldn't drink from a bowl unless her feet were in it first. Can you handle this in your house? You better be able to with a Newfie around. Oh, see that first picture up top? That's Annie in the mud. We were trying to train her. She decided that she'd rather be in the mud. Mud has water in it, and water = fun. This is what life with a Newfie is really like.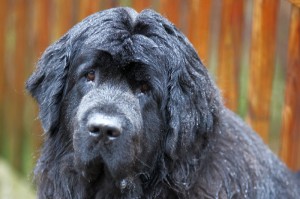 Most of the pretty pictures of my dogs are taken after grooming and bathing, which by the way is no small task. Ever try to brush a 130 pound animal that just doesn't want to be groomed? Pictures and movies usually show only a well groomed animal. In reality, our dogs are this clean about 40-50% of the time. The other 50-60% of my life is spent cleaning them, cleaning up after them, or listening to my wife complain about mopping the kitchen floor for the 3rd time that day. All the carpets in our house are gone. The dogs ruined them. Now we have tile and hardwood. That pretty white couch pictured above? I loved that couch. It's long gone.
Do you like drool? You better, because Newfies drool. Dry mouthed Newf you say? Hogwash I say. Sure some Newfies drool less than others, but there are no guarantees. Will you put you dry-mouthed Newf in the pound when he slobbers all over Aunt Edna after a big drink? Get a hamster instead. Do you like a perfectly clean house? Get a lizard. Or a maid—or three.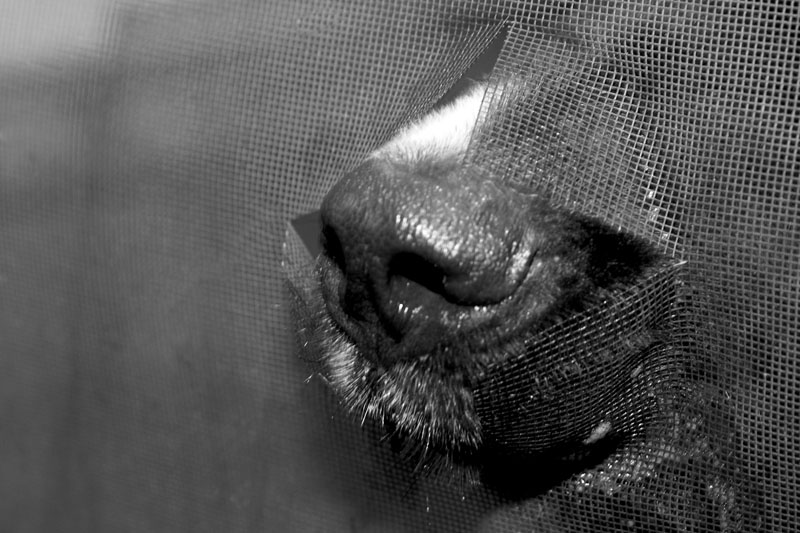 Do you like fur? Do you like fur in your butter? In your ice cream? How about in the sink, on your bed and up your nose at work? Newfies shed constantly. The plus side is that this is only 12 months out of the year! Even better, they blow coat twice a year. For the uninitiated, blowing coat is when they shed it all in big clumps. Prepare to vacuum friend, and if you don't have a good vacuum? You will.
Don't get me wrong. Newfies are the most loving creatures I have ever had the pleasure to be with. They are by far the best pets in the world. They have some serious side effects though, and most people don't appreciate them at first. You know all those funny stories about Annie and Cozy? They are all true. Sure I might use some interesting words to entertain, but I assure you, the laughs are at my expense. Consider them all cautionary tales. I assure you, Annie really did destroy the screen door—twice.
Please, if you want a Newfie, go VISIT a reputable breeder. You must sit and play and be slobbered by these magnificent creatures before you can begin to get a feeling for what your life will be like. How do you know if a breeder is reputable? Call other Newfie breeders and ask around. Newfie breeders generally work together and will generally know a lot about one another's programs. If you go to a breeder that has 9 different breeds all with puppies, run away. This is probably a puppy mill. Puppy mills are the scourge of the earth and the operators should be put in dirty cages and left there.
But I digress.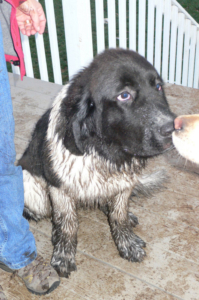 If you've gotten this far and haven't been offended or pissed off by what I've said, then perhaps you are the right kind of person for a Newfie. Go buy some books, talk to some breeders and visit some big slobbery dogs. If you truly are Newfie-people, your life will change forever—for the better.
If you are considering a Newfie, then consider joining a Newfoundland forum such as Newf Net. There are some great people there who will be more than happy to help you out with your decision and point you to some people that know more than I do about the breed. There are also many other online resources available, and I suggest you try them all.
So if Newfoundlands are so much trouble, why do we have them? Simply put, the love they give is worth the mess they make. I think Annie knows that, which is why she works so hard to love everyone. She has a lot of mess to balance.
More about: [ Guild Guitars ][ Dogs ][ Cozy Tales ][ Ferret-Dog ]

Donate: PayPal Crypto: BTC | ETH | Doge

BTC: bc1qgke2eeuwjafudateev08ekytn3g3mpl2w5a542
ETH: 0x0AC57f8e0A49dc06Ed4f7926d169342ec4FCd461
Doge: DFWpLqMr6QF67t4wRzvTtNd8UDwjGTQBGs