Badger Ordnance Rings and Base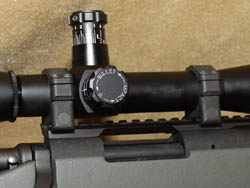 Badger Rings and base mounting a Leupold Mark IV 16X to my PSS

After much research and online review, I decided that the only rings and base I would consider were either Leupold Mark IVs or Badger Ordnance. The more I read about the Badgers, the more impressed I became. The rings come in serialized pairs. They are manufactured with such precision that if used in the proper pairs on a properly made base (like thier own or the Mark IV), they will not leave scope rings.

The rings and the base are obviously of high quality. They are massive and strong. They also come with the necessary screws and a torx wrench to tighten them, though Badger recommends you use a Torque wrench to tighten all the screws and bolts to a set amount of inch/pounds. The base is mounted with 15 in/lbs, the rings are mounted to the base with 65 in/lbs and the ring halves are connected using 15 in/lbs.

I bought the base from Premier Reticles and I must say they were fantastic. They were having trouble with their e-commerce site and recommended I email them my order using a special email ordering page. Since I could also view their catalog online through a PDF file, and I knew what I wanted, I submitted my order. I got an email the next day saying everything was shipped and was given the UPS tracking number. After some recent problems with other online vendors, Premier was a welcome breath of fresh air. I would have bought the rings from Premier as well since their prices cannot be beat (especially given their great service), but miraculously found a pair on Ebay for $100 which was a steal.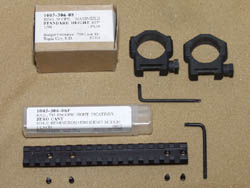 Badger Rings and base as shipped

The rings and base both ship with a Torx wrench, and both state the recommended Torque that the screws (also provided) should be installed with. Premier Reticles also sells preset torque wrenches for just such an installation. I regret not buying them when I ordered. They are $65 each (they make on in 65 in/lbs and one in 15 in/lbs), assuming I could find an adjustable torque wrench that would span 15-65 in/lbs. As of this writing I have been unsuccessful in finding such a beast. Also good adjustable torque wrenches cost over $150, so there is no savings. My recommendation is to buy the Premier wrench if and when you buy Badger bases or rings.

The Badger base is a zero cant. Up until recently Badger only made 20 MOA forward cant bases designed to get a 10X scope out to 1000 yards. Since my Leupold Mark IV 16X is designed for .50 BMG rifles shooting at or beyond 1000 yards, it already has the adjustment ability to reach that far and as such does not require the 20 MOA cant. The base fits the receiver like a glove. In fact I would venture to say that the tolerances on the Badger base exceed those of the receiver, but I certainly don't have the tools to prove that theory out.



The whole package

The more I work on this rifle, the more I like it. The only thing left to get is a high-quality trigger guard and floorplate. Then I just pray it shoots. If it doesn't shoot well - and by well I mean 1/2 MOA, then I guess I'll be posting my review of gunsmiths and their work. For now we wait for the new floorplate. Since they are over $300 and I've spent so much on this rifle so far, it may be a few days. Once that comes in I will post pictures of a day at the range zeroing the scope and shooting some groups. After all the rifle may look pretty, but if it doesn't shoot it's not worth much is it?