Badger Tactical Bolt Knob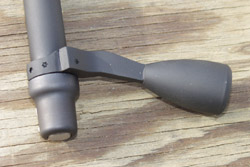 Badger Ordnance Tactical Bolt Knob

I decided to upgrade the bolt know on this rifle to something bigger and better. After all isn't that what it's all about? I had seen the Badger Ordnance tactical bolt knob on a couple of pictures and knew right away it was the knob for me... So to speak...

For those not familiar with the standard bolt knob on a Remington 700 rifle, it is in my opinion, possibly the ugliest thing to ever grace a rifle. OK that may be harsh, but compared with most other bolt guns out there, I think the Remington bolt knobs are on the bottom of the heap style-wise. Still these guns ain't for stylin' - they're for shootin'.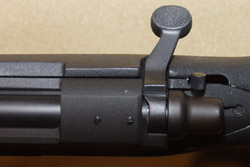 The original bolt as it came from Remington

Of course having a bolt that you can grab easily and cycle easily under stress and possibly with gloves on would be a good thing on a Sniper Weapon System, so I figured this was the way to go. I decided to send off my bolt to Jeff Hicks (AKA Celt) at H.D. Rifles due to his excellent reputation on the Sniper's Hide. His work will be further reviewed in the . gun smithing section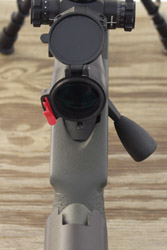 The knob as seen from the top

The Bolt knob is a wonderful piece of, well knob. It is just big enough without being too big. It fits well in the hand, even with gloves, and is easy to grasp and manipulate - much easier than the original bolt in both regards. The feeling of quality in this part makes the rifle seem all the more professional than the original.

The addition of the new knob does not require the bolt to be refinished. My bolt was refinished due to the mod done by Celt (See the Gun smithing Section)

All in all a thumbs up from me. I love the Badger Tactical Bolt knob. It is a perfect addition to a quality tactical or precision rifle. While it does add weight and size, I would think the benefits of better control while wearing gloves would be huge. Of course there is the "Chicks dig it" factor to be sure. This thing make a great rifle look all that much cooler.