Gunsmithing
Jeff (Celt) has a fabulous reputation over at The Sniper's Hide, so when I decided to have a Badger Ordnance tactical bolt knob added to my rifle, I decided to give him a try. Celt also offers an upgrade to your Remington 700 bolt which I decided to try as well.

On Remington 700s that see a lot of use, the bolt handle actually starts to tear away from the bolt no doubt due to a less than perfect design or weld or whatever. I'm no metallurgist, but that sounds like trouble to me.

What Jeff does is drill, tap and countersink three holes through the attached handle. He then hand fits the three screws, and then solders them in. Next, he hand blends the screws with the surface of the bolt handle and the inside or the bolt.

This supposedly adds strength to the area making it much less likely to tear. Judging from the way my bolt looks now, I'd venture to say the bolt itself will tear before this joint will! Celt has a webpage devoted to the process here http://members.tripod.com/Hicksdesigns/bolt_mod.htm.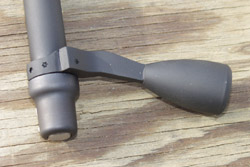 Badger Ordnance Tactical Bolt Knob

If you look closely at the enlarged image (click on the image to the right to see the enlarged image), you can plainly see the torx holes, but it's very difficult to see that there are actually bolts there. The attention to detail is suburb. The bolt looks better coming back from Celt for $150 worth of work than it did from the factory. The finish is smooth and perfect everywhere I can see, and the work done to the metal itself is imperceptible. I only wish the rest of the rifle looked this good.

While he worked on this bolt, I also had him finish a new Badger Ordnance tactical floorplate and trigger guard. This was finished with the same great finish and attention to detail. Throughout the process he kept me updated with regular emails. He told me the day it was shipped and apologized for running a day or so late. Hell I know some places that run months late without a word.

Since I had Celt do his special Bolt Modification, the entire bolt needed to be refinished. Having a new matt finish on the bolt makes it cycle a little harder than it did before. I asked Celt about it and he told me to put some quality lube on the bolt and cycle it about 50 times. He told me that his HD finish is impregnated with Moly so it should get a whole lot better. Man was he right! After one cycle the bolt felt so much better it was amazing. 50 cycles later is was smoother than it was originally.

In short, if I ever decide to have further work done on this rifle, Celt will be doing the work. In today's world where "You want fries with that?" is considered good customer service, Celt's work stands out.