Posted in
Guitar
,
Reviews
on June 7th, 2011 by GAD –
17 Comments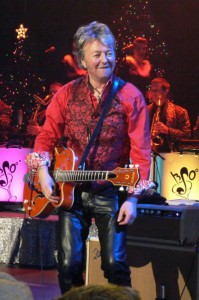 Question: What do I need to sound like Brian Setzer?
Answer: Decades of experience, a virtuoso's mastery of the guitar, complete knowledge of every scale, mode, chord, and inversion, in-depth understanding of multiple styles, and the ability to mix it all together with ease. As they like to say on Internet forums, "tone is in the fingers."
That and, "Why would you want to sound like someone else?" are the two standard answers to, "How do I get <insert famous guitarist's name here> tone?" I hate those answers, and I'll bet you do too. So I'm going to show you the steps I took on my quest to nail Brian Setzer's tone. Not only that, I'll show you two different ways to do it: mostly analog, using a real Fender Bassman, and mostly digital using a Fractal Audio Axe-FX Ultra.
This is a long article—much longer than my usual fare. There are many details to be explored, but if you're interested in the topic, I think this will be a fun read. Please remember that what I'm recreating here is Brian Setzer's live tone. In the studio, Brian uses a variety of guitars, amps, and effects. On stage though, his rig is usually the same. Remember too, that Mr. Setzer is an extremely accomplished guitarist who changes techniques on the fly. If you're 90% there and you can't figure out what's missing, try to catch a video of him playing the song in question. He may have gone from flatpicking to finger picking in the middle of the song, and that can really change his tone. PIcking dynamics are important too, but now I'm getting too far down the, "Tone is in the fingers" side of things, so let's talk gear.