Posted in
Cozy
,
Dogs
,
Writing
on October 29th, 2010 by GAD –
10 Comments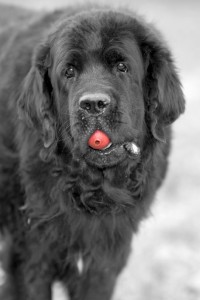 I would like to thank all of my readers who responded to my original Cozy Tales Preface. Most of the comments were very helpful, and as a result I decided to abandon most of that preface.
The following text, entitled Introduction, is an edited form of the original opening chapter for Cozy Tales. I think it conveys the spirit of the book better than the preface. I posted. I look forward to reading what you think. As with the last example, I encourage you to either post on the forum where you saw this, email me, PM me, or contact me in any other way you deem acceptable.
Cozy Tales – Introduction

In the life of every dog lover, there is one special dog. For me, Cozy was that dog. Cozy was a 160 pound Newfoundland who, as a puppy, chose me to be her companion in life. My wife, Lauren has always said that Cozy and I shared a special bond. The logical part of me says that Cozy just saw me as her Alpha male. I'd like to believe that there was more to her affection than simple canine hierarchy though.